On Memorial Day this past year, I participated in my first ever race. After turning 40, I decided I was going to make some changes in my life. I was going to take better care of myself, I was going to try new things, and I was going to run a 10k. Before that, I always had a joke about running. I said I would run when chased, and even then it was a crapshoot. It depended on what was chasing me and my odds of dying versus being seriously injured by whatever was after me. I could handle serious injury–after all, running hurts me and my feelings on a primal level.
With the new changes I was making, I knew I needed to prepare. I needed to be able to run a mile (running over 6 miles? That seemed like a stretch!). Part of my prep was a lot of walking and running when I could. Music is what got me through each workout. Not only did it set the tempo for my workout pace, but it also motivated me to keep on cruising when I really just wanted to make a U-turn and resume growing my butt-shaped dent in the sofa. The problem was, regular headphones got tangled and wouldn't sit right in my teeny, tiny little earholes. And so-called "wireless" headphones always had a weirdly dangling strap that somehow always managed to pull my hair AND fall out of my ears. When one fell, the weight pulled both out and onto the ground. So when I found Jaybird RUN headphones, it changed my life.
Jaybird RUN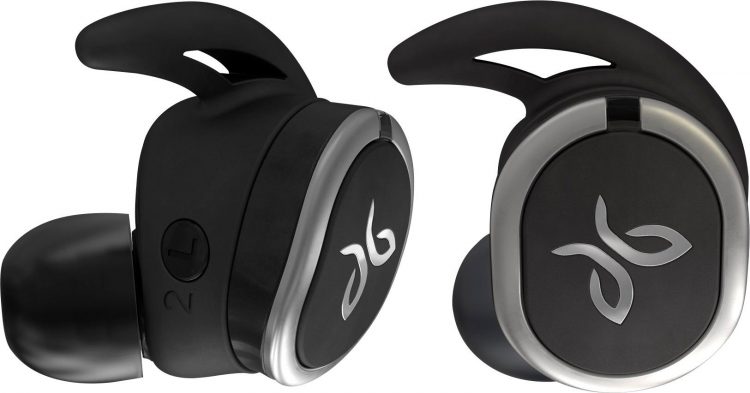 The headphones are smaller than cufflinks. They come prepared with several wings and earbud tips to give the perfect fit. For me, that was super important because the small size made me worry they would be lost if they popped out while I was running. They stay neatly in place, though, without worrying loose on impact from each step. The really cool thing about the Jaybird RUN headphones is that you can get an hour's worth of music from a short 5-minute charge. Personally, I am terrible about charging my headphones when I need to. Half the time I find they are dead when I go to start my workout, and I have had to decide whether to put off the workout until my headset is charged or just go without. Often it means my workout gets skipped altogether.
Aside from the 5-minute quick charge option, you can get 4 straight hours of music from a single full charge with the Jaybird RUN earbuds. The portable charger gives an additional 4 hours for a whopping 8 hours of music streaming on a single charge!
Extra Motivation
You can also use the app to make your Jaybird RUN headset work for you even more. You can use the app to crank up the bass on your playlist. They are sweat proof and dirt proof to help you get through the worst of your workout without missing a beat! Literally!
Additional Specs

The headset offers Bluetooth 4.1 interface. That means pairing it to your device is a snap, and can be done from over 30 feet away. They also have an in-line microphone for completely hands-free calls. The snug, in-ear design allows full enjoyment of your music while the 6mm drivers offer powerful sound. You can use just the right earbud if you want to be more in tune with your surroundings, or use both to push through your workout while you drown out the noise in your head (literally and figuratively).
Ultimately, my first race on Memorial Day went swimmingly! I would definitely do it again, and am already starting to prepare for my next race on Labor Day. I didn't get an astonishingly good time or set any sort of record. But the point is, I did it. I made it 10 km for a race and I didn't die. The Jaybird RUN headphones kept me pumped and kept my pace perfectly from beginning to end by delivering excellent sound with truly wireless technology. Wanna know something else super cool? Right now you can get these amazing headphones for just $149.99. That is a $30 savings from the regular price. What are you waiting for? Get running!