SlimTYPE Smartphone Cover + Keyboard =Mobile Productivity
If your New Year's resolution is to get better organized, the new SlimTYPE smartphone cover with NFC-powered keyboard from One2Touch will help you do just that!
The SlimTYPE protective cover lets you work with your smartphone and stay on top of the million and one things you do every day, so you're productive wherever you are.
Instantly Connect and Communicate
Don't have your laptop or desktop PC with you? Not a problem. The lightweight and stylish SlimTYPE smart cover has a built in and fully integrated easy-touch keyboard that lets you take advantage of the entire screen display on your Samsung smartphone.
Ideal for reading and responding to e-mails and social networks, taking quick notes, handling your to-dos efficiently – wherever you are. SlimTYPE will change the way you use your smartphone. Plus, the SlimTYPE physical keyboard is more fingernail-friendly than a touchscreen!
Portable, Protective, Productive
Available for pre-orders for the Samsung Galaxy S6 Flat and S6 Edge. One2Touch is unveiling the new SlimTYPE at CES ® 2016 in Las Vegas.
Easy to connect. Simply place your NFC-enabled phone on the SlimTYPE cover, install the app, and start typing. No need for batteries, cables, or charging.
Secure. With NFC´s security advantage over Wi-Fi and Bluetooth, your data is securely transmitted.
Form and function. Hot keys provide quick access to email, contacts, calendar and Web applications.
Stylish. The soft, comfortable textile surface is flexible, compact, and easy to fold. Available in fashionable Cherry Red, Black Sapphire and White Pearl.
Dimensions. Height: 145.5mm, Breadth: 154mm (fold), Thickness: 2.5mm. Fits easily in pocket or purse.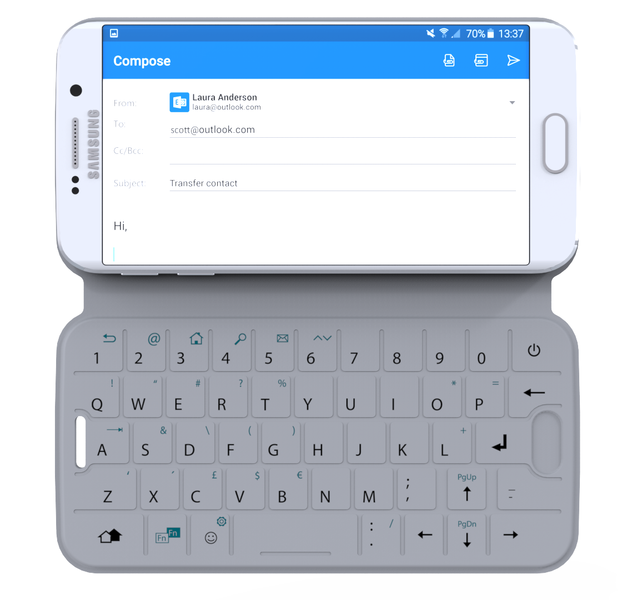 NFC-powered "tap and stay" lets you tap and type, work, play and much more
Near Field Communication (NFC) technology is a form of contactless communication between devices, such as smartphones. Users simply wave their smartphone over a NFC compatible device to send information.
While many associate NFC technology with mobile payments – "tap-and-pay" mobile wallet services — One2Touch is a Norway-based company that specializes in NFC-powered wireless communication products that go far beyond payments for "tap-and-stay" seamless, secure and continuous communications.
The One2Touch Continuous Communications Platform was recognized in the CTIA's Emerging Technology (E-Tech) Awards 2015 honoring the industry's emerging, innovative and cutting-edge mobile services, solutions and technology. Additionally, One2Touch was selected as one of five "Cool Vendors" in NFC by Gartner in 2014.
Availability and Pricing
SlimTYPE will be available for the Samsung Galaxy S6 Flat and S6 Edge at the low introductory price of only $39 for a limited time on the website.
Please visit www.slimtype.com for more information.
Don't have a Samsung S6? Subscribe to our email list and we'll notify you when the SlimType smart cover will be available for other phones.
More information is available at www.one2touch.no.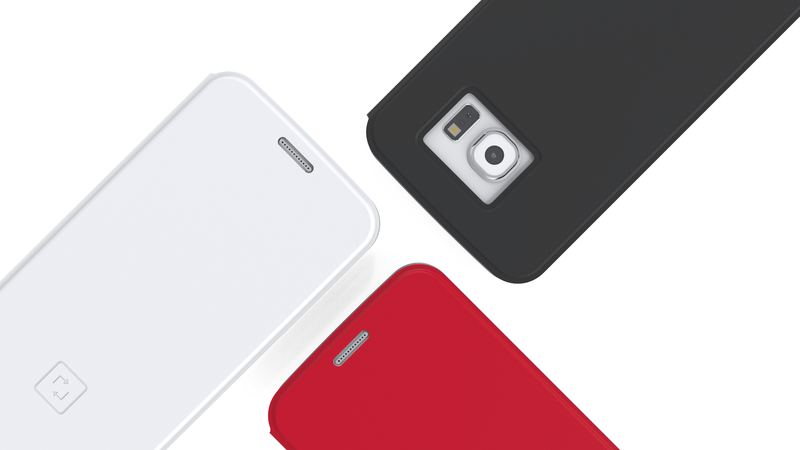 SlimTYPE will change the way you use your smartphone!
###