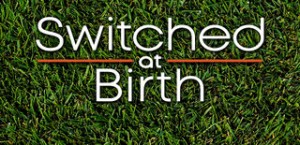 IN AN ALL-NEW EPISODE OF "SWITCHED AT BIRTH,"
AIRING MONDAY, JULY 21 AT 8:00PM ET/PT ON ABC FAMILY
Burbank, CA (July 1, 2014) – Daphne stirs up trouble while Bay meets a new cousin in an all-new episode of "Switched at Birth,"airing Monday, July 21 at 8:00PM ET/PT on ABC Family.
When John starts feeling a sense of built-up anxiety in Bay and Daphne, he suggests that a trip to Chicago to find Bay's second cousin is a perfect opportunity for her to become more in touch with her roots and give Daphne a chance to tour prospective colleges. But the trip goes south when Daphne uses the opportunity to act out, and Bay discovers alarming news about Angelo's family past.
Meanwhile, Kathryn tries to kindle a spark between two love-seeking candidates looking for something missing in their lives.
"Girl with Death Mask (She Plays Alone)" was written by Lizzy Weiss & Bekah Brunstetter and directed by Joanna Kerns.
"Switched at Birth," currently in its third season,isexecutive-produced byLizzy Weiss ("Blue Crush"), Paul Stupin ("Make It or Break It"), and John Ziffren ("Melissa & Joey," "Make It or Break It"). The series stars Katie Leclerc as Daphne Vasquez; Vanessa Marano ("Gilmore Girls") as Bay Kennish; Constance Marie ("George Lopez") as Regina Vasquez; D.W. Moffett ("Friday Night Lights") as John Kennish; Lea Thompson ("Back to the Future," "Caroline in the City") as Kathryn Kennish; Lucas Grabeel ("High School Musical") as Toby Kennish; Sean Berdy as Emmett Bledsoe; and Gilles Marini ("Brothers and Sisters") as Angelo Sorrento with guest star Marlee Matlin ("The West Wing").
Part of the Disney/ABC Television Group, ABC Family is distributed in over 97 million homes. ABC Family features programming reflecting today's families, entertaining and connecting with adults through relatable programming about today's relationships – told with a mix of diversity, passion, humor and heart. ABC Family's programming is a combination of network-defining original series and original movies, quality acquired series and blockbuster theatricals. For 2014, ABC Family has launched the "WATCH ABC Family" authenticated service which allows viewers with participating TV subscription services access to 24/7 live viewing of the network, as well as continued on demand access to such popular series at home and on the go via a wide array of devices. ABC Family is also the destination for annual Holiday events with "13 Nights of Halloween" and "25 Days of Christmas." ABC Family. A New Kind of Family.
ABC Family Media Relations: Robin Finn, (818) 955-4728,
Press materials are available at
Official ABC Family "Switched at Birth" website:
www.abcfamily.com/switchedatbirth
Facebook:
www.facebook.com/switchedatbirth
Twitter:
www.twitter.com/ABCFsab @ABCFsab #SwitchedatBirth
Pinterest:
Instagram:
www.instagram.com/switchedatbirthabcf
Tumblr:
www.switchedatbirth-onabcfamily.tumblr.com
TVTag: