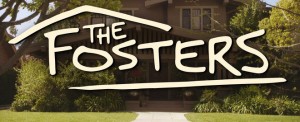 ON AN ALL-NEW EPISODE OF "THE FOSTERS,"
AIRING MONDAY, JULY 21 AT 9:00PM ET/PT ON ABC FAMILY
Lorraine Toussaint ("Orange is the New Black," "Any Day Now") Guest Stars
Burbank, CA (July 1, 2014) – The Fosters face an unforeseen tragedy in a new episode of "The Fosters," airing Monday, July 21 at 9:00 p.m. ET/PT on ABC Family.
In the episode titled "Mother," tragedy strikes the Fosters and they must look to each other for strength. Stef confronts Mike about Ana, and he comes clean about why he was at the halfway house the night of Ana's disappearance. Meanwhile, Wyatt seeks relationship advice from a very uncomfortable Brandon, and Mariana is still furious with Jesus for putting her in the middle of his girl problems. The episode was written by Joanna Johnson and directed by Lee Rose.
Winner of 2014's GLAAD Media Award for Outstanding Drama Series and 2013's Teen Choice Award for Choice TV Breakout Show, "The Fosters" is executive-produced by Jennifer Lopez, ("American Idol," "What to Expect When You're Expecting," "The Back-Up Plan") and created by Bradley Bredeweg and Peter Paige ("Queer As Folk"), who also serve as executive producers and writers, along with Joanna Johnson ("Make It or Break It"). "The Fosters" stars Teri Polo ("Meet the Parents") as Stef Adams Foster, Sherri Saum ("In Treatment") as Lena Adams Foster, Jake T. Austin ("Wizards of Waverly Place") as Jesus Adams Foster, Hayden Byerly ("Parenthood") as Jude Adams Foster, David Lambert ("Aaron Stone") as Brandon Adams Foster, Maia Mitchell ("Teen Beach Movie") as Callie Jacob, Danny Nucci ("Titanic") as Mike Foster and Cierra Ramirez ("The Secret Life of the American Teenager") as Mariana Adams Foster. Greg Gugliotta, Elaine Goldsmith Thomas, Benny Medina, and John Ziffren also serve as executive producers. The series is produced by Nuyorican Productions, Inc., and Prodco, Inc.
Part of the Disney/ABC Television Group, ABC Family is distributed in over 97 million homes. ABC Family features programming reflecting today's families, entertaining and connecting with adults through relatable programming about today's relationships – told with a mix of diversity, passion, humor and heart. ABC Family's programming is a combination of network-defining original series and original movies, quality acquired series and blockbuster theatricals. For 2014, ABC Family has launched the "WATCH ABC Family" authenticated service which allows viewers with participating TV subscription services access to 24/7 live viewing of the network, as well as continued on demand access to such popular series at home and on the go via a wide array of devices. ABC Family is also the destination for annual Holiday events with "13 Nights of Halloween" and "25 Days of Christmas." ABC Family. A New Kind of Family.
ABC Family Media Relations: Robin Finn, (818) 955-4728,
Press materials are available at
Official ABC Family "The Fosters" website:
Facebook:
www.facebook.com/TheFostersonABCFamily
Twitter:
twitter.com/TheFostersABCF @TheFostersABCF #TheFosters
Tumblr:
TheFosters-onabcfamily.tumblr.com
Pintrest:
Instagram:
TVTag: