Smiles & Frowns is a positive behavior iOS app made by parents, for parents, and we hope on our "5 Cs" of success can make a difference for you this summer. You can get it here for free now!
First, a big thank you to everyone
As we wrap up our five post series on Smiles & Frowns and the 5Cs of Positive Reinforcement, we just want to thank everyone in the Mom Blog Society community for lending us your ears. And an especially big thanks to LaDonna!
After all, we're in this parenting thing together, and necessity (or maybe desperation) is the mother of invention. And the best part of Smiles & Frowns for us has been sharing it and getting feedback from other dads and moms (and teachers and therapists) out there. So if you do try Smiles & Frowns, please feel free to hit the Contact Support button to share your thoughts, too. When parents unite, we all win!
Now onto the last of the 5 Cs – a game-like sense of Challenge
In the end, we all love a chance to win. For kids, that's especially important. One of life's key lessons is to keep at it, stay positive and believe that you can do it. So we felt it was incredibly important to make it so you can reset the Smiles & Frowns scoreboard any time you like to give your kids a fresh chance to succeed.

You can play the "game" any way you want, of course, but here are some things we've learned along the way that really seem to keep the kids engaged, week after week.
A Challenge Needs a Schedule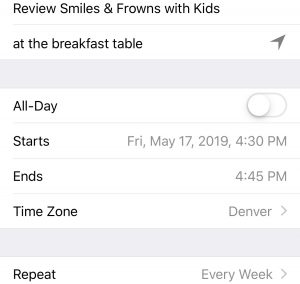 In the second post, we talked about setting regular review as a way to establish Consistency. But another huge reason to have regular views is to give a time limit to the "game" of Smiles & Frowns. Baseball has nine innnings. Football has four quarters. That's what makes a game a game.
Let your kids know exactly how long they have to earn as many Smiles as they can before starting over. Would you be surprised to see your kids trying to beat their previous record? Mine tried, and even asked to earn bonus Smiles for hitting new records! (A clever idea that I couldn't deny.)
A Challenge Needs Some Feedback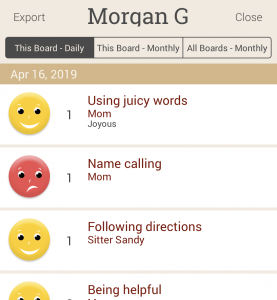 When time is up, you could just reset the board and start over. Their "score" alone and the rewards they can earn are definitely motivating. But don't miss the chance to review their performance before resetting the board. This really is where the magic happens.
Tap on your child's icon to see every Smile and Frown they've earned, then just talk about what you see. It's a great time to acknowledge them, praise them, give out rewards and come up with strategies to overcome the Frowns they struggle with. Again, it makes good behavior a great conversation.
A Challenge Needs Plenty of Chances to Win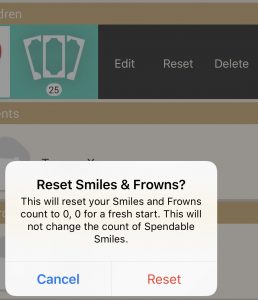 Now it's time to reset the board and rev the kids up for a new chance to succeed. There are two ways to do this, and they're both super easy. For a simple scoreboard reset, just swipe left on your child's row and tap Reset. This brings both their Smile and Frown counts down to zero, but keeps whatever spending smiles they have left. That lets your kids "bank" their reward-buying power between resets, so they can go for bigger Rewards or goals.
The other kind of reset was created specifically so kids can earn allowance through Smiles & Frowns. (My kids loved doing this.) When you go to the Rewards screen, you'll see there's a Money reward. We've included a preset that offers a quarter per Smile, but you can set any value.
When you spend smiles for money, you'll see a Max button appear under the Smile spender. Tap that to cash out all of your kids Smiles for the amount shown. Then you get the option to Spend & Reset, which sets their Smiles, Frowns and Spending Smiles count down to 0. The amount will appear as a green Spend on the review screen, so you won't forget how much you owe them. Trust me, neither will they!
So there you have it… the 5Cs of positive reinforcement: Clarity, Consistency, Consequence, Collaboration and a game-like sense of Challenge. We think they can help make any behavior plan stay on track and work over the long haul. Even if you don't try Smiles & Frowns, give them a chance to work for you.
Thanks and good luck out there!
Tommy G
A Smiles & Frowns Dad
Previous Posts in this Series:
Two Dads, One App and the 5Cs of Great Summer Behavior. #1: Clarity
Smiles & Frowns & the 5Cs of Great Summer Behavior. #2: Consistency
With the 5Cs, Your Kids Will Tell Themselves to Behave. #3: Consequence
How the 5C's Make Great Behavior a Team Sport. #4: Collaboration