Smiles & Frowns is a positive behavior app made by parents, for parents, and we hope on our "5 Cs" of success can make a difference for you this summer break. Get it for free on your iPhone or iPad now!
Summer is Coming!
Not quite the epic words of Lord Ned Stark, I know, but they're still enough to strike fear in the hearts of parents everywhere. Because summer break is almost here, which means the kids will be home for months doing what they do best… making chaos!
So how can parents catch a break and instead count on plenty of good, positive behavior this summer? Fortunately, there's an app for that.
Welcome to Smiles & Frowns and the 5 Cs of Positive Reinforcement
Smiles & Frowns is a labor of love from a team of two dads, Tommy G (that's me) and Brad. We're not experts in child development, by any means, but we are experienced in having kids, making apps and figuring things out. So we've tried to make a new kind of rewards chart that will work all summer long and beyond.
And that's where the 5 Cs come into play. They are Clarity, Consistency, Collaboration, Consequence and a game-like sense of Challenge. These aren't features of the app – they're the five qualities we think it takes to keep a positive behavior plan working over the long haul. So in this five-post series, we just want to tell you more about Smiles & Frowns by tackling one "C" at a time.
Let's Start with a Little Clarity
This simple truth is that kids are smart. They get it. If you tell they exactly what the rules are clearly, they'll generally try to play by them every time. It's when things get fuzzy or keep changing that behavior plans begin to break down. So everything about Smiles & Frowns is designed to be crystal clear for the whole family.

Clarity of Progress
That starts with the main board view. It's a super simple scoreboard that gives each child gets his or her own row. At a glance, you can see how many Smiles they've earned, how many Frowns they've gotten, and how many Spending Smiles that have to use for rewards. That's it! There's nothing else there to clutter things up. How are you doing? Just look at the scoreboard.
But the scoreboard is also a simple interface that opens the four doors to everything you need to do in the app. There's some real power here, and it's all just a tap or two away.
Clarity of Expectations
When you tap the Smile in a kid's row, for instance, up pops a list of all the good behaviors that you want to work on. Most of these were automatically added for you when you chose your first board. (Our preset boards get you going really fast, and they include different behavior sets to focus on, like Chores & More, Study Time and Around the House for general behavior). You can always easily add more behaviors to any preset board or create your own custom board from scratch.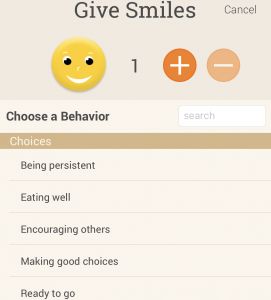 To give your kid a Smile, just tap on the behavior and submit. That's it! All the counts on the scoreboard automatically update. And giving Frowns for unwanted behavior works exactly the same way by tapping on the Frown icon. Up pops a list.
We really encourage you to go through these behavior lists with your kids when you first start using a board. It only takes a minute or two to make sure expectations are absolutely clear.
Clarity of Success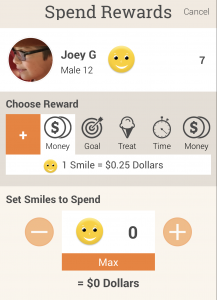 Now to the fun part – Rewards! There's a simple formula at work here: Smiles – Frowns = your kids Spending Smiles, which which is the currency for getting Rewards. Just tap on the cash icon and you can clearly see what all that good behavior can buy. We've even broken all possible rewards into four simple categories – Money, Time, Treats and Goals – for maximum clarity.
After all, the rule of thumb for rewards is… whatever works, works. So whether your kids want to start earning their own allowance, or trade good behavior for a handful of candy, or a get cool new toy or some extra TV time… it's all super clear. It's easy to see the rewards, and even easier to give them. Just pick a reward and press spend. Done!
Clarity of Performance
And the final bit of Clarity is a big one that most other apps just plain overlook. That's having a simple way to review performance clearly.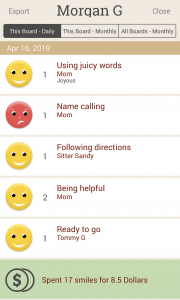 Just tap on your kid's picture icon and you'll get chronological list of every Smile, Frown and Reward given, including any notes you've added.
You can praise them for their Smiles. You can discuss the Frowns and start to work on how to avoid them. You can see how they've spent their Smiles. You can talk about it.
Reviews are an easy way to make good behavior a simple, clear conversation with plenty of opportunity to help your kids feel good about their progress and get them psyched to keep on earning those Smiles and stay away from those Frowns.
Is it really that easy? Does it really work? Can Clarity make that much of a difference? Well, we certainly see it as a big part of the puzzle, but let us know what you think. Smiles & Frowns is free to install, so please give it a whirl and send us your thoughts through our support link. We're just two dads, but we're always listening and always working to make Smiles & Frowns clearly better for everyone.
Next week, we'll talk about how Consistency keeps the behavior train rolling along.
Until then, good luck out there!
Tommy G
A Smiles & Frowns Dad