Tis the season for allergy flare-ups and worse yet, the dreaded flu and other undesirable viruses. Ugh! Sharing is caring but when it comes to illnesses, I would rather avoid them altogether. "No thanks, I've had enough!" haha!
My son Derek and I suffer from allergies it seems all year long and then when cooler weather hits, the colds and flu, pneumonia and other bacteria start rearing their ugly heads and wreaking havoc on our lives. I've suffered from a stuffy head for years and just when I think I should start feeling better, I typically would catch some sort of "bug" that keeps my head feeling like it's twisted in a vice, so I can't breathe.
Well, that was until now. Thanks to the MyPurMist handheld steam inhaler I can get fast relief from my sinus congestion, colds and allergies. It's a portable, handheld device with a built-on mask that provides 100% natural medication-free relief in minutes. No longer do I have to risk getting scalded from boiling water or suffer nose bleeds from over use of nasal sprays.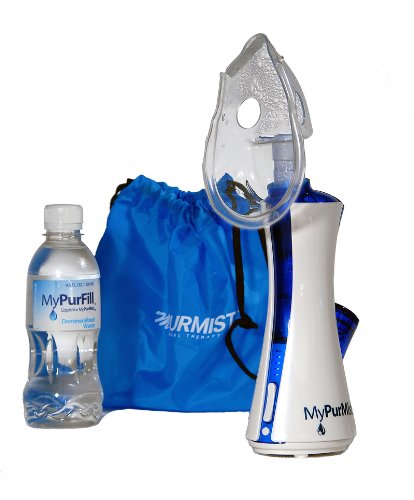 The MyPurMist handheld steam inhaler provides an instant, warm, germ-free mist that penetrates deep into your sinuses, throat and lungs for superb relief and easier breathing so you can enjoy your day and sleep better at night. I don't know how many nights I used to spend propped up with pillows to elevate my head so I could try and relieve the pressure— only to continue being stuffy and breathing through my mouth. And of course awakening to a sore throat. Well, not anymore. I have MyPurMist!
This product is perfect for use by the whole family for symptomatic relief of the following ailments:
Sinus Congestion
Sinusitis
Allergies (allergic rhinitis)
Allergic asthma
Common cold and flu
Cough and croup
Nosebleeds
Dry mouth
Snoring from sinus congestion
Sinus headaches
COPD
Need for humidification

To use MyPurMist, simply attach the mask, fill the water reservoir with approximately 1.0 oz of MyPurFill demineralized or distilled water, then replace the cap. All the water to soak in for 30 seconds and turn the unit on. You'll enjoy approximately 25 minutes of steam therapy right in the comfort of your own home.
If you use MyPurMist frequently (in less than 2 days apart), it's not necessary to empty the reservoir. To clean the mask simply remove it, and wash with warm, soapy water. It's not recommended to put the unit in the dishwasher or submerge it in water. Store MyPurMist at room temperature for optimum use and longevity.
MyPurMist Classic kit comes with each of the following:
1 State of the Art portable inhaler
1 adult-sized mask
1- 9.5 oz. bottle MyPurFill liquid
Hands-free holder
Power cord
You can purchase the child-size mask, additional bottles of MyPurFill and hands-free holders separately.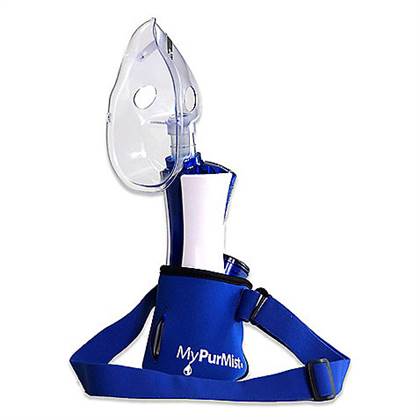 The Hands-Free Holder is a lightweight, pouch with an attached strap that lets you use your MyPurMist inhaler without using your hands. Insert the MyPurMist inhaler into the pouch, place the strap over your head so it rests at your neck and enjoy the benefits and comfort of your MyPurMist.
This powerful little inhaler has offered us the most effective humidification we've ever experienced!
Connect with MyPurMist: Shop | Facebook | Pinterest
Disclaimer:
This product was received from the Company for review purposes only. All thoughts and words in this post are my own and I was not paid to endorse it. I am only voicing my opinion about this product.