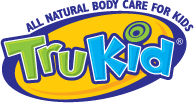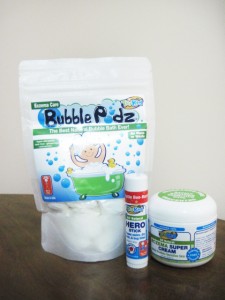 Imagine a bubble bath that not only does not irritate your child's sensitive skin, but actually heals it! Figment of your imagination? Not really! Trukid has made this dream come true with their line of natural body care products for kids! They are designed to make parents' lives easier, and children's lives more pleasant. And all this happens in a green, cruelty free manner.
"Say Goodbye to Itchy Skin, Say Hello to Happy & Healthy Skin! Smile as you watch your kids play – no more itchy skin to ruin the day! TruKid – developed by a mom of 6, designed for kids and tailored for busy families."
My baby has been itching for as long as I can remember. When I mentioned it to the doctor, he told me that the rough knees and legs are a mild case of eczema. While it's not as severe as other babies have, it is obviously very uncomfortable for him. He always had red streaks on his skin from itching. When TruKid sent me these products for review, I saw immediate relief. His skin felt softer after his bubble bath, and even more so once I applied the Super Cream.
The TruKid Eczema Care Bubble PodzTM are easy to use and effective. You simply take one, run it under the running water, and watch the bubbles form! They use ingredients such as Colloidal Oatmeal, Milk Powder, Allantoin and Vitamin E to calm irritated skin. Who knew an oatmeal bath can be such fun? The resealable pack is easy to use and store.
TruKid Super Cream is an effective way to calm irritated skin. While many creams recommended to us were difficult to use and felt sticky, this one goes on smoothly. It leaves skin feeling much better and absorbs so quickly. It uses Vitamin E and cocoa butter to naturally hydrate rough, dry skin. The easy to use tub is loaded with natural ingredients, many of them organic.
I adore the TruKid Hero Stick! It is the best solution for on the go healing. It's great for bug bites, cuts, rashes, minor burns, dry skin, eczema, and more. It is easy to use and apply, and even easier to pack. It takes up slightly more space than your lipstick, making it the newest must-have in your purse or diaper bag! I remember that day at the park, when a little boy was crying hysterically because of a little boo-boo he got, ruining a nice day at the park. His mother obviously did not have the TruKid Hero Stick!
TruKid provides the best quality and care for the world around them. Some features of their products include:
Their products are non-toxic (although they won't taste very good if eaten!)
Products are made using all-natural ingredients
PETA certified animal cruelty free
Dermatologist and Pediatrician tested
Packaging is biodegradable, 100% recyclable and BPA free
Products are gluten, phthalate and paraben free
Safe for use with Eczema
Chemical and fragrance free for sensitive skin
Give your child's skin the best nutrition possible with TruKid products, and give yourself the convenience! These products are focused on including the good and eliminating the bad when treating your child's sensitive skin. Connect with TruKid using the links below:
Shop | Facebook | Twitter | Pinterest
Get 15% off your order of $30 or more on the TruKid Website! Use coupon code TRUMOM at checkout.
Disclaimer: This product was received from the company for review purposes only. All thoughts and words in this post is my own and I was not paid to endorse it. I am only voicing my opinion about this product.