Lets be honest here… how many of you ladies have been out and about, stopped in a public restroom (thanks to all that coffee you drank), rushed to undo your pants, squatted down, and "let it go" only to look over and see— THERE'S NO TOILET PAPER?! Ugh. I've been there and it totally sucks.
It's awkward and embarrassing when you have to ask the person in the next stall to loan you some toilet paper but EEek… worse yet, what if no one else is there? Do you sneak into another stall and hope you don't get caught with your pants down? Do you just try to "shake it off"? Or go ahead and pull up your panties and hope they don't get too wet (enough for others to notice)?
Well, whatever tricks you have up your sleeve in situations like this, I'm here to tell you that you no longer have to sacrifice your dignity and we owe it all to Urban Undercover™. This awesome brand redefined our everyday basics so they not only fit and feel great but function better for women with busy lifestyles.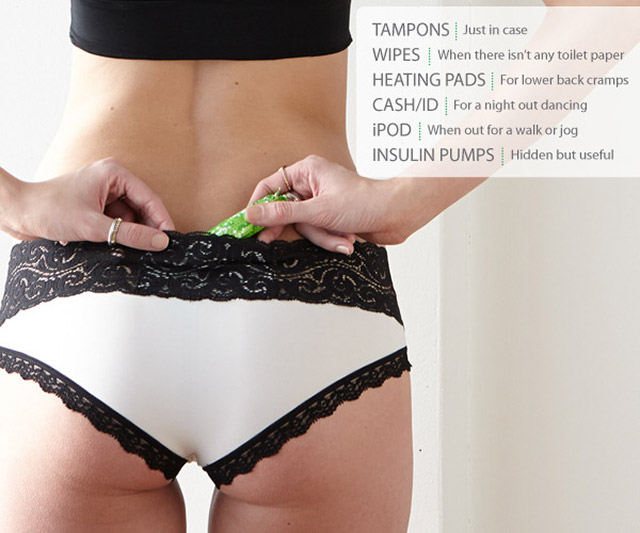 Sure these panties are ultra soft and comfortable when on but they hold a little secret that only YOU will know about— a design that allows you the ability to carry them discreetly in a handbag or suitcase and pack them neatly in your lingerie drawer. See, these panties contain a built-in "pocket" so they can be folded up on themselves and stored for later use— but that's not all. That precious pocket also doubles as storage for a tampon, a wipe for times when there is no toilet paper, your ID or cash when you're out at the club, an iPod, insulin pumps… you name it. If it's the right size, it fits and no one will know its there.
Talk about innovative! These panties are perfect for days when you miscalculate the calendar (thanks Mother Nature!), get too sweaty after a workout at the gym, have an unexpected sleepover or maybe even laugh or sneeze. Yep, things happen so why not be better prepared for life's mishaps?
Grab a pack of three and have a thong for your yoga pants, a hipster for under your jeans and a boyshort for lounging around the house. You won't even realize you are wearing them.
Urban Undercover's quick dry fabrics and "clean" / "dirty" flaps make their panties ideal when you're traveling and so much more!
Choose from 3 sexy styles including Boyshort, Hipster, and Thong underwear in two color combos; Black/Black or Black/White. You can purchase Urban Undercover underwear separately or in packs of 3 (same style or one of each).
Fabric Content: Lace (86% nylon, 14% spandex), Body (83% nylon, 17% Lycra), Liner (100% cotton), All 100% Awesome.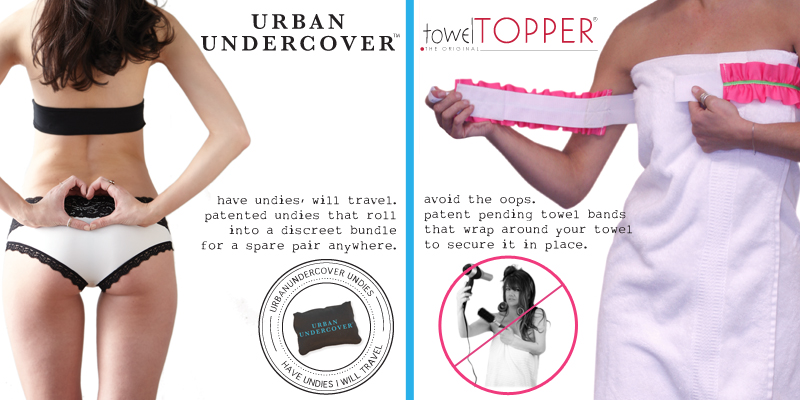 This super cool brand also offers sexy chemises, towel toppers, and your own individually wrapped towelettes that fit perfectly inside your panties.
The TowelTopper® is a towel band that gives you hands-free coverage after a bath or shower so you can dry your hair, put on makeup, paint your nails, chat on the phone, or do almost anything without having to hold onto your towel. No more peep shows. Woohoo!
TowelTopper comes in sizes small, medium and large (depending on your bust size) and wraps around your chest, then secured with industrial strength elastic in the back and 4-inches of velcro closure in the front. They're super easy to use, and fold into a compact essential for travel. Forego the hot, bulky robes and turn your towels into cover ups.
With Urban UnderCover you can live the busy, on-the-go lifestyle and not have to worry about the "oopsy" moments. Be confident, have fun!
Have Undies, Will Travel!
Connect with Urban UnderCover: Shop | Facebook | Twitter
Disclaimer:
This product was received from the Company for review purposes only. All thoughts and words in this post are my own and I was not paid to endorse it. I am only voicing my opinion about this product.