This Easter, go beyond the traditional Easter basket full of toys and candy. With The Patchwork Bear, you can give your child the gift of a new friend while being environmentally friendly and preserving memories at the same time. It's a triple threat! Here's how it works. Gather up all your child's old, outgrown clothes and send them to The Patchwork Bear. They'll turn those old clothes into a keepsake memory bunny or one of their other patchwork friends – a bear, a puppy, an elephant or a bird. After only a few weeks, they'll send your patchwork pet back for your child to love.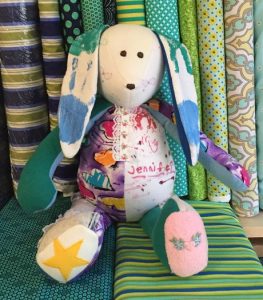 Each bunny (or other patchwork pet) is uniquely designed and sewn by the experts at The Patchwork Bear. They take your memories seriously and provide the highest level of care for your items. They also provide the highest level of quality for their products. They take pride in their process and never cut corners to save money. This is one of my favorite things about The Patchwork Bear. Not only have they created a wonderful, unique product but they provide the great quality that is so rarely seen these days.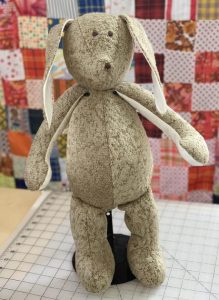 So if you and your family are looking for a fun, unique way to celebrate Easter this year, look no further than The Patchwork Bear. Sewn with love and received with wonder, your little one will treasure their new patchwork friend for years to come. And when they've outgrown dolls and toys, they can pass it on to their little ones and so on for generations. It's the gift that keeps on giving.
Connect with The Patchwork Bear: Shop | Facebook | Twitter | Instagram | Pinterest |