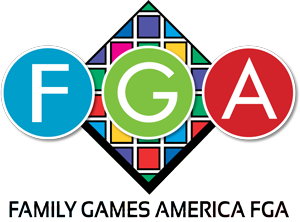 I'm kind of picky with the games I play. I mean, there is a vast assortment of games out there, some more innovative than others, but I like my games to be really mind-bending and challenging. I believe that the correct toys and games can provide productive and useful entertainment. And I LOVE the selection that Family Games America offers for that! I had such a hard time choosing which few I like best.
Family Games America – IQ Collection: The Magna Cube: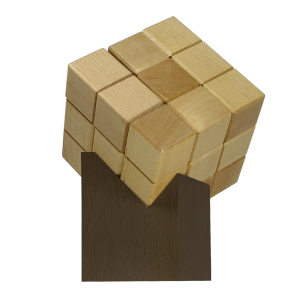 Because, as I mentioned, I love mind games, the Magna Cube stood out. It's not only a challenge, it's also beautiful. It's a far cry from the plastic games that children play with, making it a great option for boys and men. The stand makes it perfect for placing on a work desk, or displaying in the den. Function meets decor in this twist on a classic puzzle!
Some features of the Magna Cube:
Appropriate for ages eight-adult, making this a lifetime keepsake.
Magnets will pull together, or push apart, creating a double challenge when re-creating the cube.
Play it alone, or solve it with a friend
Exceptional quality wooden puzzle
Includes a display stand.
Family Games America – Little Moppet: Kids Garden Growing Kits: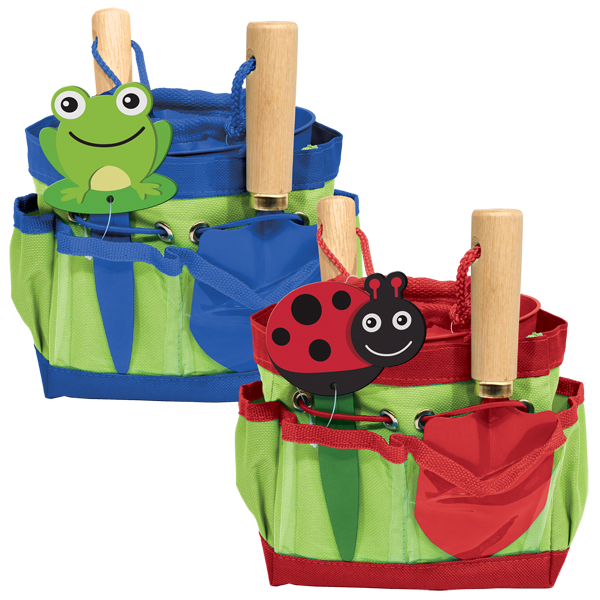 "Little Moppet child-friendly planting kits start flowers, veggies and children's imaginations growing! With a range of hand trowels and spades, wheelbarrows, watering cans, buckets and gardening gloves to accommodate little hands, plant the seed of fun by having children sow and maintain their own garden."
I'm always on the lookout for productive activities for the little one, and I love getting him outdoors as much as possible. I am absolutely in love with Family Game America's Little Moppet line – featuring real gardening tools and equipment for children. I believe strongly that allowing children to create boosts their self-confidence. Imagine a child's joy when the plant he or she planted starts to sprout! This garden kit has all your child needs to begin – gloves, hand trowel & fork, a plant marker and a plastic plant pot in a fabric carry bag. It comes in two colors. I chose the red one for my little boy. You can check out the rest of the gardening tools on Family Games America's website.
Family Games America – Day–by–Day Deskblocks: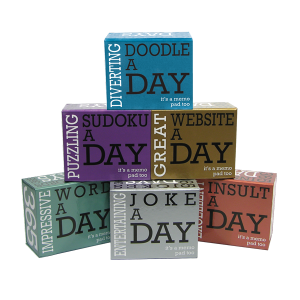 And lastly, for your stocking stuffer needs, Family Games America has a selection of daily calendar memo blocks. These fun desktop "calendars" feature a minute's diversion each day and are a perfect gift for many of the men (and possibly women) in your life. I chose the Doodle-a-Day (currently out of stock) but I'm curious to see what the Joke-a-Day and Website-a-Day have to offer. Features:
365 day undated calendar is a great way to keep track of time passage.
Doubles as a memo pad, with room for writing.
Comes with a wooden pencil, and a holder for it
Solid cardboard outside, with magnetic closure
Beautiful modern typographic design
Family Games America sells so many unique products – it's impossible for me to share them all with you! You'll need to go check out their website to see for yourself. Some other items you will find there include: more brainy puzzle games, solid wood games, wine bottle stand puzzles, string puzzles, metal puzzles, LOADS of smaller card games and stocking stuffers, family games, activity kits – including the childrens' gardening kits, porcelain paint kits, and loads more. It will be the last stop you'll need to make on your holiday shopping trip, as you'll manage to find a gift for everyone there!
Connect with Family Games America: Website | Facebook | Twitter
Disclaimer:
This product was received from the Company for review purposes only. All thoughts and words in this post is my own and I was not paid to endorse it. I am only voicing my opinion about this product.