This may sound crazy but when it comes to my hubby and I, I'm not sure which one of us loves using power tools more— him or me. haha!
I have to admit, I LOVE to tackle DIY projects. It's always been one of my passions (like cooking) that gets my blood pumping and my brain working overtime. This is where my creativity shines through— I love the challenge, AND I love the power. hehee!
I know… this doesn't sound like something a typical woman would say, right? Well, I'm no typical woman… I am unique and I work hard at everything I do. That's exactly why when it comes to home projects, good quality tools are a must. I don't want to waste my valuable time with junk!
Speaking of projects, since hubby and I have made it a "near future" feat, we plan to prep our home and put it on the market, then transfer down to the sunny state of Florida. Now, we've been discussing this for some time now but slowly we're getting closer. Sure we still have a lot to do, like tons of painting but thanks to Wagner, we'll reach our goal a whole lot sooner!
Wagner offers a wide array of quality paint applicators to help get the job done faster, and done right the first time— for homeowners and professional painters.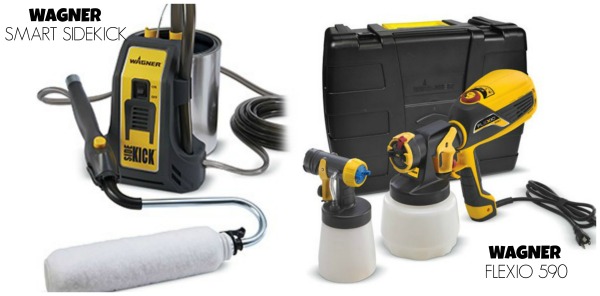 Two of Wagner's more advanced products— the SMART Sidekick and the Flexio 590 provide the newest innovation in powered rollers and sprayers. Each use patented technology to give you a smoother, more controlled coat of paint by way of the adjustable precise controllers. If flexibility and power is what you need, look no further than the SMART Sidekick and Flexio 590.
ABOUT THE SMART SIDEKICK:
The SMART SideKick draws from any size container from 1 to 5 gallons, and directly feeds the roller cover for consistent application of paint to the surface for professional results. The powered roller provides everything needed to complete painting projects with ease.

Paint in less time without reloading
Fits all paint containers
Perfect for large projects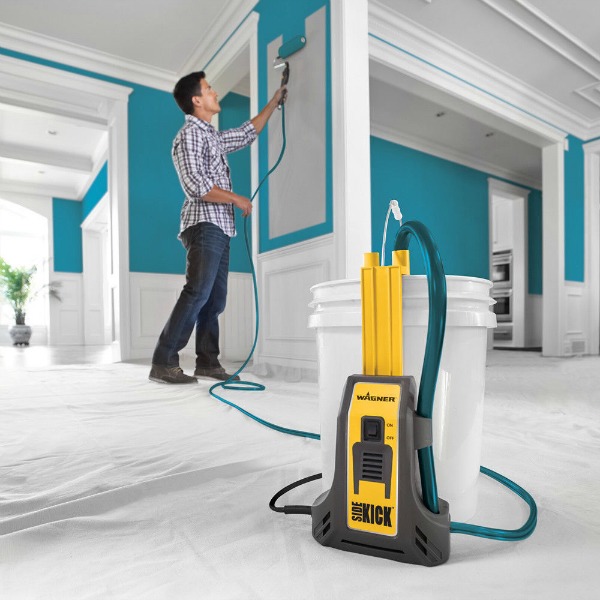 ABOUT THE FLEXIO 590:
The FLEXiO Sprayer produces a slightly stippled, roller-like finish, perfect for interior walls. Edges, corners and broad interior surfaces can now be sprayed faster for better coverage and with some basic masking, you are saved from the tedious efforts of a brush, saving time for other projects.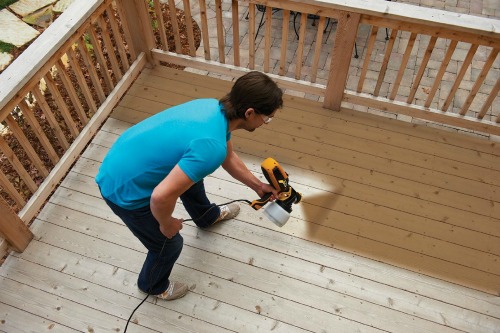 Now that I have my Wagner SMART Sidekick and the Flexio 590, my painting projects are going a whole lot easier. The prep work is pretty darned simple and the clean up is much simpler too. Plus, I can reach my target without straining my back. Gotta love that!
Did I mention I'm wasting less paint now? Oh yeah, the Sidekick and the Flexio 590 adjust your flow rate and coating speed (and yes the paint is undiluted) so there are no paint spills (like you get when trying to climb a ladder with a bucket or paint tray) and less drips. Woohoo!
Can these guys get any better? Two thumbs up Wagner!!!
Connect with Wagner: Shop | Facebook | Twitter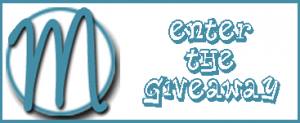 Disclaimer:
These products were received from the Company for review purposes only. All thoughts and words in this post is my own and I was not paid to endorse it. I am only voicing my opinion about this product.