Help Keep Bugs Away with These Spring Cleaning Tips
The sun is shining, birds are chirping and the weather is warming up. Put those ingredients together and it means that spring is approaching! For many people, this season is synonymous with spring cleaning in and around the house.
If you're ready to tackle your spring cleaning list, try incorporating these smart and easy tips for helping keep bugs out of your home.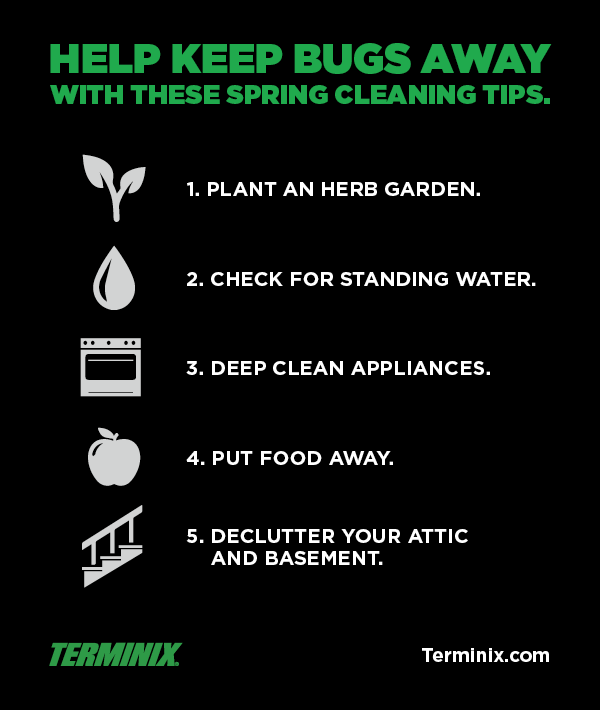 Plant an herb garden.
Spring cleaning doesn't have to be limited to indoors. You can take it outside by cleaning and freshening up your garden as well. If you've always wanted to have a herb garden of your own, now's the time to plant one! Not only are some herbs aromatic (and delicious!), but some may also be a good tool for helping repel insects.
Check for standing water.
It's also helpful to do a quick walk around your home to make sure there isn't any standing water on the property. Mosquitoes breed in stagnant water, so it's best to drain these areas to help keep mosquitoes away from your home.
Deep clean appliances.
In the kitchen, make sure you pay attention to your appliances. Crumbs and dirt can collect behind, under and inside appliances like ovens and toasters, which can attract different bugs. Be sure to keep these areas clean and tidy to help make them less attractive to pests.
Don't miss the details in your morning routine.
Do you tend to rush out of the house in the morning and leave the remnants of your breakfast sitting in the sink or on the table? It only takes a few seconds to rinse off dirty dishes to help prevent gnats and other bugs from congregating around your sink. Also, consider keeping fruit off your counter and in the pantry or fridge, as it can attract fruit flies.
Extra tip: Overwatering your plants can also provide a perfect place for small flies to develop.
Declutter your basement and attic.
Infrequently used rooms like basements and attics can be breeding grounds for unwanted pests. Insects tend to like dark, undisturbed spaces, so make sure all corners are cleaned and unnecessary items are removed. If you choose to store boxes or furniture in those areas, make sure they are completely sealed so no unwanted guests find their way in.
By taking these additional spring cleaning steps, you can help prevent pesky pest infestations in and around your home. If you do find yourself overwhelmed by insects this spring, contact Terminix. Our friendly technicians are here to help.
This article was brought to you by Terminix
.