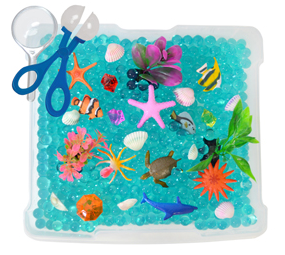 The mystery of toddler tantrums: we don't know where they come from, why they are there, or where they are headed.
The other day, my son was throwing a full-blown fit for AN HOUR straight! I was at a loss!
Finally, I gave him his Hanukkah gift – a Discovery Box from the Revelae store. He fell in love immediately – and that was before we even added the water beads!
Children have all sorts of needs, and the younger they are, the harder it is to determine what it is in the moment, as they simply don't have the skills to communicate it, or even to identify it to begin with.
One area in which that plays out very strongly is in sensory stimulation. A child can act out because of over-stimulation, or a child can need more of it. Either way, sensory stimulation is one of the ways that children explore and learn.
The Revelae store offers solutions for moms and young kids that include these discovery boxes that offer sensory play, and much more.
Our innovative snack time and playtime solutions encourage healthy lifestyles for active kids. Our brands include Revelae Kids, Yummi Pouch Reusable Food Pouches, Sudsy Dough Moldable Soap, & Discovery Boxes.

If you haven't heard of the Yummi Pouch brand yet, they make these amazing food pouches that are reusable – saving you plenty of cash, and of course, saving a greener world for our children. But it doesn't stop there! Their snack and sandwich bags are reusable too. They come in cool, quirky prints that are FUN to look at and use.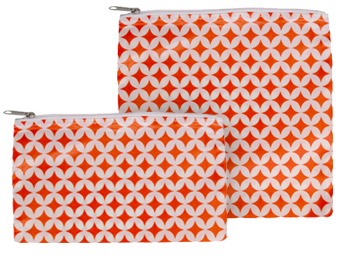 These reusable bags are both dishwasher safe, and machine washable – so you can pick your rinse. They are made from BPA-free, phthalate-free, PVC-free, and lead-free nylon that is moisture resistant too. They are the perfect green solution for endless plastic bag waste.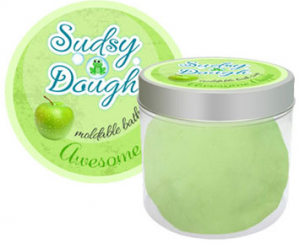 A new product the Revelae Store carries that has fascinated me is the Sudsy Dough. It's basically a play dough that is actually a soap! It's deliciously scented, which was a pleasant surprise for me.
You can use the Sudsy Dough one of two ways: either use it in the bath tub as a dough. It's a great way for your child to learn to clean herself. Or, your child can use it dry as a regular scented play dough, and create fun soap shapes to give as gifts. Isn't that a great idea for kid-made holiday gifts?!
Sudsy Dough comes in four different scents and colors: Awesome Apple, Merry Mango, Sassy Strawberry, and Bubbly Blueberry. They come in generous 12 oz. sizes and each one comes with a surprise prize. They have moisturizing shea butter and coconut oil, which is a huge plus for us, considering my toddler's dry skin problems. They are Paraben-free, phthalate-free, and sulfate-free, and handmade in the USA.
As a perfect accessory for your Yummi Pouches (and other reusable containers and cups you might have) the Revelae store carries dishwasher safe labels and stickers. These vinyl stickers are freezer safe too, and perfect for labeling, marking, and decorating.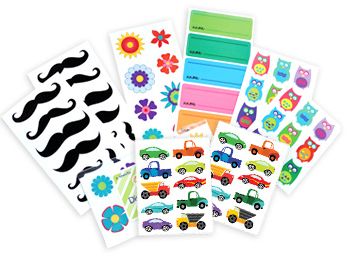 I've saved the best for last – the Discovery Boxes that were such a hit on a tough day.
These boxes incorporate various themes and each contain a sensory filler (such a molding sand, beans, or water beads), a magnifying "glass", a tool (such as a scooper or rake), and assorted small toys. Your child can discover, feel, and explore. They come in clear storage boxes with a detachable lid, so that it's contained and self-storing.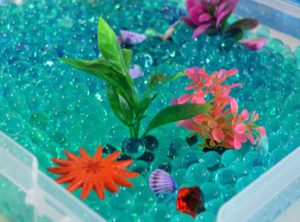 I chose the Ocean Exploration Discovery box, because M is OBSESSED with fish (both eating them and feeding the ones at the Bay…) It comes with:
3 sea creatures
3 colorful fish
3 starfish
6 colorful shells (I'm going to add more from the ones I have lying around, because why not?!)
8 multi-colored ice rocks (aka acrylic gems)
1 large crystal
3 aquarium plants (they are weighted and sit nicely at the bottom)
2 lbs. aqua water beads that are dehydrated for easy storage. They are really easy to hydrate – just soak them in water for ten hours.
1 refill of beads
Bubble scoop that M LOVES – he always steals my scissors, and now he feels like he has his own.
Magnifying glass, also M is obsessed with it. He eats with it, reads with it, and calls it a "mirror".
11″ x 11″ clear storage box with detachable lid
Your 3+ year old will have so much fun with this – exploring, playing, and discovering new things.
The Revelae store is full of convenient and sanity-saving parent-invented innovation. Head on over and check it out for yourself!
This product was received from the Company for review purposes only. All thoughts and words in this post is my own and I was not paid to endorse it. I am only voicing my opinion about this product.