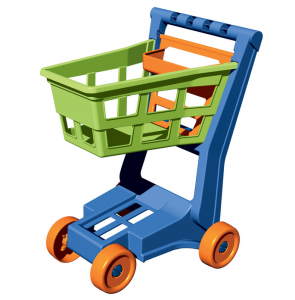 Great toys should be affordable for everyone. American Plastic Toys makes that a reality. From their kid furniture, to pretend play , from outdoor toys, to everyday fun, they all have one thing in common. They are all budget friendly, and often just a fraction of the cost of similar toys in the market. Yet, they are still all made safely and locally.
"American Plastic Toys has proudly manufactured safe toys in United States since 1962.
We currently operate a total of five facilities in Michigan and Mississippi. Our product line includes over 125 different items ranging from a simple sand pail to a play kitchen set."
Play is under rated these days. Parents and educators are focusing almost entirely on academics. Yet play is essential to the healthy development of life, social, and cognitive skills. Young children learn best through play, along with art and creating things.
I try to provide my toddler with play opportunities as much as possible, especially pretend play. Just the other day I made him these printable groceries, to go along with his pretend play. He loves loading it into his American Plastic Toys shopping cart, and then unloading it into his fridge (or oven. Yes, I found milk in he oven. But he's a toddler, so that's okay…)
Here are some essentials from American Plastic Toys, perfect for the new school year – for creating art at home, for the classroom, or even just for learning through play. All of these are budget-friendly and therefore accessible to everyone.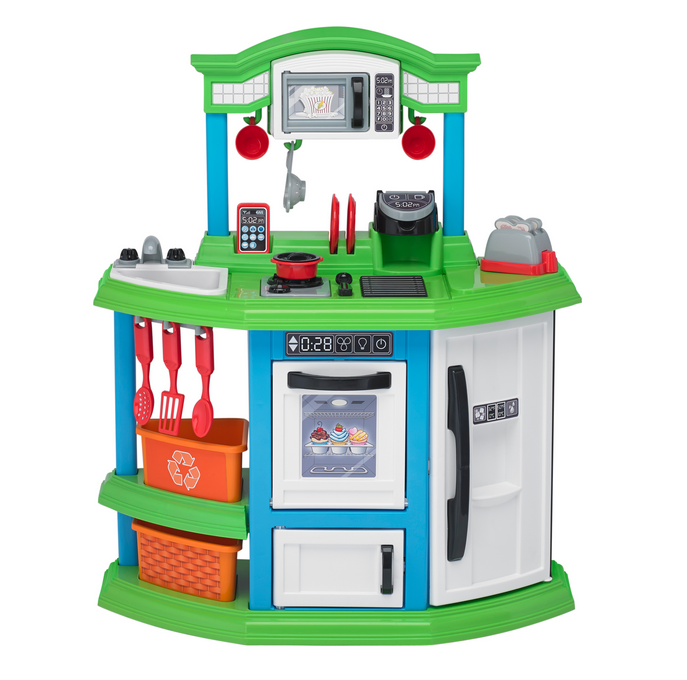 This play kitchen is chock full of features and fun. I assembled it last night, and since he woke up this morning he's been completely engaged! It has a cell phone in a charging station, a coffee maker, utensils, and more – in addition to the regular features of a play kitchen (oven, fridge, microwave…) It has a small footprint, making it perfect for a small home like ours (we found a spot in an overcrowded apartment for it – in the hallway!)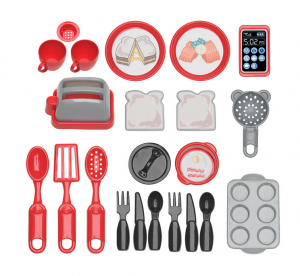 Burner makes the sound of boiling water when you put things on i.
Toaster oven features slices of bread that fit right in.
Plenty of dishes and utensils for pretend play. And plenty of built-in storage for all of it, including hooks and baskets.
Fun "food" illustrations on the plates and in the pot.
Fun "fake button" illustrations are a favorite of my toddler as he pretends to push them.
The knobs on the sink and oven turn for endless fun.
Assembly is easy. It comes ready to assemble, and you don't need to clip apart pieces. No tools are needed either. Everything just snaps together.

Dimensions:

28.5 x 11.625 x 34.125
Age: 3+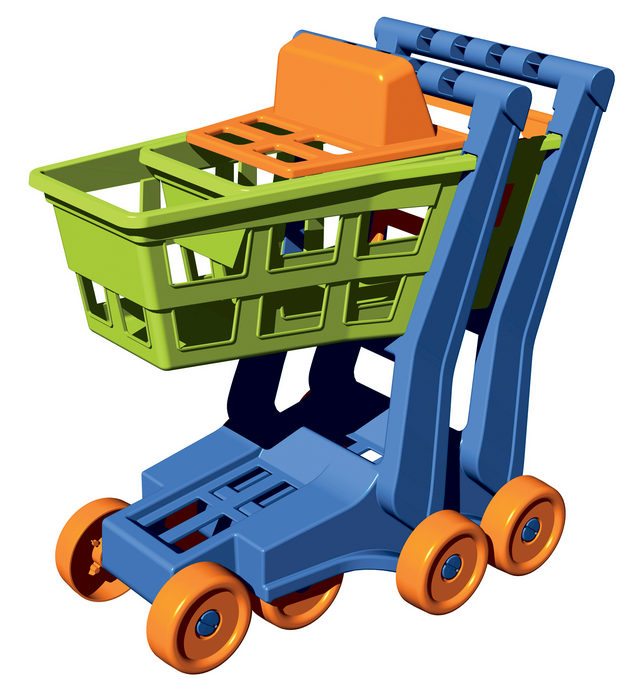 You need to stock your Cozy Comforts Kitchen… Go shopping with this adorable cart and pick up some fun things to put in the fridge. It's great for kids who love doll strollers – but not dolls. Or for kids who loved both. My son put his Elmo doll on the seat, and took him for a spin. They also nest, just like the real thing – and the seat section lifts up so that you can slide in another wagon. Age: 3+, dimensions: 15.75 x 13.75 x 21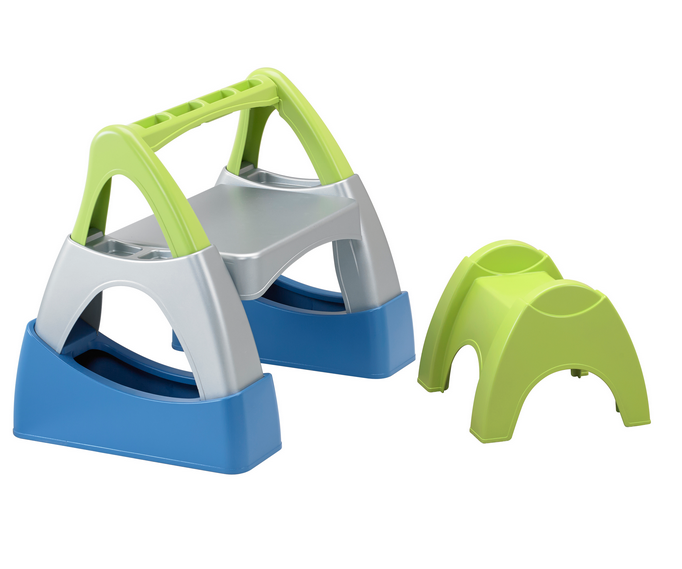 Give your child a private nook to do important stuff – whether it's coloring, learning the numbers and shapes, or assembling a puzzle. This adorable compact desk comes with its own stool too. Plus, it has loads of space to put important things – like coloring books, art supplies, and anything else. I love having an organized creative space for my toddler, that's available to him at any given time.
Ages: 2+, dimensions: 28.25 x 18 x 21.625
American Plastic Toys has everything your child needs for play! From role play to furniture, they have you covered, and all at affordable prices.
Connect with American Plastic Toys
Disclaimer:
This product was received from the Company for review purposes only. All thoughts and words in this post is my own and I was not paid to endorse it. I am only voicing my opinion about this product.