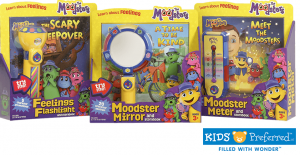 Teaching children about moods and feelings is important, from the very beginning. Children don't always know how to communicate how they feel. Sometimes they even have trouble identifying feelings for themselves. Helping them notice key factors, such as facial expression, body language, and more, can help lead them on the right path for "solving" their moods.
The Moodsters were created to help young children learn to identify these moods, the way kids learn best – through play.
"Meet the Moodsters!

A team of five lovable little detectives who use their special sleuthing skills and detective gear to help kids navigate the emotional maze of childhood.If feelings are on the line, the Moodsters are on the case!"
The Moodsters are a team of cuddly creature that help solve feelings mysteries from their Emote Control headquarters. They offer a set of great toys that my son is obsessed with! These toys all light up, and feature quotes and expressions in the voices of the Moodsters. They are bright, colorful, and totally kid-friendly. One of my favorite parts of it is the book!
Yup, each of these amazing toys comes with a book, and my son loves them. They are among his favorite books. They have coated pages, so that he doesn't wreck them in a minute. They also feature bright, vivid illustrations, which I think is why I find myself reading them to him daily. Each one tells the story of Zach, a young boy, and his feelings crisis, and of course, how the Moodsters helped him solve it.
The Moodsters toys:
Feelings Flashlight: By far M's favorite in the lineup, this flashlight is so much fun! It shines a character that you want on the wall. You can choose which Moodster to shine, according to your mood. It will then talk in that Moodster's voice. It's interactive – asking questions that your child can answer, telling your child to use the flashlight to find things in the color of that Moodster, and more.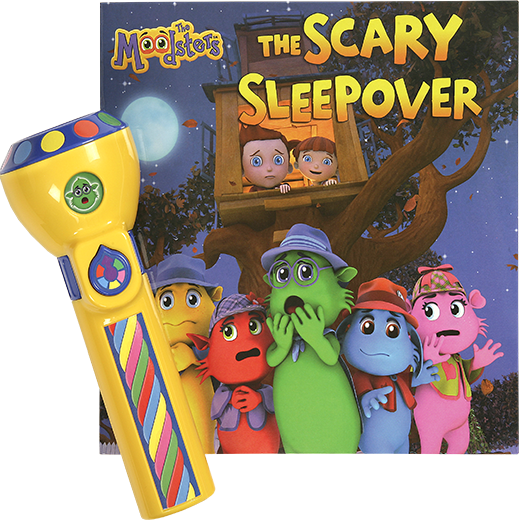 Moodster Mirror: Which kid doesn't love a mirror? Well, this one talks too. Press the button and that Moodster will help you identify your mood, using your facial expressions.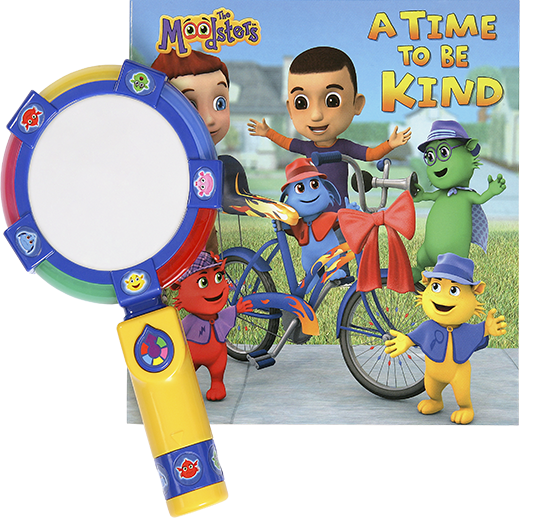 Moodster Meter: Slide the pointer to the Moodster you feel like! It will give you advice and feedback in the same friendly voices.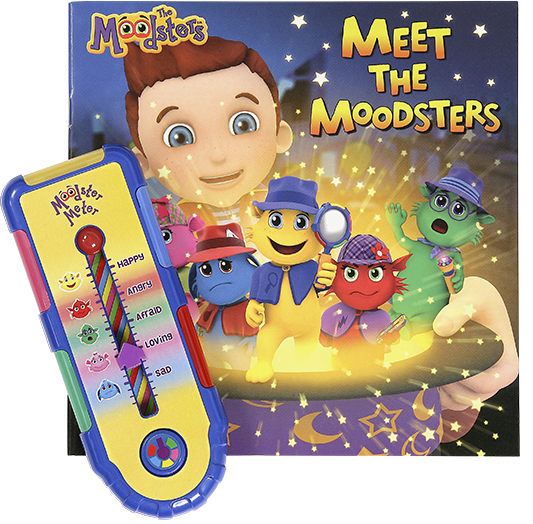 Each toy speaks out mood validating quotes, such as "All feelings are okay, how do you feel today?" M has even learned some new feelings related words from it! He walks around saying "Be Brave!", although I don't think he really knows what that means (yet.)
Each book includes prompts and conversation starters for adults.
Teaching your child to identify feelings and moods from the start paves the way for better communication and emotional health. The Moodsters make it easy and fun – for both of you!
Connect with the Moodsters:
Website [PURCHASE AT TARGET] | Facebook | Twitter
Disclaimer:
This product was received from the Company for review purposes only. All thoughts and words in this post is my own and I was not paid to endorse it. I am only voicing my opinion about this product.