Living near the Rocky Mountains, it is second nature to spend as much time outside as possible. In my neck of the woods, we get 300 days of sunshine per year. Blue, clear skies and temperate climes mean that even mid-January throws us quite a few nice days to get outside and enjoy the outdoors.
Given the nature of our gorgeous scenery and beautiful weather, we do what anybody else in their right minds would do–we turned our outdoor space into more living space. We like the comforts of indoors to come with us into the great outdoors to get the best of both worlds. We have essentially turned a portion of the backyard into a living room/dining room/outdoor entertaining area to give us all of the comfort of indoors right in our backyard. Here is how you can also turn your backyard into an outdoor living space.
Comfortable Seating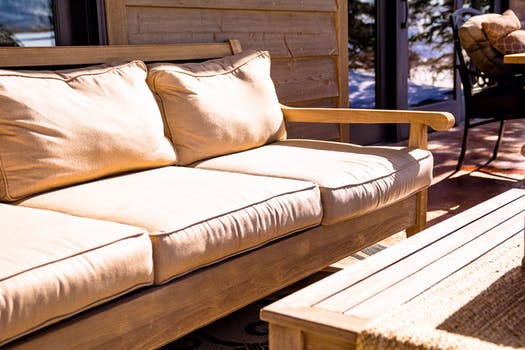 You don't have to spend a fortune to get a comfortable seating area arranged in our outdoor living space. There are even plenty of DIY tutorials available that allow you to use old pallets to create seating outside. The key is to make sure it is durable enough to withstand the elements (or cheap enough to replace if it doesn't). Creating an outdoor seating area similar in setup as a living room encourages ultimate comfort while providing opportunity for conversation and entertaining.
Cover From the Elements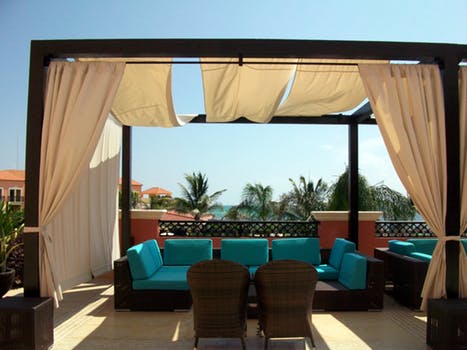 Whether it is something as simple as a basic DIY Pergola with cloth for shade, a retractable awning, or an ornate, hand-carved gazebo, having an outdoor space is wonderful as long as there is some protection from the elements. Whether it is extreme direct sunlight or some protection from the rain, creating a comfortable outdoor space requires a certain degree of being protected. For even more comfort and to truly create a comfortable outdoor space, consider adding outdoor lights. Not only do they add ambiance, but they also allow for extended hours of use after the sun goes down. Take it a step further by adding a ceiling fan to the inside of your structure. It will help keep that outdoor living space more comfortable on even the hottest of days!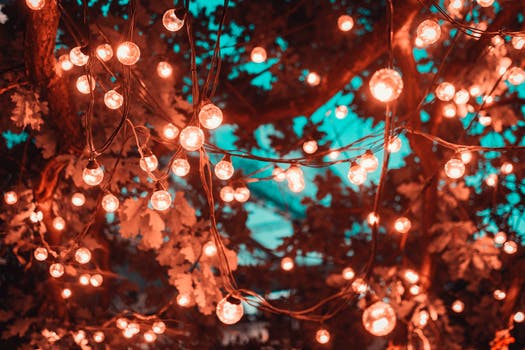 Entertainment Systems for your Outdoor Living Space
It's nothing new to add outdoor entertainment to your outdoor living space. In the past, however, a lot of the entertainment was relegated to wireless speakers or certain stereo systems. Televisions for outdoors were often indoor models that may have been encased in some sort of weatherproofing, or had to be pushed outside on a cart. SunBriteTV Veranda Series has a whole line of weatherproof televisions for full-shade areas. So they are absolutely perfect for those covered outdoor spaces. These weatherproof televisions don't need any additional weatherproofing, and don't need to be carted back inside after they've been used. They are meant to be permanent fixtures in your outdoor living room. So on those nights when you just cannot decide between spending time enjoying the lovely breeze and the beautiful scenery and the next show in your bingeworthy Netflix queue, you can absolutely do both.
Right now, Get a free: Outdoor Weatherproof Tilt Mount for 37″ – 80″ TV Screens & Displays – (Black) with the purchase of: SunBriteTV – Veranda Series – 55″ Class LED – Outdoor – Full Shade – 2160p – 4K Ultra HD TV!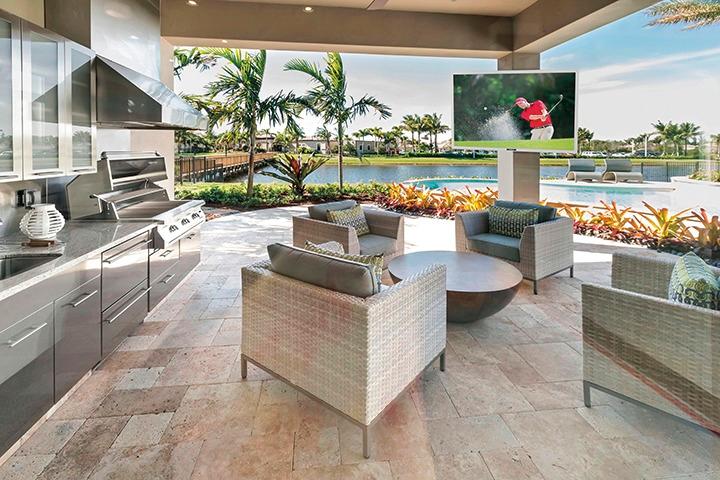 Plus, how cool is it to be able to say you have an outdoor living space WITH its own tv? When you really want to create an upscale outdoor living space, adding as many of the creature comforts of your inside to your outside is going to put it over the top. You don't have to spend a fortune to make that backyard an extension of your living room. You just have to know what key features to bring outdoors to make it truly cozy enough to want to spend more time out there than inside.