I remember when I was a kid, the entire neighborhood would pour outdoors at dusk in the summer. The sky would be shifting to the purple velvety-color it gets only in the hot summer twilight. Growing up in Chicago, summers were notoriously sticky and so evenings were a glorious reprieve from the oppressively hot, soupy air. With all of the neighborhood sitting outside on their front porches, it was never long before the "night games" started. It generally started with Kick the Can and would segue into Red Light, Green Light and we would usually end with Flashlight Tag.
These days, the kids don't gather out front after dark anymore in the summer. For my family, Laser X Laser Tag completely changed that. The game completely transported me to my childhood as we played out in our front yard at dusk. With my kids and my neighbors running around out front after the sun went down, they were introduced to the unadulterated joy that comes with twilight as a kid!
Laser X Laser Tag Sets
The Laser X Laser Tag set comes with everything you need for a two-player game of laser tag. That may sound limiting, but it's not. One of my favorite things about the set is that all of them can work together. So if you want your whole neighborhood in on the game of Laser Tag instead of Flashlight Tag, you can buy a couple of sets and sync them together for one big game!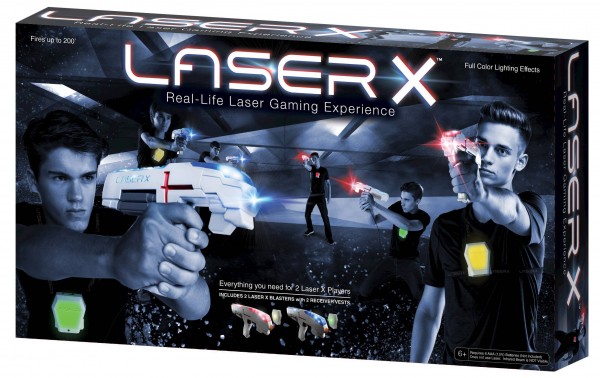 Fun Anywhere
The best part is this is not just a summertime, good-weather-only outdoor toy. It is equipped for indoor play, too. So those steamy, rainy days when the kids are driving you (and each other) crazy can be combated with a game of laser tag. Simply turn on their lasers and vests and let them have at each other!
No matter what time of year or what your age, Laser Tag is always a blast. Pun intended. For me, I'm so excited to give my kids their own "night games" memories. It is perfect for these summertime evenings. While the rest of my neighbors may not pour outside as the temperatures drop, at least a few of them will be drawn outside by the sounds of our family blasting one another with lasers. And perhaps a few more will come see what all that fun about.