Los Angeles provides so many things to do that deciding where to go can be overwhelming. If you want to avoid the crowds, check out these five off-the-beaten-path things to do. Not only are they secluded, they also provide great photo opportunities.
Pedal Boating in Echo Lake Park
A pedal boat ride on Echo Lake provides picture-perfect views of the LA skyline. The park itself is one of the greenest places in East LA. Enjoy the peace and quiet of the lake, and if you are lucky, you may even get to see the sunset before you return your boat. The park offers many other activities as well.
Descanso Gardens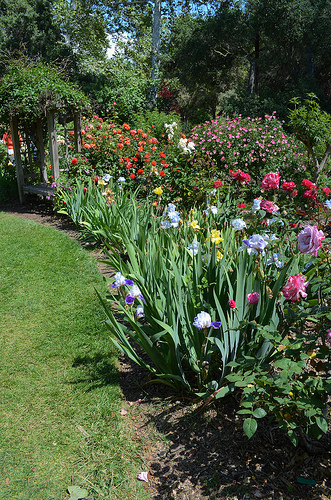 Image via Flickr by Mad Peruvian Media
If you are looking for a great place in Los Angeles to snap breathtaking Instagram travel photos, Descanso Gardens might be the place. Beautiful flowers, ponds, and trees are just some of what this place has to offer. The gardens make a great family outing, a unique date experience, or even just a quiet place to enjoy nature on your own. Don't forget to check out some of the other attractions while you are there, such as the enchanted train ride.
Leo Carrillo State Park
Leo Carrillo State Park is a quiet beach that is close to the city but away from the crowds. This lesser-known location has 1.5 miles of beach, perfect for relaxing, swimming, and surfing. The coastal caves and reefs are great for exploring. Tidepools and beachcombing provide hours of relaxing fun. This beautiful beach is also an excellent backdrop for great Los Angeles beach vacation photos.
Old Zoo Picnic Area
Check out this hard-to-find picnic spot in Griffith Park. Ever wonder what it's like to be on display in the zoo, instead of just a visitor? This unusual location could give you an idea. The Old Zoo Picnic Area was LA's first zoo location and the animal enclosures remain, most of which were built in the 1930s. An easy hike nearby treats you to some great views. This out-of-the-way location will make for a unique experience on your next trip to Los Angeles.
Great Wall of LA
The Great Wall of LA is the world's longest mural and is located in the flood control channel. It was created mostly by community youth but has the support of the local community as well. The mural is 2,754 feet long and depicts the history of LA, from the time of dinosaurs to the 1950s. Creating a mural this long is an amazing feat, but it is still a work in progress. The community wants to keep it going at least up until the present and maybe even beyond.
If you are looking for some unusual and off-the-beaten-path locations to visit while in Los Angeles, these five locations should get you started. These locations will not only give you some great stories to tell but also some amazing pictures to share.