We are pleased to be able to offer this fun giveaway for Wubble Fulla Slime and Wubble Fulla Marbles because these things are so cool. The Wubble Fulla balls come in two versions – Slime and Marbles. And each is available in three sizes so there is truly something for everyone.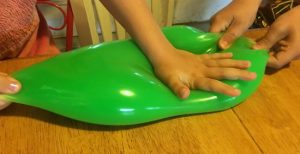 Wubble Huge is 5 inches, and in the slime version especially, quite heavy to play with. The Wubble Fulla Big is 4 inches so easier to toss back and forth between two people. The Wubble Fulla Tiny balls are just about 2 1/2 inches and perfect hand-sized. Regardless of the Wubble you choose, your kids will be immediately delighted. You can see the initial joy and reaction the second they get to put their hands on it!
Like all Wubble Balls they will eventually pop or develop holes, but they are hours and hours of delightful fun for kids. Worth every cent for the amount of active play time and enjoyment my kids get from them. An added benefit I found to the Wubble Fulla Tiny is that the kids use them as worry balls and they are so much quieter and less distracted than fidget spinners.
The hardest part of this review is that I got four Wubble Fullas and have five kids. They were fighting over them! Clearly, I have to buy a couple more so that everyone can always have one of their own to play with.
You can get Wubble Fullas at Wubble Bubble Ball, Target, and other retailers. Best of all, you can enter to win one for yourself! How awesome is that?