The most valuable toys in my book, are ones that little ones will come back to time and time again, and that pave a way towards learning and imaginative play. Enter Educational Insights.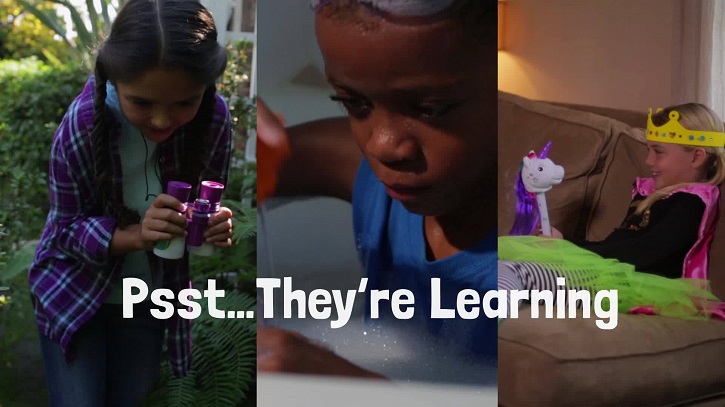 There are so many toys on the market these days. Some are so expensive it's ridiculous. Many have a slew of parts, and often fall apart after just a few play sessions. Others are just fad items that kids will loose interest in, as soon as a new commercial comes on TV. With Toys from Educational Insights, children will use their imaginations and learn as they play.
About Educational Insights
Based in sunny SoCal, we are a team of experts who pour our passion for inspiring kids into playful products packed with serious educational value. For the past 50 years, we've made it our mission to bring you kid-powered play through innovative toys, games, and educational tools.
Offering great brands is part of what makes Educational Insights an awesome source.
Hot Dots®
GeoSafari®
IllumiCraft™
Design & Drill®
Nancy B's Science Club®
Pete the Cat®
Dino Construction Company™
Puppet-on-a-Stick™
Playfoam®
Once Upon a Craft™
GeoSafari Jr. (for ages 3 – 6) happens to be one of my favorites. We've kept toy boxes filled with items like Kidnoculars®, Talking Telescope™ and Talking Microscope™
Made to last and so much fun. Perfect for backyard explorations!
And what if that toy doesn't met your standards?

Guaranteed to make you happy!
You're gonna love this! If for any reason your Educational Insights' product isn't perfectly perfect, we'll take it back. Whether it's just not what you thought it would be or it stopped working properly, we want to make it right. Simply send it back to us within 365 days of your purchase and we'll happily refund your money. A whole year – no kidding! That should put a smile on your face!
Head on over and take a look around. What caught your eye?
Learn More and Connect With Educational Insights: Shop | Facebook | Twitter
Disclaimer:
This product was received from the Company for review purposes only. All thoughts and words in this post are those of the writer, who was not paid to endorse it. Only personal opinions are voiced about the product.