In my head, Will Smith is singing "summer summer summertime" on an endless loop. Never mind that there are still three-odd weeks left in the school year. In my head, I'm already making checklists for our summer travel plans. Between camping, visiting family halfway across the country, and the all-fun-just-for-the-heck-of-it trip we always try squeezing in, there are about a bazillion different things to consider. Among them are safety concerns–especially for my two youngest who still require booster seats in the car. Trying to remember the essentials without overdoing it but also trying to arrive at our destination without turning homicidal is ultimately the goal. Well, that and I guess to have fun. With that said, here are some of my all-time favorite hacks and tips for stress-free travel with kids.
BubbleBum Booster Seats For Safe and Compact Travel
Years ago, the family flew to Seattle to spend a week of our summer vacation there. We decided to skip checking the booster seat because it cost a small fortune. Instead, we opted to rent one with our car rental. Unfortunately, by the time we got our rental vehicle, they were all out of booster seats, forcing us to go run and buy one that inevitably got left in the rental car when we returned it. We already had a booster seat at home, and checking it cost a small fortune.
Enter BubbleBum, a life-saving contraption for travel. The inflatable booster seat can be stuffed into a backpack, purse, pocket, computer bag, or whatever "personal item" you happen to be carrying onto the plane in lieu of checking baggage. Wherever you are going and however you plan on getting there, BubbleBum will allow your child to ride safely.

For Road Trips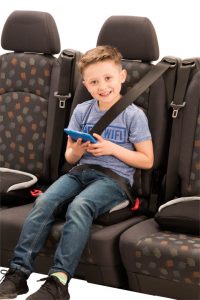 Whether you're planning a short weekend getaway or a lengthy tour of the nation via the Griswold Family Truckster, be sure to thoroughly plan and research your route. Schedule plenty of breaks for the little ones to stretch their legs and burn off some energy after sitting still for so long. Plan to stop at a recommended park or even take in a museum or attraction in a new city along the route. Schedule plenty of breaks into your travel time to make it easier on everybody. Pre-plan snacks, mini-meals, or full-blown meals ahead of time to avoid any last-minute arguing or meltdowns over food choices. If the car is packed to the gills with all of your family's necessary gear, BubbleBum Booster Seats can help save on precious space to keep everybody more comfortable throughout your journey.
For Air Travel
You don't have to provide all nearby passengers with Pinterest-worthy pre-printed apologies for the behavior of your less-than-enthusiastic-to-be-flying child if you are well-prepared for the trip. Cut down on bags by planning to purchase bulky items at your destination to help save on baggage fees as well as to avoid carrying anything more than necessary.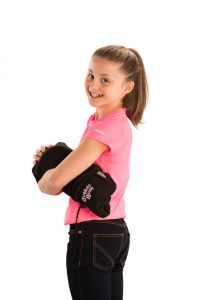 Once again, BubbleBum comes to the rescue so you don't have to buy a new booster seat or check one at the airport. Simply fold it up and shove it in your pocket and be on your way! Other items such as diapers, extra bottles, and shampoos can either be boxed and pre-shipped to your destination or bought when you arrive. Additionally, keep kids entertained and content during flights by hiding toys or games and switching them out during the flight, offering a special movie to watch on a phone or tablet, and filling an empty cup or bottle from a water fountain after getting through security. Children who are comfortable, fed, hydrated, rested, and entertained are happier travelers.
For Hotel Rooms
When my family visited Chicago years ago, we were fortunate enough to have access to a West Loop condo for the family. The location and accommodations were beautiful. Unfortunately, it was also a bit of a nightmare for us as the condo was not childproofed at all. We were unfamiliar with the area and so trying to locate items to put together a small childproofing kit was something of a nightmare. Before heading on your family's trip, put together a small childproofing kit that includes some outlet covers, latches, and perhaps even a nightlight.
For slightly older kids, consider your location when booking travel. Try securing rooms that are closest to some of the most interesting attractions (think pool, game room, soda machine, etc) for your children. Also, consider some all-inclusive resort options. These resort packages often have everything on site so you don't need to worry about renting a car, locating booster seats (unless, of course, BubbleBum is already part of your travel must-haves), and trying to navigate a strange city with hangry and stir-crazy kids in the backseat.
Think Health and Safety First
Always be prepared. A small medical kit can help keep everybody in tiptop shape. Nobody wants to be sick or injured while traveling. Having a small first-aid kit on hand that contains OTC medications, fever reducers, allergy medication, bandages, sunscreen, aloe, and antibiotic ointments can save your sanity in case somebody DOES fall ill. It might also be a good idea to research the locations of the nearest emergency rooms and doctor's offices. In the event of an emergency, it can help save precious time to know the name and/or location of the nearest medical facility.
Traveling with family creates memories that will last a lifetime–and hopefully more good memories than bad ones. Believe it or not, you can travel stress-free with kids. All it takes is a bit of planning!
Learn more about Bubble Bum on their website or through social media! Facebook | Twitter | Instagram