Disclosure: I received an E-zup Camping Cube in exchange for my honest review. All opinions are my own.
We really enjoy having family come to stay at our house. We have a lot of land and it is fun to have a staycation by camping out and inviting the family to participate. So when Ezup offered for us to review one of their E-zup Camping Cubes I was excited to be able to add to our camping accessories.
The screen cube as well as the camping cube are perfect for family gatherings, overnight stays (or longer) and for picnics. You can have more than one and set them up for various stations at a graduation, anniversary or birthday celebrations. The ideas are endless!
About E-zup
The Camping Cube and Screen Cube tents transform E-Z UP® shelters into wonderful camping retreats that can be set up in literally seconds. This will give you more time to spend doing the things you love, instead of frustrations associated with setting up camp. You can use the Camping Cube and Screen Cube tents with your existing E-Z UP shelter or create your own new setup from dozens of canopy colors to mix or match your personal style.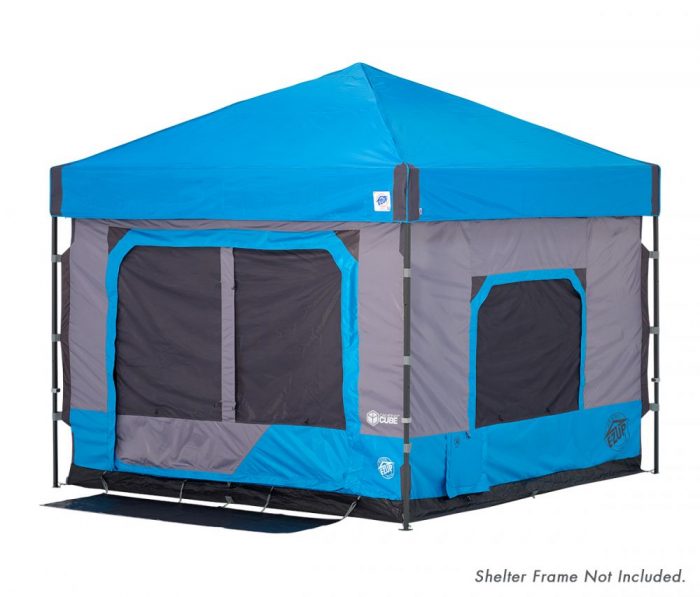 You will see that the Camping Cube tent has enough room (while standing) to fit 5 people and a furbaby, or the one size bigger can fit 6 people and your furbaby. It also has a pet portal so they can get out and come back in without opening the 'people' door.
If you opt for the Screen cube tent it is great for families that want a bug proof area. Fully-enclosed insect-proof floor, ceiling, and walls. Then you can decide who comes in and out.
Features:
Available For Angled Leg Shelters
Oversize Entry Door
Power Pocket
O-Ring Attachment Points
Heavy-Duty E-Z Zipper and Zipper Pulls
Accessory Gear Bag
The E-Z Up is the perfect gift for the holidays, especially because you know you are giving a quality, ease-of-use to someone who will enjoy it for years to come.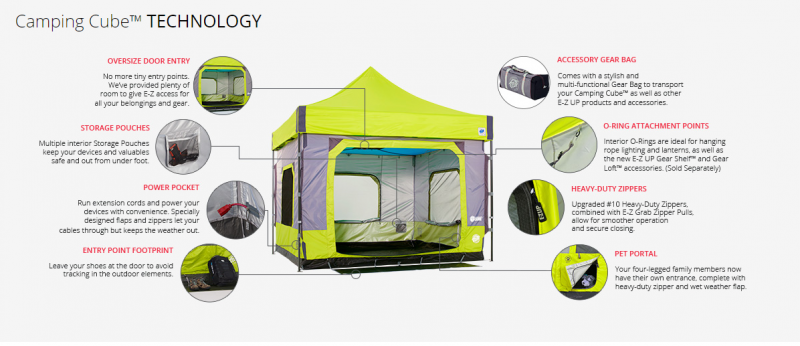 The Camping Cube tent starts at $209. The Screen Cube tent starts at $119. *Does not include frame.