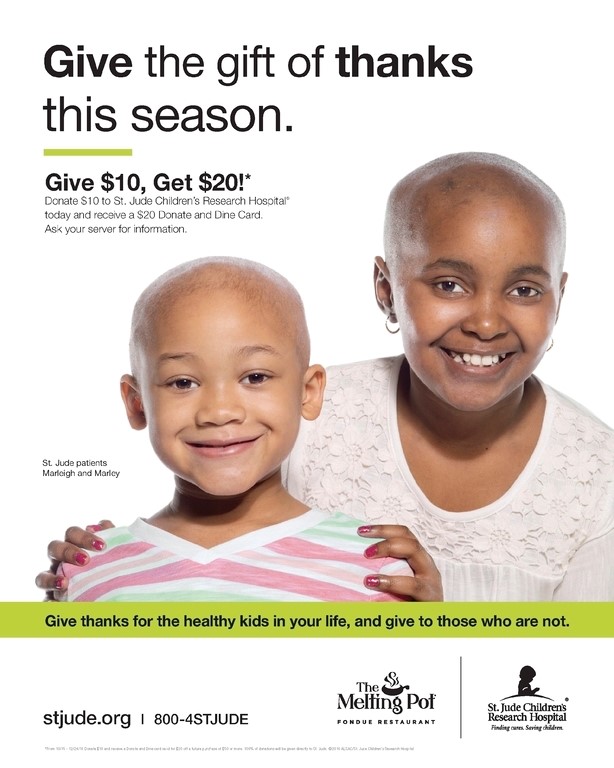 As a longtime partner of St. Jude Children's Research Hospital, The Melting Pot is proud to participate in the annual Thanks and Giving. The world's premier fondue restaurant has raised over $10 million for St. Jude since establishing the partnership 13 years ago.
How can you help? It's simple!
Give $10, get $20!
When you visit any of The Melting Pot restaurants in the U.S. from now through Dec. 24, 2016, you can donate $10 to St. Jude and receive a Donate and Dine card from The Melting Pot valid for $20 off a future purchase of $50 or more. Find The Melting Pot in your local area today to make your reservation!
Donate Online
Those who are unable to make it into a restaurant but want to donate will be able to do so online, and will be mailed a Donate and Dine card.
The Melting Pot has always been a place where family and friends gather for an exceptional experience that goes well beyond food. Year after year, the restaurant's passionate team members and loyal guests come together to help save children's lives through their donations. These funds are critical given that no family at St. Jude ever receives a bill for treatment, travel, housing or food – because all a family should worry about is helping their child.
The hospital freely shares the breakthroughs it makes, so every child saved at St. Jude means doctors and scientists worldwide can use that knowledge to save thousands more children.
So this holiday season, raise your fondue forks at The Melting Pot to help ensure more family dinners are in the future for families with children fighting life-threatening diseases at St. Jude.
To learn more about St. Jude and their fight against childhood cancer and other life-threatening diseases, visit their website at www.stjude.org.
Connect with The Melting Pot: