I'm not sure if you or your friends have ever heard of the Catalyst company, if not sit back and let me tell you about this company and their wonderful products.
Are you or your family members iPad users? If so, you might want to check out the Catalyst company today. The Catalyst company carries a wide selection of protected waterproof cases for iPads , iPhones, Tablets, and much more!
I've been looking to purchase my daughter Lex a new iPad case this Christmas. She's done so much damage to her iPad case, it's unrecognizable! Before school is out for the Holidays all students have to turn in their iPads to their school counselor for inspection. After viewing the Catalyst website I saw they had available cases for the iPad mini, 9.7" iPad Pro and 12.9" iPad Pro. The 12.9″ iPad Pro case is just what she needs.
The 12.9″ iPad Pro case will be perfect because it's very lean, unique, and packs a lot of great features to keeping her iPad protected and safe. Not only will these cases protect your devices, but every unit is tested waterproof to 6.6ft (2m). Each unit has also been awarded the Parent Tested Parent Approved seal for its iPad waterproof .
The Parent Tested Parent Approved seal better known as (PTPA) is a group of real parents like you and I that test out family products to ensure all products are suitable, durable, and functional for our families!
The 12.9″ iPad Pro has a soft grippy rubber bumper to withstand impact and offer great grip, a clear front and back to showcase the design of your iPad. It also has a integrated touchscreen film that provides access to all features including Touch ID, Control Center and swipe notifications while generously sized ports accommodate most aftermarket charging cables and headphone jacks. They also have excellent optical clarity for your cameras too! So no need to worry about not being able to take pictures or access any of your iPad features! Plus the iPad Pro case will also offer you and your family great sound quality transmission due to the Catalyst's unique air and watertight acoustic membranes. Viewing videos and FaceTiming your family and friends will definitely be a breeze!
Take note as well that the iPad Pro cases also have a drop proof rating of 4ft (1.2m), and a thin plastic multi-angle stand is included for your convenience.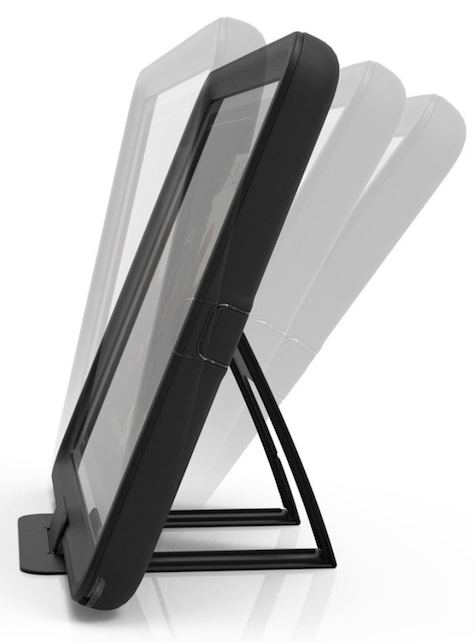 Are you aware statistics state 70% of elementary school kids, 65 percent of middle school kids and nearly 40 percent of toddlers own tablets. It also shows 55 percent of families have had a tablet broken by a child, and parents have spent more than $11 billion repairing devices. WOW, that's a lot of money and yes, I am among those parents who have had their little one break an iPad!
I will go on record to say, there is a huge need for a strong, protected , waterproof, cases for our devices and I do believe that's what the Catalyst case for iPad series will offer. Even with our little ones who are so tech savvy today we still need to make sure our iPads and other devices are protected at all time!
While we tend to think iPad waterproof cases are unnecessary for most everyday iPad users, those seeking a solid waterproof case at a fair price will likely be pleased by what Catalyst offers.
Don't forget to check out Catalyst iPhone cases too, if you're seeking to add one of their iPad cases to your Christmas list I suggest you grab a phone case too. Better to be safe than sorry!!!
Buy one for yourself and another for someone important in your life, it's the best gift you can give to your precious iPad.
Catalyst Cases for iPad Family
$149.99 (US) Catalyst Case for 12.9" iPad Pro
$119.99 (US) Catalyst Case for 9.7" iPad Pro
$89.99 (US) Catalyst Case for the iPad mini 4
Read more below to learn about CatalystCatalyst is a lifestyle accessories brand founded to create iconic products that enable people to explore and share their world. Catalyst offers the highest performance accessories that are the best value for their customers.
Founded by June Lai, and award winning industrial designer Josh Wright, both avid outdoor enthusiasts, Catalyst launched in 2011 after searching for product that fit their needs and lifestyle but did not yet exist. Lai and Wright first designed and developed a durable case that would protect their iPhones through their many outdoor and underwater adventures.
Since Catalyst's inception five years ago, the brand has launched on Kickstarter and introduced the highest performance line of everyday cases, accessories and sleeves featuring their own proprietary technology.
Connect with Catalyst via Facebook | Twitter | Instagram | ShopWebsite