As a mother and a person who is kinda practical with my gift purchases, I tend to look for educational toys as often as possible. My youngest is the awesome age of 3, and we aim to get her as prepared for the preschool level as possible. The company I trust the most, and that I also used for my oldest, is School Zone. They have so many options for all ages, and as a mother that homeschools I tend to buy a lot of what School Zone have to offer. Anything to help my kids get ahead.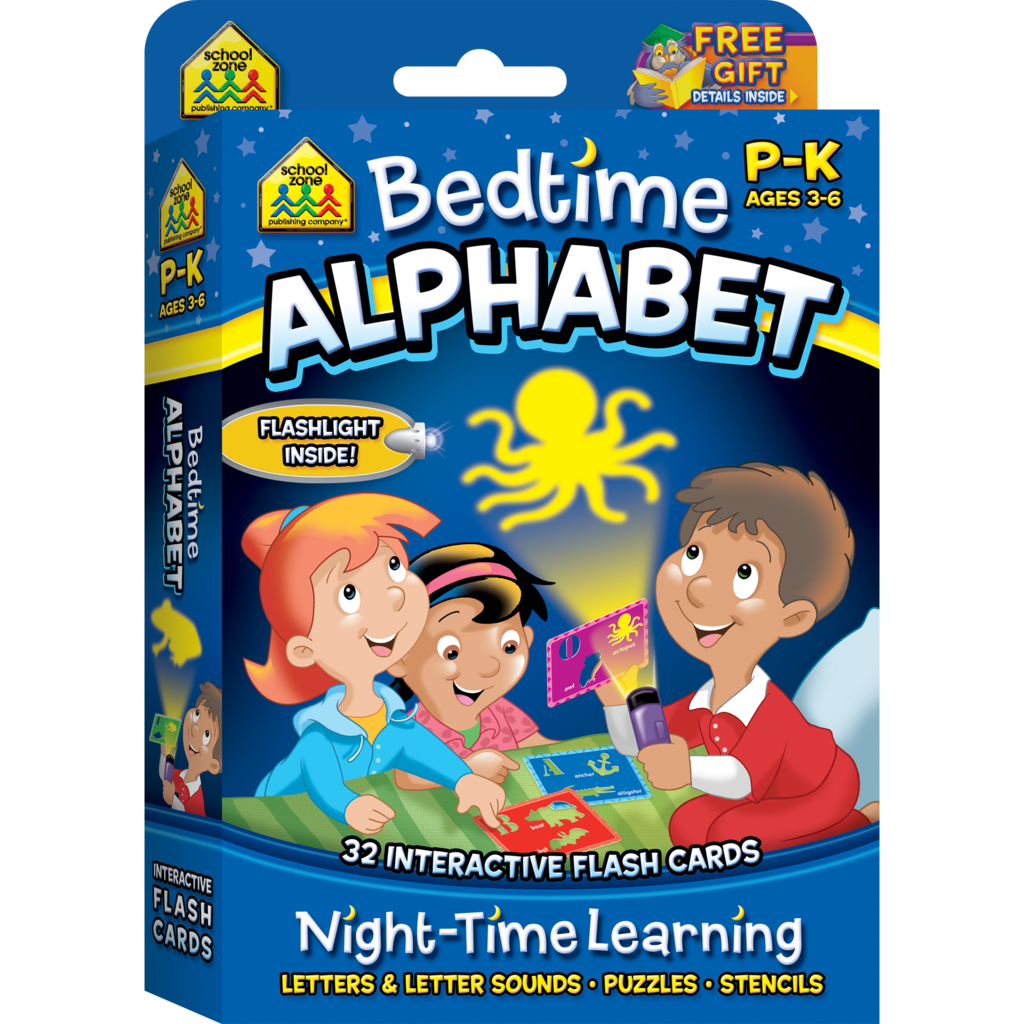 Before bed, we like to do some reading and a little bit of learning if we can throw it in. Bedtime Alphabet are interactive flashcards that make night-time learning something your kids will want to do. Each flashcard has a cutouts that go with a certain letter. The flashcards come with a nifty flashlight that kids can use to shine through the card. It puts fun shadows on the wall that can bring learning and fun in an interactive way. School Zone has given us an amazing fun thing to do at night before bed.
Includes:
32 interactive cards
96 stencils
mini flashlight
6 puzzles
bold, captivating illustrations
During the day, the fun does not need to stop. You can use these cards as stencils for even more interactive play with their letters. It makes for an excellent tool to help them learn their letters and begin the process of sounding out each letter for smooth transition to reading later on. School Zone has thought of everything! I love that there are puzzle pieces on the back that will make up 6 different puzzles! This would make a great gift under the tree, or even as a stocking stuffer.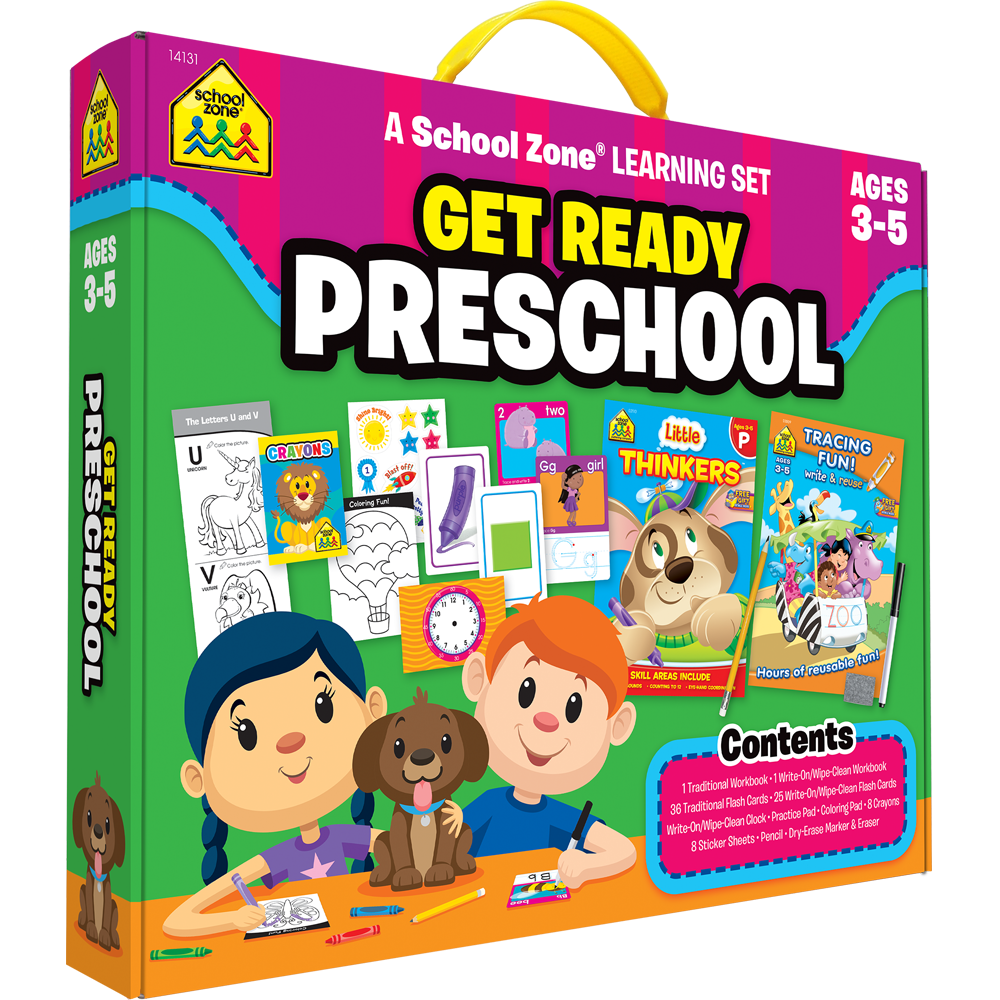 School Zone brings us so many amazing things and I really love the fun learning experience that my kids get. My daughter absolutely loves Get Ready Preschool Learning Set, it gives her a fun learning experience. We have basically set her up to do her own school work, while her sister does hers. She always felt left out when it was school time, because she didn't have the same structure her older sister does. With this she gets all of that and it is still fun for her.
Included:
1 Traditional Workbook
1 Write-On/Wipe-Clean Workbook
36 Traditional Flash Cards
25 Write-On/Wipe-Clean Flash Cards
Write-On/Wipe-Clean Clock
Practice Pad
Coloring Pad
8 Crayons
8 Sticker Sheets
Pencil
Dry-Erase Marker & Eraser
I love the reusable workbook pages for tracing. It gives me daughter the repetitiveness that is needed to learn, all while not wasting paper. The reusable flashcards are really neat and she loves picking out the one she wants to use. We also have other color dry erase board markers that work wonderfully on these as well. In case the marker that comes with it eventually runs out of ink, these are good things to know. Plus my daughter tends to forget to recap things, and they dry out. So many dried markers everywhere! She enjoys the workbook pages the most, because she feels like a big girl, like her sister. The whole set has been a huge success for her. She enjoys learning and everything is fun and keeps her engaged in the learning process.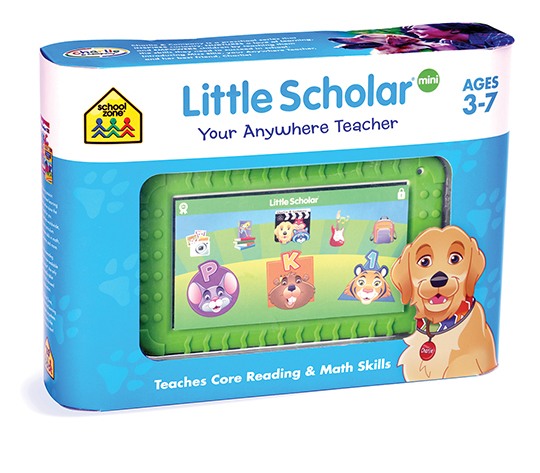 My youngest is always stealing my iPad or my phone. I put educational games on them, but she just wants to play farm games or ones with animals. It is a bit difficult to find free apps that she can use, and not only that, I really sometimes need my own device for work or personal reasons. School Zone has given me an amazing gift with their Little Scholar! It is a tablet that comes with a free protective bumper to keep it safe. It is perfect for kids age 3-7 and can be used with or without Wi-Fi. It is ready to use right out of the box, without having to buy a single app. It comes preloaded with over 200 of them!
Features & Benefits:
Over 200 preloaded apps, videos, books, songs, and games
Exclusive, interactive, educational video series: Charlie & Company
Original content, in a kid-safe environment, with no additional costs
A+ Report Card app for viewing dynamic graphs and reports of children's activity with each Little Scholar program
Audio praise and feedback
Rear- and front-facing camera
Durable construction designed for little hands and rigorous use
FREE protective bumper included.
Skills: colors, shapes; patterns; counting; numbers; addition; subtraction; letters; ABCs; uppercase letters; lowercase letters; multiplication; telling time; counting coins; phonics; rhyming; beginning letters; letter sounds; short and long vowel sounds; letter blends; spelling; matching; same and different; vocabulary; critical thinking; memorization; problem-solving; fine motor skills; observation; eye-hand coordination; focus
All of the skills it can help with, is a huge advantage for me. Not only that it comes with so many apps already i do not have to worry about loading new ones on, unless we find ones we really want. I do not even have to worry about her playing games that I have on my devices that are perhaps not age appropriate. She has so much fun learning and can not wait to show me what she has done. The look of how proud she is, can not be measured in words. Even when she does not feel like taking a break to show me, I can get updates on her progress and what she has learned. I love the A+ Report Card app that shows me her activity and graphs that show me what she has learned. This makes an excellent gift to put under the tree, the excitement your little one will have is amazing.
Connect with School Zone: