Our family is always on the go! Whether we're packing overnight bags for a travel soccer game, an overnight visit at grandma and grandpa's house, a weekend camping trip or summer vacation at the lake; one question always remains the same – where are the kids going to sleep?
The answer is here.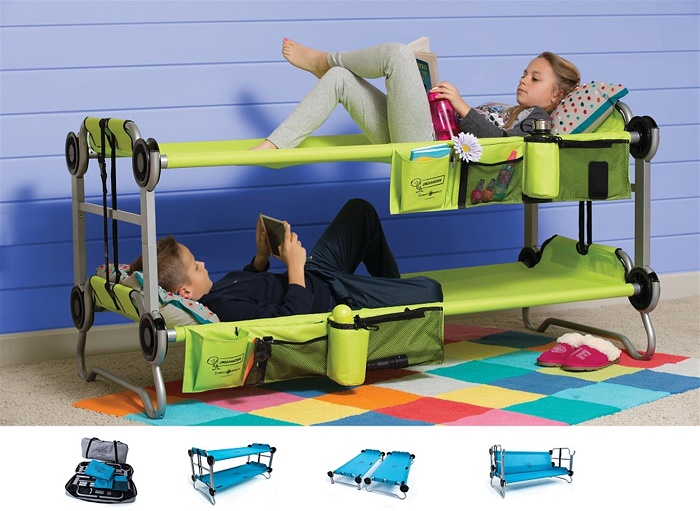 The new Kid-O-Bunk, from family-owned company Disc-O-Bed, is one of the most unique mobile sleeping solutions on the market. It's guaranteed to save space, time and get your kids excited for bedtime.
Forget about those bulky air mattresses you used to lug from room to room, Kid-O-Bunk is tool-free and easy to assemble – even for children! The patented lock-in disc system turns one sleep option into three in under15 minutes. Leave it up to the kids to choose between a bunk bed, two single cots or a sitting bench.
You won't have to worry about their comfort, either. The unique stitching design and polyester sleeping deck contour to the body and displaces weight evenly – even on uneven surfaces. The Kid-O-Bunk is completely rustproof, waterproof and machine washable!
Pack and unpack the Kid-O-Bunk within minutes. All parts fit into two zippered carrying bags light enough for the kids to carry themselves, and easy to store under a bed or in a closet. When you buy directly from the manufacturer (www.kidobunk.com), you also get two free side organizers (perfect for nighttime water bottles and bedtime book storage), footpads and free shipping.
The Kid-O-Bunk, which comes in fun colors like teal blue and lime green, is designed for kids between the ages seven to twelve, and holds up to 400 lbs per bunk.
The Kid-O-Bunk by Disc-O-Bed is now available at www.kidobunk.com for MSRP $289.99, in addition to most major retailers. To purchase or learn more about Kid-O-Bunk, visit www.kidobunk.com.