With summer coming to an end you'll likely be wondering how your going to keep that summer glow. Because lets face it we all look a little pasty after a few months of clouds and snow. St. Tropez's NEW Gradual Tan In Shower Lotion has you covered. This in shower tanning lotion gives you a gradual tan that you can put on every time you shower to give you that sun kissed look e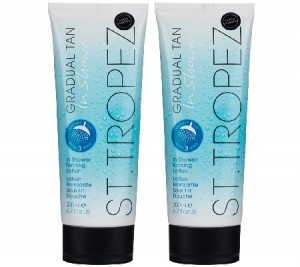 ven during those long winder months winter months.
This system honestly couldn't be any easier to use. You shower and was as normal, then apply the St. Tropez's NEW Gradual Tan In Shower Lotion to your entire body and leave it on for 3 minutes. After the three minutes you rinse it off your skin. I must warn you to be sure you rinse really well. Anything that you leave on the skin will become streaky. But I only had that issue once and learned from it right away. Even the spots I did miss washed away easily with a little soap and warm water. I normally put it on the same time I put on my conditioner for my hair and let them both sit for 3 minutes.
St. Tropez's NEW Gradual Tan In Shower Lotion leaves your skin feeling nice and smooth. It isn't orange like most tanners can be and truly has a wonderful smell. The nice thing about this lotion is that you can build on layer by layer. Until you get that perfect tan just for you. No over doing it. Once you reach the color you want you stop applying for a few washes and let it fade a little