Set to be one of 2015 hottest toys I give you My Friend Feddy Bear and My Friend Cayla. These toys will bring you back to your childhood when you believed every time you left the room your toys would come to life and play together. The idea behind Teddy and Carla is to interact with your child by saving their name and interests. They ask you the parent some questions about your child, making it easy for Freddy and Cayla to become fast friends with your child. More than just a toy Cayla and Feddy are like real friends who can play games, tell stories, talk about photos and even help your child with their homework.
Your child can ask them an infinite number of questions, from their likes and dislikes to general knowledge and sports results and they'll tell them the answer. Just like you would ask Google or Siri. Just sync them with an Android or iOS device via Bluetooth and they'll use Google's speech-to-text technology to look up answers online and speak them back. For peace of mind, there's a pre-defined list of 'bad words' and topic which they will not talk about. So you don't have to worry about the cheeky older sibling trying to cause trouble.
I love the look of Cayla. She is very petty and perfect for any doll collection. She looks like a child's doll. No makeup and an appropriate outfit. She has long blonde hair and comes with her very own hair brush. Her outfit is adorable and something that any little girl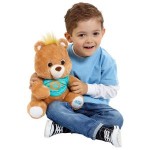 will wish was in her wardrobe. Even down to her pink sneakers. On the outside she is just like any doll, but on the inside she is so much more.
Why should girls have all the fun? Freddy Bear is lovely and cuddly, with very soft fur. When he's not connected to a smart device he will still talk when he's cuddled, tipped upside down or thrown in the air. Plus he has and on/off switch so he can be taken to bed. This makes me happy, nothing scares a small child more than moving in the middle of the night only to have their toy start talking! ( Believe me I've been there)
These toys have come a long way since Teddy Ruxpin. I have fond memories of my Teddy and I know with today's technology a new generation is going to look back fondly at Freddy Bear and Cayla Doll.
Connect with them
This product was received from the Company for review purposes only. All thoughts and words in this post is my own and I was not paid to endorse it. I am only voicing my opinion about this product.