One of most talked about recent beauty trends is Korean skin care. Major style and beauty publications like Cosmopolitan and Vogue have covered the topic extensively. Throughout the world, Korean women are famous for their flawless, glowing, and dewy complexions. In fact, most Korean beauty experts will tell you that both Korean men and women are the most demanding skin care product customers around.
One of the major concepts of a Korean skin care routine is to prevent skin issues before they become a real problem. Both boys and girls are taught how to properly care for their skin at a very young age. Skin care is very big in Korean culture, so the competition between Korean skin care brands is incredibly fierce. The latest technologies are incorporated with tried and true active ingredients, and new products are released at a head-spinning rate. Korean beauty companies often package their products in fun and cute packaging to attract attention, and product pricing is very competitive.
So, what is the Korean secret to achieving flawless skin? It all starts with a unique and customizable skin care routine that includes up to ten steps or more. Don't let the number of steps deter you though; many steps don't have to be done every day. In fact, once you have a routine established, you won't need to spend more than five or ten minutes to tackle your daily routine in the morning and evening. You can customize the steps to suit your needs, too. Some days you might use all 10 steps, while others you might only use a few.
Your skin care routine should be thought of as a form of self-care. We've all been taught that we should take a little time for ourselves each day, but how many of us actually do it? Investing a little time in yourself is good for your mental health!
If you've never tried the Korean skin care routine before, it can be a little overwhelming trying to figure it all out on your own. Here's a look at each step with details on how to incorporate it into your routine and some suggestions on how to customize it for your needs.
Korean Skin Care 101
Double Cleansing
The magic starts with a double cleanse that includes a luxurious oil cleanser followed by a gentle water-based cleanser. The primary purpose of the oil cleanser is to break down makeup, oil, and sunscreen on the skin without causing irritation or stripping away essential moisture. The water cleanser follows up by gently removing any residue that's been left behind to leave skin fresh and clean, but never dried out.
Toning
Up next comes toner, which is applied with either fingers or a cotton pad. The toner's purpose is to re-balance the pH of your skin and prep it to absorb the powerful active ingredients to follow. Choose your toner formulation based on the condition of your skin.
The Essences
Essences are similar to serums, but they are usually quite watery in texture. They are intended to infuse the skin with moisture that can be lost during the cleansing process.
Treatments
Ampoules and serums are highly concentrated treatments that are formulated with active ingredients that take aim at specific skin concerns, such as dehydration, scars, hyperpigmentation, fine lines, and wrinkles. Tradition Korean skin care routines often include more than one treatment, and they are layered from thinnest to thickest. This is one of those steps that really allows you to customize your routine. Add or take away treatments based on your needs at the time.
Moisturizers
At least two separate moisturizers are chosen for this step. First, an intensive eye area moisturizer is used to target things like dark circles and fine lines. Next, an all over moisturizer is applied to the rest of the face to seal in all the active ingredients previously applied. Sometimes, a lighter moisturizer is chosen for day and a heavier night cream is used at night. Proper miniaturization is the only way to get that dewy look Korean women are famous for.
Sunscreen
Sunscreen should never be skipped. It is absolutely essential for preventing premature aging and sun damage, including skin cancer. To shorten your routine, consider a daytime moisturizer or foundation that already has SPF built in.
Optional Extras with a Big Payoff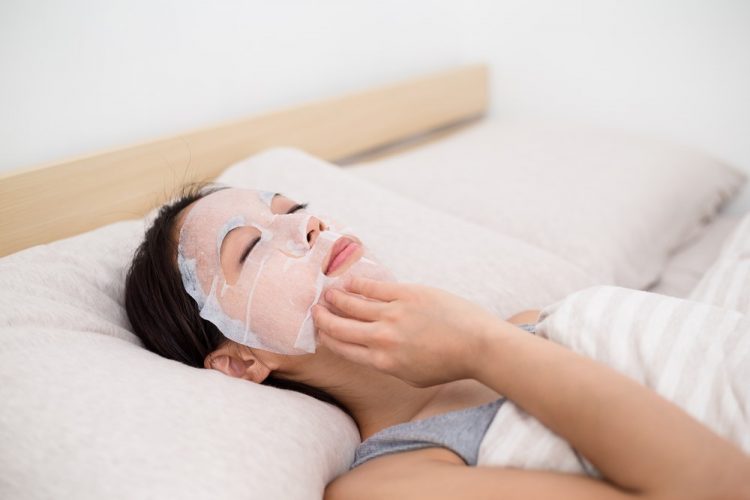 Exfoliating
Many people don't understand how vital exfoliating is. Proper exfoliation encourages cell turnover. It unclogs the pores and helps your other products to absorb better. Look for exfoliators that are made from botanical extracts and avoid physical exfoliators that could damage the skin. Exfoliating should be done right after cleansing, two or three times a week.
Masking
Two of the most popular mask types in Korea are sheet masks and sleep masks. Sheet masks usually include a super concentrated serum that is put on either gel or paper and then applied to the face. They are left on anywhere from a few minutes to half an hour. Some women sheet mask daily, while others might do it only once per week. You can use a sleep mask in place of your night cream a few times a week. Sleep masks are fantastic for extra hydration and targeting specific skin concerns.
How to Fit Everything In
To get the most amazing results, you'll need to follow the entire routine, but for some people, there's just not enough time in the day for all those steps. In the morning, you could cut the routine down to just the water-based cleanser, your toner, moisturizer, and of course, sunscreen. Don't forget you can speed it up even more by choosing a moisturizer that has a sunscreen built in. Then just add in the treatments at night based on how your skin looks and feels. Finally, incorporate the extras into your weekend pampering routine when you're not rushed, and you can really enjoy them.
It's going to take some dedication and hard work to achieve your best skin ever, but you will see amazing results from a Korean skin care routine. Just like with anything else, your results will reflect the amount of effort you are willing to put into it!