Digital dream labs has brought us a one of a kind hands-on experience through your tablet or computer called Puzzlets. Highly recommend for you to spend time with your child also while doing this game. The starter kit for Puzzlets comes with 22 Puzzlets pieces that you will place in to a rechargeable Play Tray which is also included in the starter set. By placing 1 of the 22 Puzzlets in to the Play Tray you will create a solution on the level you are trying to beat making the experience unique to yourself. Other things included are a download code for "Cork the Volcano", 1 USB Cable, and basic instructions. Puzzlets new type of creative gaming is sure to take this unique idea to different measures for children of the next generation.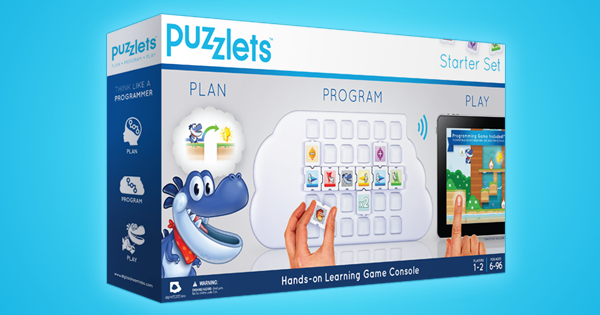 Through this experience your child will adventure through "Cork the Volcano" trying to maze through the fun puzzles in order to get a golden puzzle piece on the level. The"Cork the Volcano" download comes with over 120 levels for your child to experience. Each level has it's own special theme, with no wrong pathway to go the solutions you can achieve are nearly endless. Watching my nephews work together to think of creative ways to outsmart the game was priceless. Some of the levels seemed easy for them, some of them took a few tries before they finally solved getting the golden puzzle piece. With the game getting more challenging as they went on, the more complex the solution they created had gotten .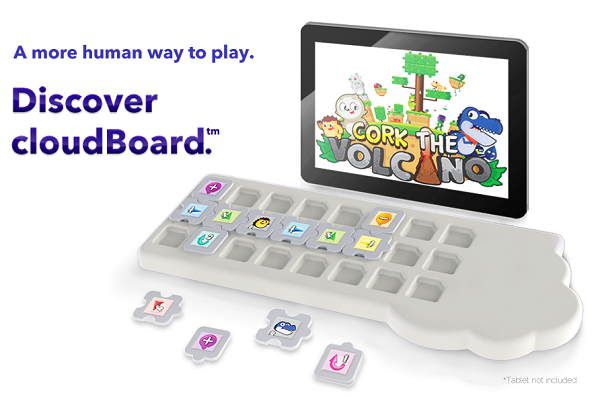 Puzzlets new type of creative gaming will give a fun learning experience as it does a fun and exciting experience. I recommend the Puzzlets starter kit to anyone who wants to give there child a more hands-on learning with a computer or tablet. Instead of spending time staring at a screen they will be moving and interacting with both the tablet/computer and the Puzzlets with the Play Tray. I found it easier to get my nephews attention while they were playing with the Pluzzlets starter kit, rather then when they are sitting in front of the tv zoned in and not really moving. It is nice to see more innovative ideas that have our children learning through hands-on activities that are in our daily routines. Seems like a good way for you to spend time with your child as well, you would be surprised what you could learn from each other while trying to get to the golden puzzle piece. This is a good beginning for something great, hope you enjoy the Pluzzlets starter kit as much as me and my nephews did.
Compatible Devices: Puzzlets new type of creative gaming
iPad3, iPad4, iPad Air/Air2
iPad Mini, iPad Mini Retina
Android tablets/phones with Bluetooth 4.0 LE, 4.3 OS
Window XP/7/8/10
iMax, iMacbook Air, iMaxbook Pro
Connect with Puzzlets: Shop | Facebook | Twitter
Disclaimer:
This product was received from the Company for review purposes only. All thoughts and words in this post is my own and I was not paid to endorse it. I am only voicing my opinion about this product.