My house is full of little girls that love to create things and play make-believe. They love playing with clay and making things that come to mind. Sometimes what is in their mind, is not so easy to make with clay and their little fingers. That is why they enjoy Poppit Pop 'n' Display Bakery. It gives them the chance to make tiny little creations with lots of details. Something that they have struggled with in the past.
Now all I hear is giggling as they play at the table with clay. They can let their imaginations go wild, all while staying seated at the table. They love popping it. You put the mold in the Poppit and then you add the light clay to it and press it in the mold. Then you squeese and the clay pops out in your shape. It is really fun and causes lot of laughter and lots of flying clay. It brings a smile to my face, seeing them enjoy something so much.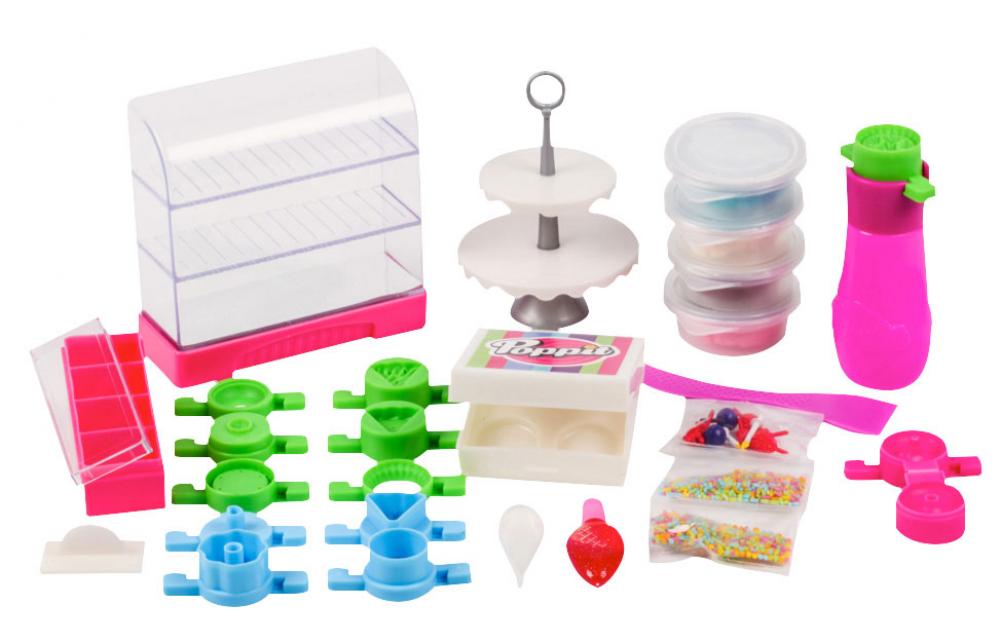 You can create just about any tiny creation you wish with the Poppit. Puppies, food, purses, and the list goes on. My girls like sitting at the table and playing make believe with each tiny piece they create. They really love that the Poppit Pop 'n' Display Bakery comes with a display case for their creations. Of course, only the best of the best make it in the display case to be shown off.
They sit there for hours creating things with the clay, gems and glitter pens. Then play with their creations and of course display them. I love that it comes with a few molds and that you can purchase other molds as well along with more clay and decorations for their creations. Poppit Pop 'n' Display Bakery comes with a lot of decoration items, one popper, 12 molds, and several display options that you would find in a bakery. Display case, cake stand, donut box, and macaron lid and box.
This make an excellent gift for girls that are 5+! It will give them hours of creating time and they will have a blast. It also makes something fun to get out during the holidays to make fun creations together. It is the perfect time of year to just spend time together, without technology.
Connect with Moose Toys: