My husband and I are huge music fans, so when I was hunting for a birthday gift for him, music seemed the obvious choice. Finding a gift for me (especially my man) is hard. Whether it's Father's Day, a holiday, or a birthday, Phorus's unique and innovative music solutions have you covered.
Phorus offers quality in a small container. Although there are other louder speakers for music, they do bring big sound to your home in little sizes.
"Music today isn't like it used to be.

In some ways, it's better… But somehow, even though the choices got bigger, the sound got smaller, especially at home. Despite all the ear buds and celebrity headphones and speaker docks and adapter cables that litter the house, something is missing.

We've lost the feeling of walking through the door, kicking off our shoes, turning up the volume and letting loose in the living room, singing at the top of our lungs in the shower,or picking the perfect playlist for a party… Our mission is to bring that joy back home, by creating products that make listening great again."
Today's music is sourced from our smart devices. We no longer need to play the same 10 songs on a loop, create mix tapes in order to have variety, or even have a separate player for MP3 tracks. Whether it's streamed, played from the radio, or stored locally, most of our music is played from our devices. If you're anything like me, you're probably frustrated with the less-than-full noise that even the best stereo speakers on your phone makes. I like my music to be robust and full!
Phorus makes it easy to to stream from your phone, and get quality sound. Whether you have an existing speaker that you love, or you're in need of a speaker, Phorus has a solution for you!
Phorus PS5 Speaker: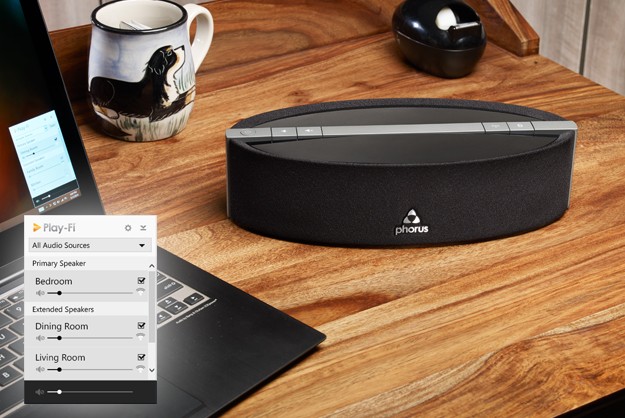 Get the sound you want from this powerhouse speaker! I love how beautifully designed it is – it looks great in my home! You can play to every room, and Dual Band Wi-Fi streams lossless audio so you don't need to compromise on sound.
If you're a Spotify Premium user, you can stream directly to your Phorus Speaker! If not – no need to worry! The Phorus Android app allows you to stream from your favorite online service, or from your library.
Features and Specs:
Compatibility: Android, iOS, AirPlay, Bluetooth, Kindle Fire, Laptops, computers, PC
Stream to different rooms from a single device (multiple speakers, receivers or other Play-Fi products) using DTS Play-Fi technology
Dimensions: 2.9 x 11.2 x 4.9 inches
Weight: 2 lbs 5 oz
Connectivity: 802.11n Wi-Fi, Bluetooth, USB 2.0, Push-button set up
Includes a power cable with three region specific plug adapters (US, UK, EU) and a USB-A to micro USB cable
Premium DTS Sound so that you can live your music!
Supportz streaming high resolution 24-bit/192kHz FLAC audio files.
Stream from Spotify, Songza, Pandora, SiriusXM, your music library, and many more.
Spotify Premium will stream directly to the speaker using Spotify Connect
Dual Band Wi-Fi, with 2.4 GHz and 5 GHz options
The free Phorus app makes setup easy
We love our new sound! My husband loves the gift! And most of all, we love watching our toddler rocking away to the beat of high quality music.
Phorus PR5 Receiver: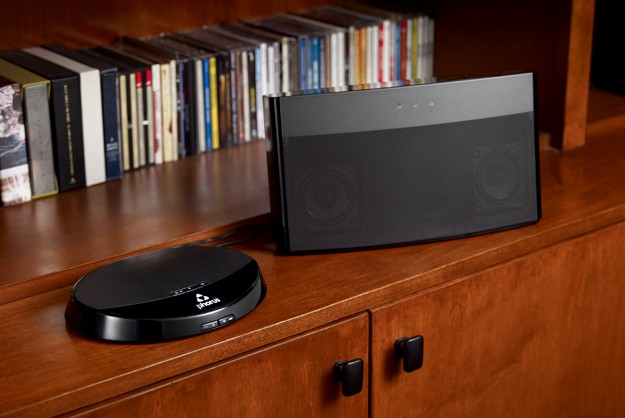 If you have a great speaker, with awesome sound, but you wish it had the features above look no further! You can turn it into a wireless speaker too! Simple connect the PR5 Receiver by Phorus and dance to the music!
With broad compatibility, super high quality audio, and multiple connectivity options, you are going to love the PR5 Receiver. Lossless audio will make you love your music even more.
Measurements are 1.2in x 8.3in x 6.2in with a sleek, elegant design. It comes with everything you need, including an audio cable and Y-adaptor, and a USB-A to micro USB cable. This award winning device will definitely please the man in your life.
If you or your guy are looking for great sound, ease of use, and plenty of options, Phorus is the place to go. Whether you opt to hook your existing speaker up to the PR5 receiver, or you use the PS5 Speaker, you will not be compromising on quality.
Connect with Phorus:
Disclaimer:
This product was received from the Company for review purposes only. All thoughts and words in this post is my own and I was not paid to endorse it. I am only voicing my opinion about this product.