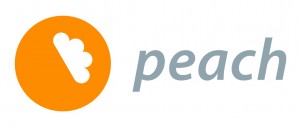 I have some great news for you! The peach app is finally here to make it simpler, cheaper, and quicker to buy extended warranties for all your devices! Remember a few weeks ago, I told you about a new app that will be coming out soon, the Peachme app? Well, the developers have been working long and hard and it's here and ready to use. In case you don't remember, here's a recap:
About the Peach App:
Peach is a free and smart app that allows you to scan the barcode on the item you are about to buy, and shows you the best free and low cost options within seconds. Yeah, you heard me right. It's free AND it's smart – something that's hard to find today! But even more so, it saves you money and time. Its a win-win solution. You get your protection. You don't overpay. And you don't spend a week researching the best plans. This app will do it all for you.
"Shopping for new tech? PEACH CAN HELP. Why buy an expensive warranty if you don't have to? Peach shows you how you may already have coverage or if you want, options for a cheaper or better coverage. You only get important information you actually need and want to know about."
There was a wait. The wait is over. It's now available. And I decided to give it a try by testing it on my computer.
Using the Peach App:
I went to the Peach website and right there was a "get started" button. I clicked on it and in a split second (note: super fast load time) it took me to a search bar. I typed in "Samsung" as both my husband and I have Samsung phones. It brought up, again super-fast, images and model names and numbers of the current Samsung smart devices. Since my phone is a dinosaur, it wasn't there, but my husband's S4 was, so I clicked on that. This is where I need to stop talking and SHOW!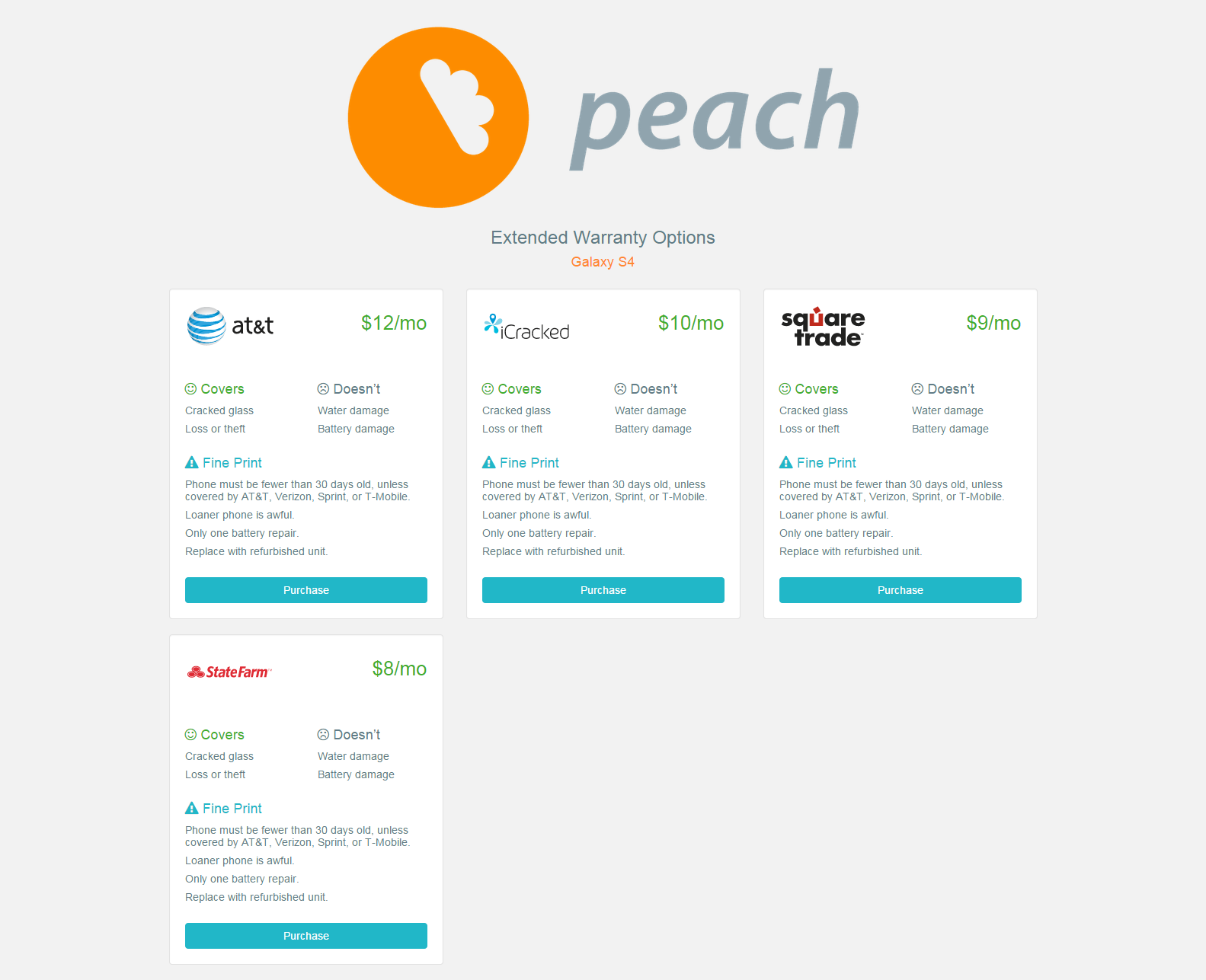 As you can see, it gave me four options. Everything is spelled out clearly and obviously. There's no guesswork. What I see here is four options that all cover the same exact thing! Yet the cheapest is $8 and the most expensive $12. That means that if I would have just gone with the most likely first reaction – the AT&T marketer – I would be paying 1.5 times the price!
See, I'm all about shopping around. But doing that is tedious and takes too much time. To make matters worse, companies make it so hard to understand all the details by making it wordy and hard to read. Over here, all the details are spelled out. What amazes me most is that I do not even have to click through to see the details – I have it all at a glance. So, in the spirit of the Peach app, I'll spell it all out for you below in pointed details:
Peach App Features:
Simple to use search engine
Fast load time
At a glance view
Loads of current devices
Includes price, what's included, what's not, and fine print
The overall experience of Peach is easy to use, helpful, and quick. It will definitely save you on your next warranty purchases by providing all your options will all the information up front. You can try it out now on your desktop by visiting the Peach web app here.