Your Shiatsu Neck Pillow Massager for 2017
Neck and back issues seem to be a commonality anymore. People overdo themselves in their teenage and younger adult years not realizing the consequences they will suffer. I know I did way too much heavy lifting when I was younger and my last bumper car ride with my son 15 years ago was the last straw.
If you would like to purchase one you can save 14% off your purchase by using Code: NaipoMB1 14% off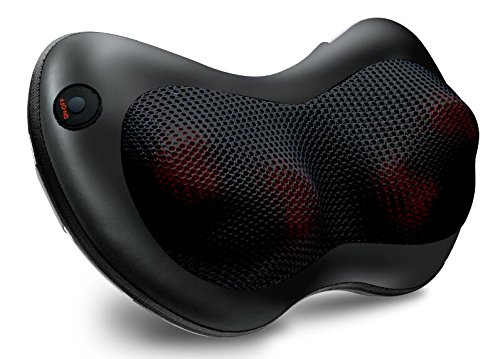 The Naipo Neck Pillow Massager Shiatsu has been an inexpensive but effective way to help my comfort level recently. The Shiatsu is so convenient and very easy to use. You can sit in the comfort of your living room or while riding in your car. The unit is rechargeable and contains lithium batteries that cannot be replaced. You will want to make sure you do not store it in a damp area, or use in the bathtub, jacuzzi or anywhere else that moisture or wetness can occur. Another advantage is because it is cordless you can move to another location without having to unplug and take a cord with you. Also, you do not have to worry about your pet or child tripping on it.
What I like most about this unit is the portability and the fact that either one of us can use it when the need arises. Make sure you do not allow children to use it. Also because we are NOT medical professionals you should consult your doctor if you are not sure if you should or should not be using it based on your neck or back condition(s).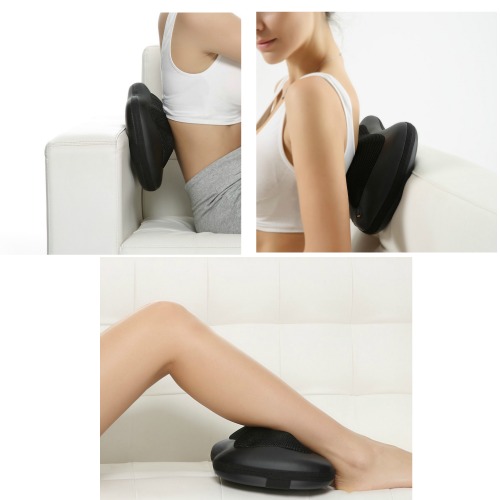 If you would like to purchase one you can save 14% off yours by using Code: NaipoMB1 14% off
This massager also will work on other parts of your body besides your neck. You can use it on your upper back, mid back, and behind your shins/on your calves, perfect for your shoulders, lumbar region and so on.
Other information about the Shiatsu
Heating Function – The massage nodes can be heated to about 40℃, so it is good for blood circulation with warm temperature, but not hurt to your skin.UL approved power adapter works with wide voltage (110-240V ).
Ergonomic W-design – follows the contour of your body and allows focusing on a specific target area.
Quality Warranty – Provide a full refund within 30 days with no reason and 2 years warranty with any problems.
Included with your massager is:

1 x Pillow massager
1 x User manual
1 x Car charger
1 x Charger
I love the fact they give you both a car charger and a charger for your home. This makes it very easy to keep your unit charged. If you are looking for a great massage unit you will definitely want to keep this one in mind.
Visit their Website naipocare.com and YouTube channel.
If you would like to purchase one you can save 14% off yours by using Code: NaipoMB1 14% off