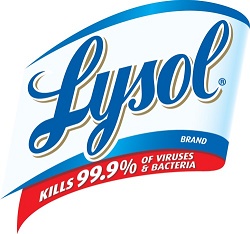 Once again school is in session and winter is just around the corner. With that comes cold and flu season! If you kiddos are anything like mine, half the time they don't cover their mouths when they cough or their nose when they sneeze. And even if they do, they don't immediately wash their hands. Thus they spread their germs onto every student and friend within a hundred yards of them. Not to mention touching the same door knobs, pens, toys and the like. And this is what keeps our kiddos sick all season long!
Lysol has some amazing products to help keep the germs under control and the kiddos healthier this season. Educating our kids on germs and how to keep them from spreading should start in our homes, and at a young age. We all want our kids to be happy and healthy. But if they are constantly contracting germs all season they are most likely sick and miserable!
Surface Disinfection Insights and Recommendations:
When someone is infected with the cold & flu, the virus can live on surfaces they touch for up to 48 hours, meaning that the infection can be transferred to someone else days after initial contact. The Centers for Disease Control (CDC), recommends routinely cleaning and disinfecting commonly touched surface areas at home and at work to help prevent the transmission of cold and flu viruses.  The Global Hygiene Council (GHC) recommends using disposable wipes (such as Lysol® Disinfecting Wipes) to frequently remove viruses and bacteria from commonly touched hard surfaces, such as kitchen work tops, taps, toilet seats and flush handles, doors and fridge handles, light switches, telephone hand pieces, etc.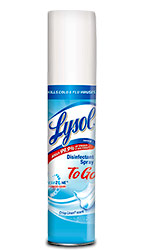 In order to keep the germs from spreading from school to our home, I have my children keep a small bottle of Lysol To Go in their backpack. I know it may sound silly and like I'm a germaphobic, but I prefer my kids stay healthy. They can simply wipe down their desk each day and keep the germ load down.
Lysol Disinfectant Spray To Go can be used throughout your home, on surfaces such as:
Toilet areas
Sink areas
Faucets
Doorknobs
Telephones
Lightswitches
Public toilets
At home, I keep the house fully stocked with Lysol products. Lysol Kills 99.9% of Viruses and bacteria including: Influenza A Virus (H1N1), Human Coronavirus, Staphylococcus aureus (MRSA), Salmonella enterica, Escherichia coli (E. coli) and Herpes Simplex Virus Type 1. Removes more than 95% of allergens (Pet Dander, Dust Mite Debris and Pollen Particles) Thick Strong Wipe is great for cleaning up messes. For use on hard surfaces all around the house, including: Counter tops, sinks, door knobs, light switches, telephones, bathtub, toilet seats, glazed ceramic tiles, cabinets, shower door, vanity tops and chrome fixtures. Lysol® Dual Action Disinfecting Wipes have two sides that go beyond ordinary wipes. One side has built-in fibers for tough messes and the other side is meant for touch-up cleaning.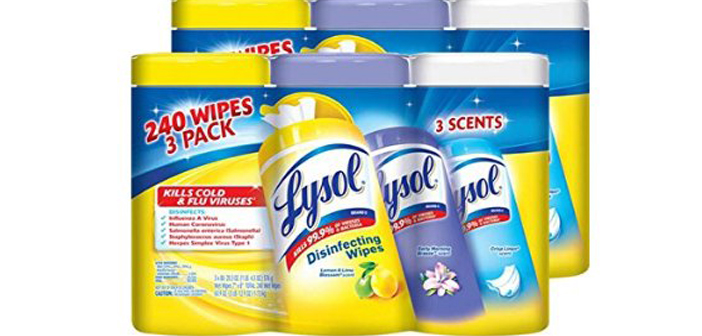 I don't know about you, but the though off keeping all these nasty germs under control in my home and while my children are away and most vulnerable is very important to me. Germs can and do take lives every single day. While I don't want my kids to turn into OCD germaphobics I do want them to be aware, educated in germs, how they spread and how we can prevent the spread.
Germ Transmission Insights and Recommendations:
Cold and flu viruses are spread easily from person to person in a variety of ways:
Through direct contact, like shaking hands with someone who has the flu.
Through the air, like when one child sneezes on another.
Through contaminated food and water.
Some germs are spread through contact with animals or by a bite or scratch.
Through indirect contact, like touching a dirty tissue used by someone with a cold, or a surface that has been touched by someone who is sick. The cold & flu virus can live on surfaces for up to 48 hours.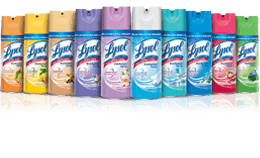 Frequently spraying Lysol® Disinfectant Spray on hard, commonly touched surfaces such as doorknobs, sink faucets, toilet seats, remote controllers, keyboards and phones, as well as on fabric and in the air can help prevent the spread of viruses like cold & flu.
To learn more about Lysol® and how their products to help keep your family healthy visit them on line at Lysol® or connect with them on Facebook and Pinterest where you can keep up-to-date on all their products and which ones work best for your family.
Disclosure:
This post was sponsored by Lysol®. All opinions are my own. I'm a Lysol® brand user and believe 100% in their products. Keep healthy, use Lysol® daily!