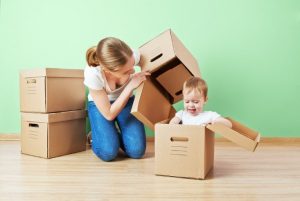 Last April, I got a new job near Houston, Texas — Sugar Land, to be precise. While for anyone already in the Houston area, the commute to Sugar Land wouldn't be too tough, but my then-residence in North Carolina meant that I needed to uproot my family to pursue my new career track. The job was definitely worth the move — or so I thought.
My partner (a native Texan) was more than eager to relocate with me, but the same could not have been said for our three young children. At the time, my oldest was 7, my middle kid was 4 and my youngest was 11 months, and all of them enjoyed the stability and security of their lives in NC, though they might not have said so in the same words (or any words, in the latter case). Couple my kids' disinterest in leaving their current lives behind with the inherent chaos of packing everything and traveling across the country, and you can see how troubling the move was for my family.
It's safe to say I learned a few things from my move, and I hope to convey that information to help you in your moves with your young children. Here's a few tips and tricks I sorely wish I knew this time last year.
Start Months Early
I got the job in April, and we were on the road to Houston before May. That was a huge mistake.
You don't want the move to happen overnight; you want to give your kids enough time to come to terms with the move and get on board. Ideally, you should schedule a few months — not a few weeks — to allow everyone time to accept and help with the move. This will make every step of the process of moving go more smoothly for your little ones and for the adults.
Enlist the Kids' Help
Just as I do with exercise and cleaning, I packed up the house as quietly as I could after the kids went to sleep. Then, slowly but surely, the house migrated into boxes without the kids noticing much amiss. This, too, was a mistake.
You want your kids not only to be aware of the move but also involved in it. This is smart for a few reasons. First, it teaches your children the critical skills of organizing and packing, which they will undoubtedly require for the rest of their lives. Additionally, whenever little ones are involved in adult activities, they make it more fun. Even if their boxes aren't perfect, you will have some good family fun during your packing experience.
Start With Downsizing
Because my move happened so fast, I didn't have time to get rid of any of our junk before we moved. Instead, I tossed everything in our home in a box, enlisted the help of Houston moving companies and hit go.
Every move should begin with a purge. Undoubtedly, there is a good portion of your possessions that don't need to follow you to your new place, and much of that stuff belongs (or once belonged) to your kids. You should work with them to thank and eliminate the belongings you no longer need, so you can reduce your moving expenses and avoid filling your new space with unnecessary junk.
Host a Yard Sale
Once you have a pile of things your family doesn't need any more, you might be tempted to chuck it all in the trash or else give it to a donation center in your area. While kids could gain valuable lessons from the latter, an even more exciting activity is a yard sale. You should work with your older kids to put prices on the belongings worth including in the sale. You might also go with your family to your neighbors to ask if they would like to contribute to the sale or participate with their own items. A yard sale is a fun and easy way to scrape up some extra cash for your move, and it teaches kids a bit about supply, demand, negotiation and profit.
Express Gratitude and Excitement
We were out of our home so fast, we all got whiplash. As a result, it took way longer than it should have to settle into our new place. Though the house itself was much bigger than our old one (thanks, Texas), our oldest still doesn't feel quite relaxed; she still talks about "home" in North Carolina. If I could do it all again, I would make every change I listed above, but most importantly, I would give us an hour or two before we hopped in the car to remember the memories our old house gave us and thank it for its service. By doing this, you will give your family closure, so you are ready to start fresh in your new digs.