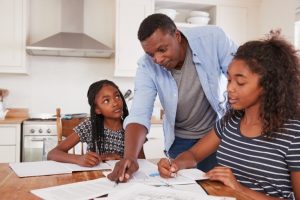 In theory, a college application should be a perfect example of a student's abilities. Everything from the quality of the writing to the academic and extracurricular achievements should be completed by applicants alone; they shouldn't have help from teachers or parents because applications are meant to demonstrate what students have done and how they will perform in higher education.
However, that doesn't mean that parents should have a totally hands-off approach to preparing their kids for college. If you have a teen who should begin thinking about college applications, here's what you can do to enhance their applications ahead of time.
Volunteer Together
From a young age, kids should know the importance of giving back to their community and helping the less fortunate. If your kids are still young, you should get in the habit of donating food, clothing, toys and time to your community as a family. Not only will this get children in the habit of being conscientious and compassionate, but it will also establish a strong history of community involvement that will look good on their college resumes.
If your kids are already teens, you can still make volunteerism a mandatory family activity. Even better, there are ways to make volunteering fun and engaging for older kids. For starters, you should choose volunteer opportunities that pertain to your teen's interests. For instance, if your kid is moved by animals and pets, you might find opportunities at local shelters or zoos. You might also encourage your teens to bring their friends to volunteering events.
Then, after every volunteering experience, you should talk to your teen about what they learned about the needs of the less-fortunate and their role in the community. This will get them in the habit of talking about how their volunteer efforts impact their worldview, which is useful on college admissions essays.
Take Meaningful Trips
Every once in a while, a trip to Disneyland is warranted. However, family trips should do more than get you and your kid out of the house; they should give your teen more information about the world and experience of the different places, cultures and people within it. The best vacation will take your family somewhere totally new, where you and your teen can learn, grow and make a positive impact.
If your ideal vacation isn't a particularly active one — or if you can't afford to take the entire family on a trip of this caliber — you can still give your teen travel experience. Most religious groups offer opportunities to send young people abroad to do good works during the summer break; this Catholic summer mission trip service has options that are domestic and international, so your teen can visit all types of communities.
Again, whenever you or your teen travels, you should talk about the experience afterwards. You might even encourage your teen to keep a diary or journal of the trip, so they can look back on what they did and learned. Then, when it comes time to apply to college, they'll have a cache of interesting and unique experiences to talk about.
Organize Campus Tours
Most teens on the verge of college admissions are petrified by the experience not for fear of the applications themselves but of the seemingly unlimited choices before them. In the United States alone, there are more than 2,618 accredited universities; overseas, there are thousands more. To help your child narrow down their options, you should plan to complete plenty of campus tours.
You should start by visiting the closest universities as well as the ones that are likely to offer plenty of financial support. The best tours incorporate discussions with current students, so your teen can interact with potential future peers and gain a sense of their satisfaction with their studies and student services. If possible, you should schedule meetings with advisors or professors in the fields that interest your teen, so they can start developing connections at potential colleges.
Communicate Better
Finally, the best way to get your teen excited, interested and engaged with college applications is to talk to them about the experience of higher education. Undoubtedly, your teen already understands that college is expected of them, but right now, the stress and fear of admissions might be turning them away from the application process. You should be open and honest about the career opportunities a university education will provide as well as the unique social development that occurs on campuses. If you communicate well, you will encourage your teen to work extra hard on their applications and get into their dream schools.