Solar decor is definitely a plus when it can help you avoid all of those extension cords. With our home, we do not have any plugs on the front of our house. This has made it difficult to decorate every year for the holidays. With Moonrays Clear Winter Stake Lights we will now be able to decorate in high fashion this year!
If you remember I wrote about Moonrays a few months back. You can read that post if you haven't already here. Now with their holiday winter stake likes you can decorate all winter long.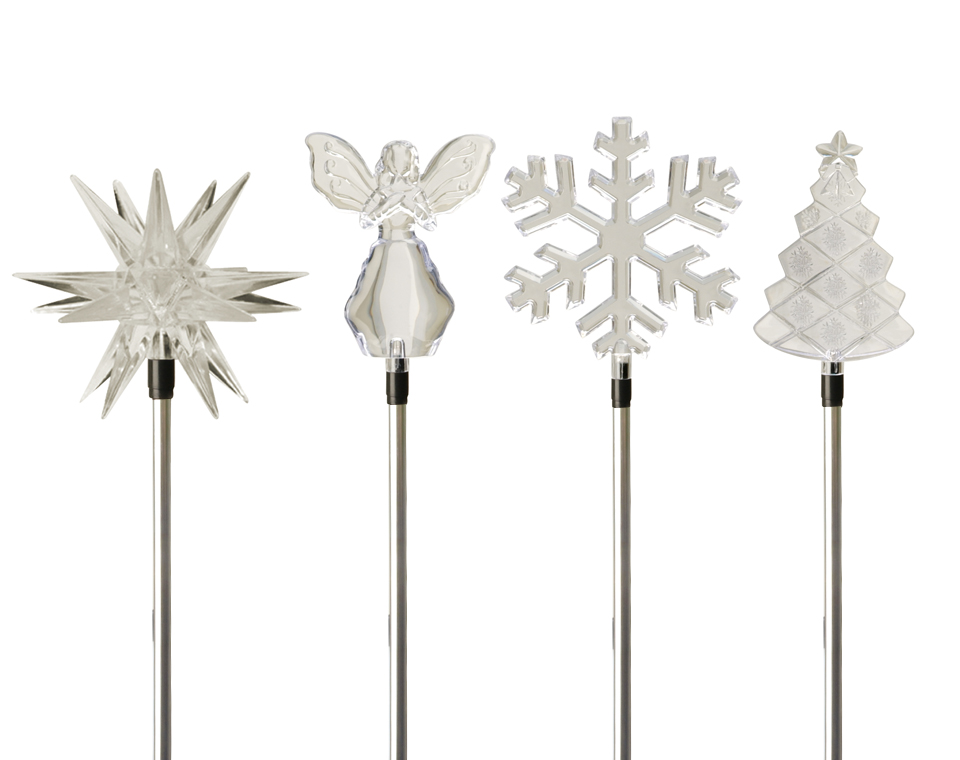 Each lighting unit glows white at night.
Each day, rays from the sun recharge the included NiCd battery. At dusk, the battery activates to turn on the included LED bulb inside the unit.
Installation is simple and takes only a few minutes of your time. Just push the stake on the unit down into the soft earth. For best effect, install a number of Moonrays LED Stake Lights around your garden.
Find the perfect spot around your patio that gets sunlight for at least 6-8 hours each day.
Each topper is crafted of clear long lasting, weather resistant plastic ideal for outdoor use.
Measures 39 inches from top to bottom. Above ground height, after installation is approximately 35 inches, depending on the depth you install the stake.
You can use these for dormant flower beds, up the side of your sidewalk to light your guests way or anywhere you would like to add some decoration and feel festive. If you would like to check out their other seasonal offerings for LED lights you can do so here.
About Moonrays
Moonrays® Landscape Lighting has something for everyone's outdoor space – from whimsical accent lights to solar pathway solar, to complete low-voltage sets.
In addition to the exceptional quality of the Moonrays collection, the products feature unique designs that are not seen among other brands in the industry.
Follow Moonrays on their Facebook and Visit their Website and Blog
.