I am not sure about you, but I am counting the days until the weather is no longer freezing. It seems winter always lasts so much longer than spring and summer in our area. So what I have been doing is planning on the things I will be doing once spring weather comes to brighten up my yard and home.
I really enjoy having lights decorating our front of the house area and this year I think I am going to expand on that and add to our backyard area also. This brought me to Moonray to help me get some great ideas for sprucing up on the outside of our house. The first thing that caught my eye was their floral stained glass lights.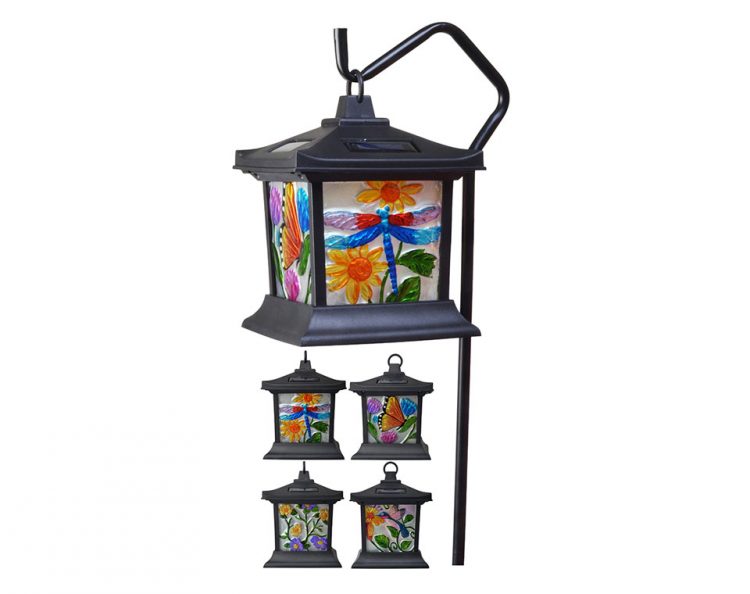 Features of Moonray's Floral Stained Glass Lights
These lights are fused glass designs which are lit at night from a white LED bulb. Each day, rays from the sun will recharge the included NiCD battery. When evening hits and it starts to get dark the battery will activate to turn on the included LED bulb inside the unit.
These are easy to install, and will only take a few minutes! All you have to do is push the stake on the unit into soft ground. Each side of the stained glass housing shows a different garden design. These are a dragonfly, butterfly, flowers, and a hummingbird. You can place them on a tabletop or use with the included shepherd's hook.
The lights measure 30.7 inches from the top to the bottom. The above ground height, after installation, is about 25 inches, which will depend on how deep you install the stake.
What is Included?
Included in the package you will receive 1 lightbulb that is LED and white. The average time they will stay lit is 6-8 hours and then will recharge during the day to be ready again for the next night.
About Moonrays
Moonrays® Landscape Lighting has something for everyone's outdoor space – from whimsical accent lights to solar pathway solar, to complete low-voltage sets.
In addition to the exceptional quality of the Moonrays collection, the products feature unique designs that are not seen among other brands in the industry.
Follow Moonrays on their Facebook and Visit their Website and Blog