We're all so busy with the hustle and bustle of the holiday season! We're preparing gifts for family and friends, teachers and classmates, and everyone in between. Likely you have a laundry list of people that you don't want to spend a lot of money on but want to do a little something sweet to recognize them over the holiday. Koochikoo Organic No Sugar Added Lollipops are the perfect little treat to give those special people!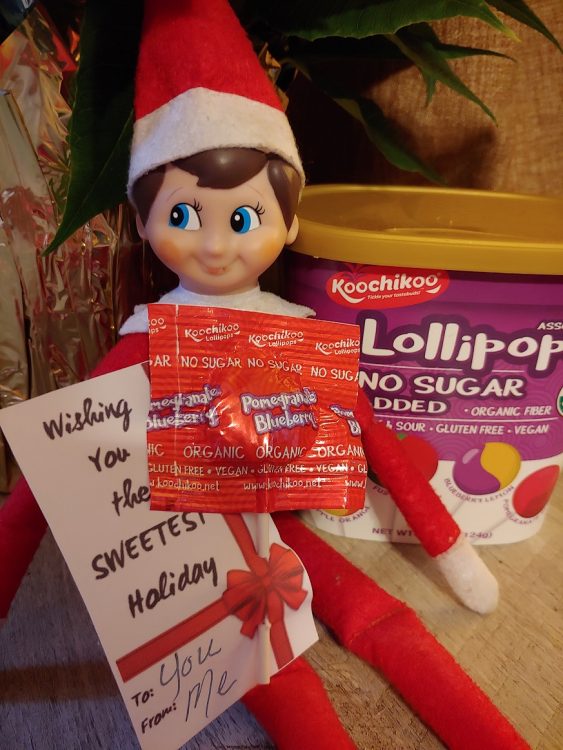 Whether you need a simple little gift for kids to give to their classroom friends, want to dress up your holiday gift tags, or a fun idea for nametags for the place settings on your holiday table, adding a Koochikoo lollipop is a sweet little something that everyone will love. Plus, you'll be giving them a wonderful, organic treat that you can feel good about sharing! There is nothing better than a sweet treat that has no added sugar, artificial sweeteners, colors, or flavors.
What is Koochikoo?
Koochikoo No Sugar Added Organic Lollipops are the world's first sugar-free organic lollipops! The founder of Koochikoo, Grandma Sal, worked with global organic brands and frequently heard requests for organic, sugar-free options. She saw a huge gap in the candy industry and decided to take a crack at filling it. After what was a true labor of love, Koochikoo Lollipops were born!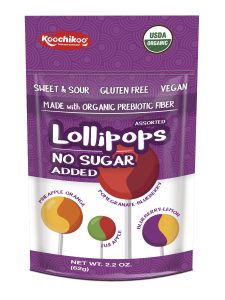 It might seem a little mystifying that Koochikoo Organic Lollipops contain no sugar or artificial sweeteners, but they get their sweet taste from something far better for you! Tapioca fiber, made from the cassava plant, is a natural sweetener that has a taste that is similar to soft honey and it gives these lollipops the sweetness to satisfy your cravings. And each of these delicious lollipops has only 5 calories!
While these lollipops are low on calories, thanks to the Tapioca fiber, they have 5 grams of prebiotic soluable fiber each. This makes it a great source of dietary fiber, which contributes to your recommended daily allowance! Dietary fiber can help to balance your gut and aid in digestion, among other wonderful health benefits of fiber in your diet.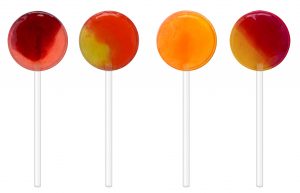 There are four delicious Superfruit flavors to choose from – Blueberry-Lemon, Fuji Apple, Pineapple-Orange, and Blueberry-Lemon. They contain natural flavors and colors, plus are organic, non-GMO, gluten-free, vegan, and also certified KOF-Parve Kosher. Koochihoo Organic Lollipops are simply packed with delicious, wonderful things that are perfect to share with the people you care about, at Christmas and all year through!
Where Can You Find Koochikoo Organic Lollipops?
Keep your eyes peeled for Koochikoo Organic Lollipops while you're doing your holiday shopping at Marshall's, TJ Maxx, and Home Goods. You can also order online from the Koochikoo Amazon Store. Use the code lollipower at checkout to take 10% off your order of Koochikoo Organic Lollipops! Learn more about the world's first sugar-free organic lollipop at the Koochikoo website.
A FREE Printable For You!
And as a bonus, here's a little gift from me to you! Click the image below to download free printable gift tags that I created for our sweet little holiday gifts! Enjoy!