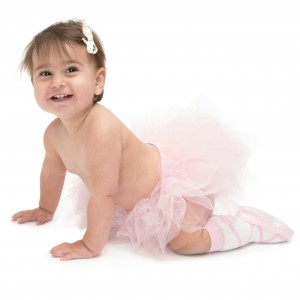 Mocc Ons have taken slipper socks to a new level with their adorable styles and designs. Imagine an adorable baby wearing plain old slipper socks. Pretty cute, no? Now imagine the same baby in a track suit and sneaker style slipper socks. Or in overalls and cowboy print slipper socks. Or in a tutu and ballet shoe slipper socks. You can't really compare, can you?
"Mocc Ons are moccasin style slipper socks, designed to fit baby from six months up to three years. They're made of a lovely soft and stretchy cotton, stitched to a real leather sole, which helps to prevent slipping ensuring that your little one's toes stay toasty all year round! Like all products in the Sock Ons range, Mocc Ons are designed to be funky, practical, fashionable and, most importantly, washable!"
There's more to Mocc Ons than the cute factor. They're also extremely practical, for a few important reasons. When my baby was very little, I didn't mind very much putting socks on him to keep his mini toes warm. But now that he is a year old, and learning to stand and walk, socks can hamper his development. They're simply too slippery. Even slipper socks don't usually have enough traction. But Mocc Ons this through thoroughly. The entire sole is made of genuine leather, creating a moccasin bottom, so that baby won't slip while practicing to cruise.
There's another few perks to the Mocc Ons that make them the perfect choice for age six months until three years. They stay on so much better than socks. They are also much thicker and warmer. The sock itself is very thick in comparison to typical socks and the sole makes it even warmer, especially if you have ceramic tiles in your home.
Features of Mocc Ons:
Sizes 6 months – 3 years
Genuine Leather sole
Cotton socks
Machine washable
Comes in a fun variety of styles for boys and girls including: sneakers in eight colors, cowboy, cowgirl, ballet slippers, pink spots, zebra, cow, and rainbow.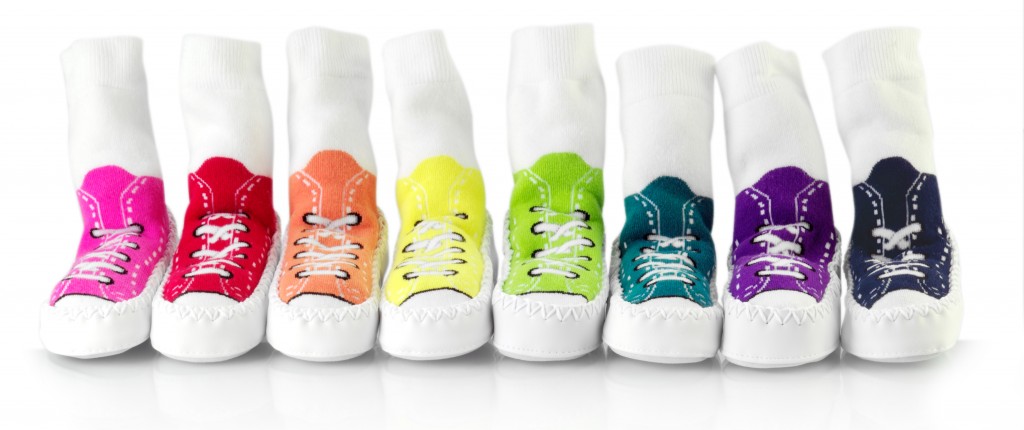 Mocc Ons are stylish, practical and so easy to use! They keep my baby's feet warm on our cold floors. He looks so cute when I use them to finish off an outfit – the are they are the perfect finishing touch! These innovative shoes make a great gift for babies and toddlers.
Connect with Sock Ons:
Disclaimer:
These products were received from the Company for review purposes only. All thoughts and words in this post is my own and I was not paid to endorse it. I am only voicing my opinion about this product.