Postpartum is a challenging time. After a challenging birth experience, exhaustion takes over. Yet, at the same time, a mom is woken every few hours during the night for feedings. While this is a fact of motherhood, there are small things that can be done to help soothe and make the task slightly easier. One of my favorite ways to do this is with swaddling. Swaddling a baby helps him feel more secure and reminds him of the comfort he experienced in the womb.
When my baby was first born, we tried swaddling him with receiving blankets. It was a total fail. Then we received an aden + anais muslin swaddle blanket. It was a lifesaver. I learned how to use it properly in an instant; there was no learning curve. It worked like magic, helping my active newborn calm down enough to fall asleep on his own. I didn't have to rock him for hours anymore. I was able to spend that time recovering as well.
"We believe in simplifying the lives of parents and caregivers. Parenthood is a blessing but can also be very overwhelming. This is why we create products that are as versatile and useful as they are beautiful. Our swaddles work as stroller covers, tummy time blankets, nursing covers, burp cloths and more. Our bibs double as burp cloths. Our serenity star is a five-function-in-one multi-tasking nursery must. Anything we can do to make a baby safe and comfortable, and a parent's life easier, equals a job well done for us. "
Our use of aden + anais swaddle blankets didn't stop there. We continued using it after our baby outgrew it as well. We use it as a shade on the stroller, to help him sleep while on the go, and as a "stranger shade". We used it as a floor mat for playing. We used it as a generous protective burp cloth. We used it for many more things as well. There is one thing that we were lacking, though. We only had one. That means that while it was in the wash, I had to go back to my annoying too small, non-breathable receiving blankets. That's why the twinkle gift set is so perfect.
The twinkle gift set from aden + anais is the perfect little package. It includes two subtle gray muslin swaddle blankets. It also includes a musy mate® lovey – something my baby loves after he's outgrown his swaddles. He bites the ears when he is teething, and the satin edge is soft and sensory. It's also a great way to transition him from a bare crib to sleeping with blankets, now that he's a year old. He loves poking at the eyes and staring at the face.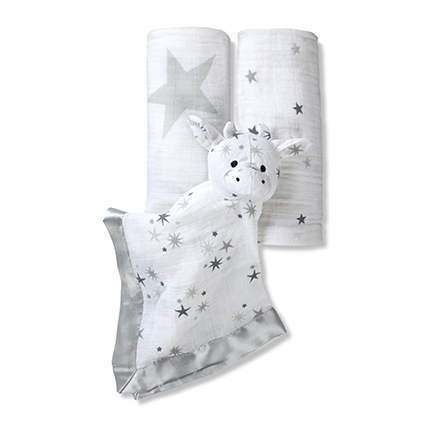 Features of the twinkle gift set from aden + anais:
Contains two swaddles and one musy mate® lovey
Boxed in a beautiful gift-ready box, (Although I am keeping this for myself! There's no way I'm giving this one away…. So the box is great for containing smaller swaddles in a drawer full of larger blankets.)
100% cotton muslin breathable blankets
Versatile – use them for burping, playing, swaddling, and covering
Comes with easy to follow swaddling instructions for the novice
Lovey is made of muslin with polyester fill
The soft gray pattern is gender neutral, making it a perfect option for first babies or "surprise" gender baby showers
The subtle pattern is sophisticated, and neutral, so it'll match any nursery. The stars keep it playful.
One of the greatest gifts you can give a new mom is to help make her transition into parenting easier. The twinkle gift set is perfect for this, as it contains three beautiful, useful products. The swaddle blanket is great for so many things, and the lovey will be a childhood favorite.
Connect with aden + anais:
Disclaimer:
This product was received from the Company for review purposes only. All thoughts and words in this post is my own and I was not paid to endorse it. I am only voicing my opinion about this product.