I'm sure you have seen us showcase Merci Maman many times, that's because this London based company offer some pretty unique jewelry pieces that will fit into everyone's budget.
Today I want to share with you one of their signature necklaces called: Personalized Intertwined Necklace.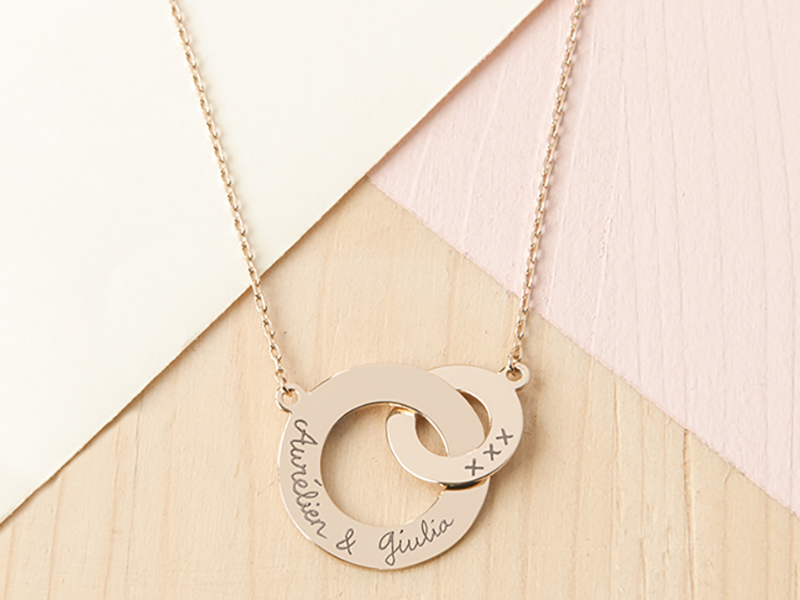 The intertwined circles on this necklace will be the perfect symbol for that long-lasting relationship you'll build with that friend or with someone special.
These unique interlinked circles will display a special message that will be engraved by hand, that special message will signify just how special your relationship is with that loved one, friend or family member.
No matter who you share this personalize circle necklace with being if it's Mom and Child, BFF, Wife & Hubby or with that special person, your relationship will forever shine with a long-time bond and lots of love. You could even have your furry pet friend name engraved on this necklace. A friend of mine just loss her pet and I know this would be a perfect gift to remind her of Riley and a great way to keep Riley close to her heart!
You have a choice to select 925 Sterling Silver, 18K Gold Plated and 18K Rose Gold Plated to create your personalized circles. The two circles move freely between each other and as a result this is one of the few products where Merci Maman engrave on one side only!
I can see so many people like myself purchasing a few of these necklaces. You see, my youngest will be headed to college soon and I would love to have one personalized with her name and mine. Every time she would wear it, it would remind her of how close I am to her heart and how much I love her too. I may even see if I could have her dad's name added above ours as well!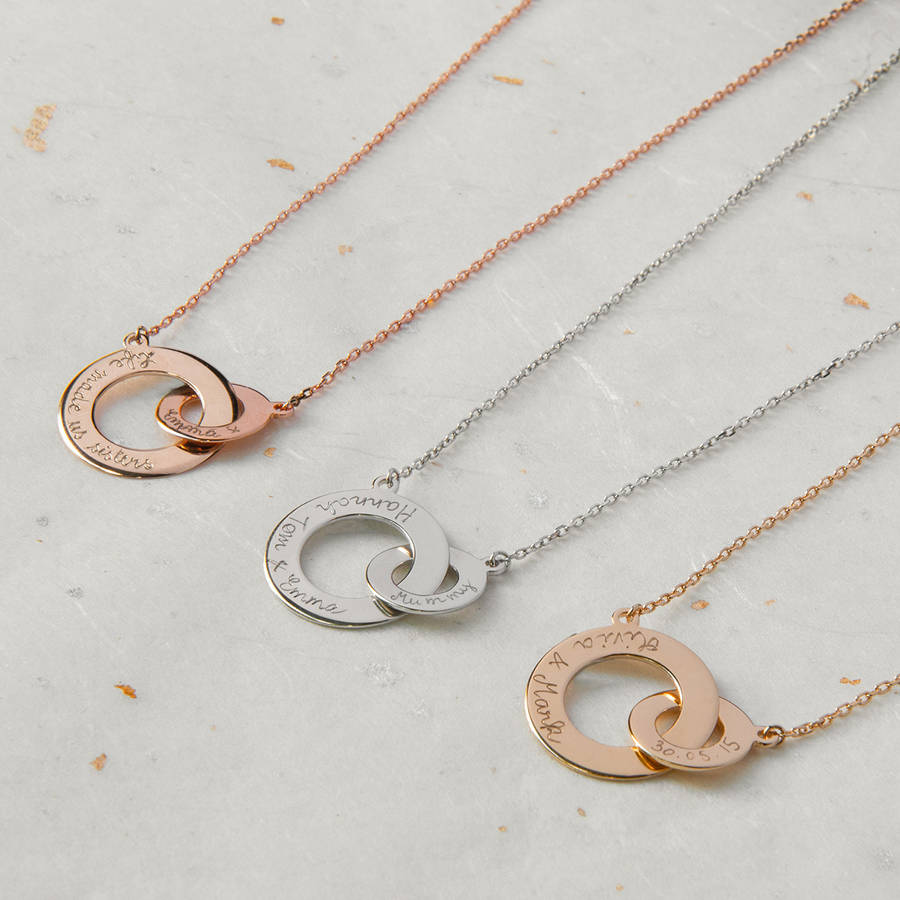 Another way you could share one of these Personalized Intertwined Necklaces is with your friend or daughter who may be expecting that special bundle of joy. This would be a "Priceless Baby & Mom" gift or better yet you can have Merci Maman personalize one for you during the Christmas Holidays too.
I know my mind is made up, no matter what they cost I will be having at least two made for my girls. The Personalized Intertwined Necklaces retails for $139 and again are available in 925 Sterling Silver, 18K Gold Plated and 18K Rose Gold Plated. Plus each chain comes with a real nice secured clamp and your Personalized Intertwined Necklaces will be delivered to your home in one of Merci Maman signature boxes along with one of their cute greeting cards too if you like.
If you don't think the Personalized Intertwined Necklace interest you right now don't worry because Merci Maman has a wide selection of beautiful, unique, handmade jewelry pieces for everyone and every budget. Just visit Merci Maman website and take a look around!
Stay tune to next month post we will be showcasing another great product from Merci Maman
Make sure to connect with Merci Maman via Facebook | Twitter | Pinterest | Instagram| ShopMerci Maman