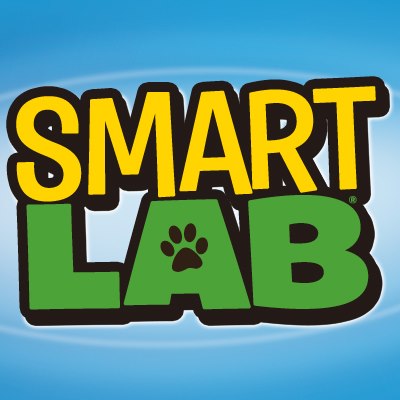 Growing up, I remember my mom and dad used to dress me in frilly dresses, curl my hair, and they had me participate in after school activities such as dance, tennis, pottery making, and piano. The list goes on and on and I was EXTREMELY blessed but everything was just so … girly! I loved soccer, playing in the woods and getting dirty, swimming, and … and … and … most of my good friends were boys!
As I grew and was able to pick out my own "style" things changed drastically. I admit that I didn't tend to dress like the other girls (all black and/or baggy is still cute, right?), I never wore makeup, and my idea of styling my hair was a ponytail. It would be fair to say I was kind of a tomboy. Without embarrassing myself even further, suffice to say, there are a number of "girly skills" that I did not pick up over the years. Admittedly, to this very day, now that I am an adult and all, this lack of skill set still haunts me. As a side note, my hair is in a ponytail as I type this and I'm wearing pajama pants and a baggy t-shirt. Old habits die hard, people!
Fast forward a few years, okay, more than a few, when we found out that we were pregnant. I wanted a little boy so badly that all I could see what blue. You see, I am one of three girls and when my older sister got pregnant, she too had a little girl. We desperately needed testosterone in our lives and I was the one that was going to break the cycle! My desire to have a little boy only increased when my sisters and mom started poking fun at me about having a little girl. They giggled and bantered back and forth about me doing hair, matching cute outfits, painting nails, doing makeup, and having a house full of PINK. I didn't even like pink as a little girl, I certainly did not like it as a full grown adult. Makeup, hair, fingernails … oh my wow! My need to have a little boy only increased.
If you haven't figured out the "punchline," I was blessed with a beautiful baby girl. She is 5 now and loves everything princess and pink. She loves dresses, "super cute" (her words) outfits, her hair done, a touch of eye shadow on special occasions, and she loves to have her fingernails painted. I'm currently in "Girly Training" and have no doubt that I will pass with flying colors but until then, I have found a few products to help ease the transition.
Enter SmartLab and their All-Natural Spa Products!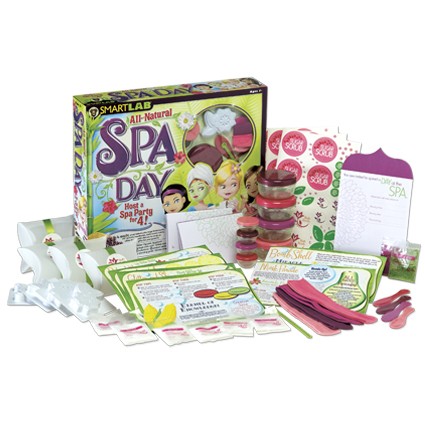 Do you want to be the rock star in your little one's life? Check out All-Natural Spa Day! SmartLab invites you to explore the natural science of beauty by hosting a Spa Party for 4! The Spa Day kit includes a party-planning guide and project cards to prepare a shopping list that assist you in creating a yummy menu and all-natural beauty products. Set up for the party and then prepare to relax and indulge.
All-Natural Spa Day includes:
6 project cards
Party-planning guide
4 floral-shaped bath-bomb molds
4 large lidded pots
4 small lidded pots
4 stir spoons
4 headbands
4 pillow boxes with ribbon and sticker to package the bath bombs
2 colors of glitter (3 g each of pink and green)
Glitter scoop
8 – 10 oz. bags of citric acid – pre-portioned for bath-bomb recipe
Sticker sheet – pot labels, nail decor, invitation seals
3 invitations
Have fun creating Fizzy-Bath Bombs, Glittery Lip Balms, and Creamy Face Masks! Even this not so girly momma loved our girl's night with my little one, mom, and sister. We added some popcorn and fun drinks and it was an evening that I won't soon forget!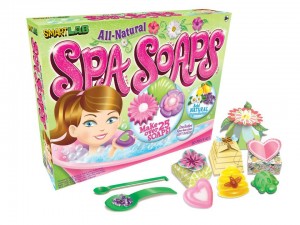 Do you have a birthday coming up? Easter? Mother's Day? Father's Day? Why not let your little one(s) create their own gifts this year? I mean literally CREATE the gift. This is possible and not as difficult as one would think thanks to SmartLab's All-Natural Spa Soaps!
Combine the power of your microwave with super-cute molds, soap base, and pigments to create seashell or flower shaped soaps. Let your imagination soar with a "sky is the limit" approach by adding all-natural ingredients that can be found in the kitchen or garden. Add lavender, rose petals, or herbs to create scented soaps, oatmeal for soothing soaps, and much, much more! Tiny hands can follow the recipe booklet provides or dream up their own custom soaps. Also included are five spa-tacular, pre-printed boxes to give as gifts. The possibilities, like your imagination and creativity, are endless.
All-Natural Spa Soaps include:
14 Soap Molds
White glycerin soap base
Clear glycerin soap base
3 soap pigments
2 measuring & mixing spoons
16-page book
5 Gift boxes
What are you waiting for? Check out SmartLab and let your day at the spa begin!
Connect with SmartLab: Shop | Facebook | Twitter
Disclaimer: This product was received from the Company for review purposes only. All thoughts and words in this post are my own and I was not paid to endorse it. I am only voicing my opinion of this product.