I have always had the worst sense of direction, and I cannot stand messing with maps, especially those huge ones you have to refold 50 different ways! Put my husband and I together in the car and it is ten times worse! To top it off, our older model car did not come with any type of navigation system, and while I could always use the maps app on my phone, trying to hear that low voice and watch that small screen is more of a headache than it is worth! That's where the Magellan RoadMate 6230-LM DashCam Navigator comes in handy.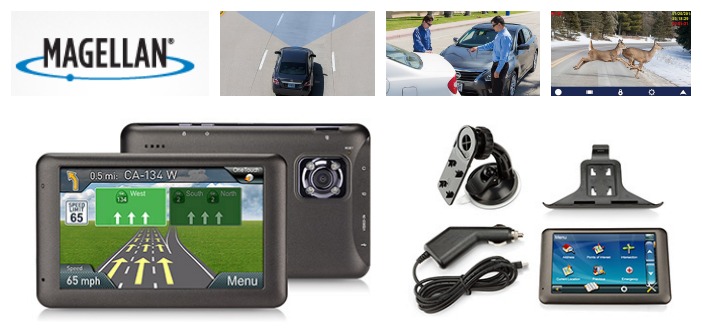 But simple one-touch navigation is not all the Magellan RoadMate offers. This innovation GPS unit also doubles as a HD dashboard camera!
"The Magellan RoadMate 6230-LM DashCam Navigator combines the confidence you get from a dedicated premium GPS navigator with the security and fun of a dashcam."
Measuring a compact 3.3 (h) by 5.3 (w) by 0.8 inches (d) and weighing a mere 6.4 ounces, the Magellan RoadMate 6230-LM DashCam Navigator is packed full of great features including:
GPS Navigation and Integrated HD Recording Dashcam with functionality all on one screen.
G-Shock Sensor which can detect any sudden impact and locks video and data to record the event.
120 degree wide-angle DashCam Lens that can record the entire street no matter where on your dash or windshield it's mounted.
Magellan Wireless Back-up Camera Compatible – connect it to the optional Magellan Wireless Back-Up Camera in order to give you an added level of safety when in reverse.
and so much more!
Magellan GPS DashCam LayOut and Features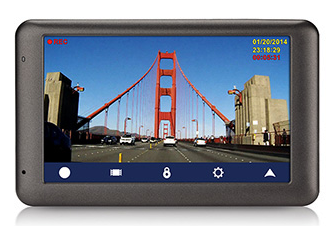 The unit comes with a large 5″ high-resolution touchscreen with a vibrant display that is easy to see regardless of whether it is in the middle of a sunny day or late at night. Your ETA and the current speed limit are displayed on the screen as you drive, and a simple touch on the ETA also allows you to see distance, speed or even the amount of time remaining on your current route. In addition to voice prompts, the unit also alerts drivers to upcoming turns or changes in your route with a bell chime, therefore ensuring you continue in the correct direction. One of my absolute favorite features is how with the push of a button I can easily pull up what's available at upcoming highway exits – this is incredibly handy when traveling with kids who are hungry or need to make a restroom stop! Right now, however, this feature is only available on highways.
On the top right side of the device are the Power button and a DVR Lock button, while on the left side are an audio output port, a separate micro SD slot for software updates (card not included), a video-in port, and a USB slot for power and charging. Speaking of charging, the battery can hold a charge for up to 2 hours, and you can easily check the level by tapping the menu button. On the back side of the GPA unit is where you will find the speaker, the camera lens for the dash cam, and another micro SD slot – this one for saving recorded video ( a 4GB memory card IS included).
The DashCam Features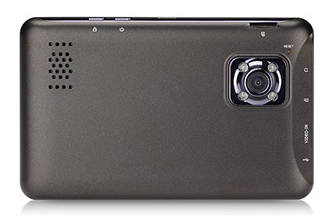 The DashCam features a 120-degree wide-angle lens and has a resolution of 1280 by 720 pixels (720p HD). This is wide enough to record the entire street regardless of where the camera is mounted in your car, providing crystal clear images. It is designed it to where the driver does not have to interact with the camera at all to record footage. Users have the option to set it to continuous record when the power is on, or you can set it to where you can manually record with the simple touch of a button. I especially like the fact that camera includes an impact sensor that locks video and data to record what's happening in case of an accident. So if a collision occurs, the sensor will automatically lock all video footage, including the location data, and the date and time information, therefore providing an accurate record of events. All video and audio are automatically recorded in an endless loop and are saved in memory which can later be viewed on the device or transferred to your Windows-based computer.
Premium Features
In addition to the dozens of features the GPS comes with, there are also several premium GPS navigation features available like Free Lifetime Map Updates, Traffic Camera Alerts by PhantomALERT™, Junction View, Landmark Guidance, Best Parking and much more – some are free, while others are accessible through a paid subscription.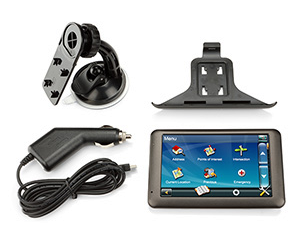 The Magellan RoadMate 6230-LM comes with everything you need for easy installation and takes just minutes to securely attach to your dash or windshield. Today, there are a ton of new technologies that help you become the best and safe driver you can be. One of them is a dashcam navigator! "
Find out more about the Magellan RoadMate 6230-LM DashCam Navigator through the links below.