Ever ran out of storage or battery power while on the go? These days we depend on our devices for everything from work to play. But as our dependency on these devices increases, the lack of storage space and a low battery become common problems. And when we run out of power (and there's no outlet in site) or worse, space, then we chance the possibility of missing out on a lot. I know because it happened to me. On a recent trip to the Smoky Mountains the trees were in their full Autumn splendor and the visibility was for miles. We were driving down the parkway, pulling off every so often to take pictures of the incredible vista's when all of a sudden, I get the dreaded message on my iPhone…storage is full! Too bad I didn't have my MAZZO PowerDrive then!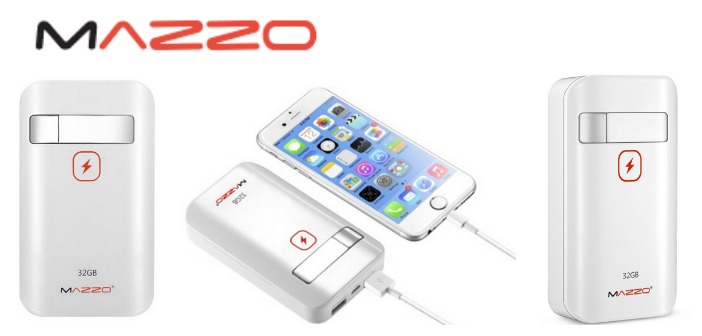 The MAZZO PowerDrive is the world's first combination of backup battery and a mega USB drive certified MFi ("Made for iPhone/iPad/iPod") by Apple. The PowerDrive offers a huge USB drive with a super powerful battery.
"MAZZO PowerDrive combines a mega USB drive (up to 128 GB) with a powerful battery (up to 40 hours of additional use) so you can back up your important data while charging your iPhone, iPad and iPod Touch anywhere and anytime you want."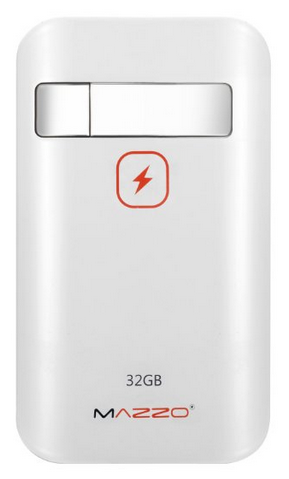 Using the same microprocessor as the iPhone 5, the MAZZO PowerDrive P1 offers fast and secure storage for music, photos, videos, files and more. With it you can easily save photos and videos to the device, and also access files from the device through your iPhone, iPad or iPod – all while you are on-the-go! It offers 40 hours of backup battery and up to 128 GB of storage. Forty (40) hours of backup power is enough to charge your iPhone 3 to 4 times! And to see how much charging time is left, just look at the percentage shown on the LCD screen – no more trying to guess using those three or four light indicators. As an example of the amount of storage these PowerDrives hold, the 32 GB MAZZO PowerDrive P1 can can hold up to 60 films of 500MB each, 10,000 photos of 3MB each and 6000 music tracks of 5 MB each! That is a lot of storage space! Now you can watch dozens of movies and listen to tons of music anytime, anywhere – with no loading time and without the use of wifi or data charges on your device!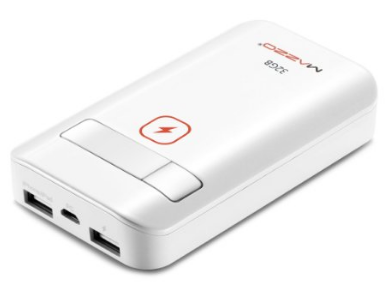 You would think something that powerful would be big, bulky, clumsy and ugly but it's not. Instead each Mazzo PowerDrive has clean lines, sleek curves and a thin profile. The MAZZO PowerDrive P1 weighs less than half a pound, and at only 4.3 x 2.6 x 0.9 inches, it is the perfect size for carrying with you wherever you may go! It takes around 5 hours to charge the PowerDrive, and it has a lifecycle of around 500 cycles. Plus it can provide up to 40 hours of continuous video playback time!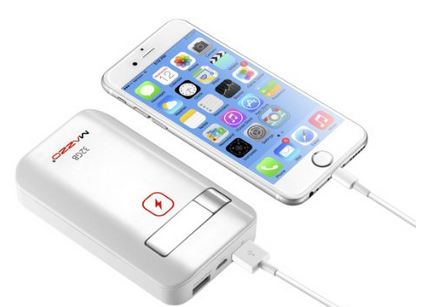 The PowerDrive works with a 30-pin or Lightning cable, so all you have to do is download the free PowerDrive app from the iTunes store, then plug in your device to get started! The easy-to-use PowerDrive app has all the functions of any other file app including copy, paste, create, move delete and more. There is no need to set up or use a password. With just a few taps you can quickly ( 30MB/sec transfer!) and easily free up all the space you need on your iOS device while it charges! When you want to transfer from the PowerDrive to your PC, you can quickly and easily do so using either usb or wifi for added convenience! All you have to do is open your browser and access the web-based PowerDrive app. Then you can connect your iPhone or iPad to PowerDrive and your PC and then move files freely across all three devices.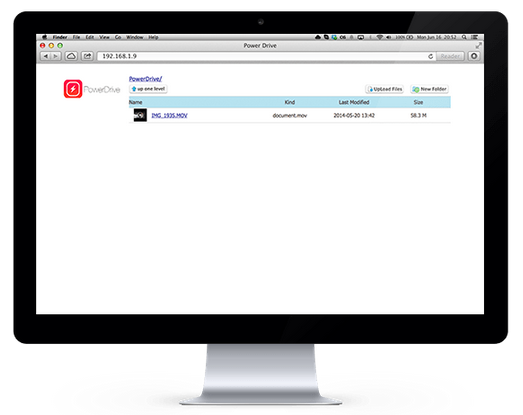 The MAZZO PowerDrive is available in 16 GB, 32 GB, 64 GB and 128 GB capabilities. Right now you can get the PowerDrive P1 online through Amazon.com, and the second model, a thinner, sleeker design called the PowerDrive Slim (powerful enough to fully charge your device, also with up to 128GB) will soon be available. The PowerDrive Slim has an even sleeker design, and it is powerful enough to completely charge your iOS device and offers up to 128 GB of storage.
Connect with MAZZO: Learn More | Shop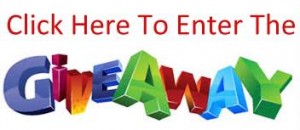 Disclaimer: This product was received from the Company for review purposes only. All thoughts and words in this post are my own and I was not paid to endorse it. I am only voicing my opinion of this product.
Photos courtesy Amazon.com