I have recently attempted to declutter my home, inspired by all the Pinterest moms out there and the onset of spring, I felt getting rid of some things would take off the funk that winter had left on me. I'm like a bear when it comes to winter. I want nothing to do with the bitter, dark days, and would much rather spend my time sleeping it away on a full stomach. This left little time to do the not-so-important-things like cleaning my home, and with 4 family members, things can get cluttered pretty quickly.
Other than the obvious things like getting rid of clothes I haven't worn since pre-pregnancy, cleaning out the toy room that my children no longer use, or getting rid of everything in the garage that hasn't been touched in a year, I wanted something that would help me declutter other spaces. I was on Pinterest one night and a pin on organizing your medicine cabinet came up. LIGHT BULB.
De-Cluttering, Muttering, and Puttering
The next morning I woke up bright eyed and bushy tailed with a plan in mind. I was going to run to the container store for some organizational bins that I could stack inside the cabinet, that way I could organize my medication by what it was used for.
After going through what I already had on hand, I noticed that what most of my cabinet consisted of was pain relievers. I had nighttime pain relief, daytime pain relief, pain relief that had anti-inflammatory properties, baby, children and adult pain reliever, and pretty much any other kind you could think of!
Right then, I knew if I could minimize it to one, maybe two, pain relievers then likely wouldn't even need a whole medicine cabinet. Still… what was one medicine that I could use for every single family member, big or small.
I started researching what OTC pain relief options were out there, who could take which, and what it offered. For the most part, every suggestion was something I already had and didn't fit the "every family member" bill. While talking to my mother that night, she suggested researching natural pain relief. She told me that most holistic medicines have multi-purpose and are safe for people of all ages. Genius!
Amber Teething Necklaces
As soon as I typed that into google, infant amber teething necklace showed up! I had heard of it for teething infants but never as a multi-purpose pain reliever. How does it work?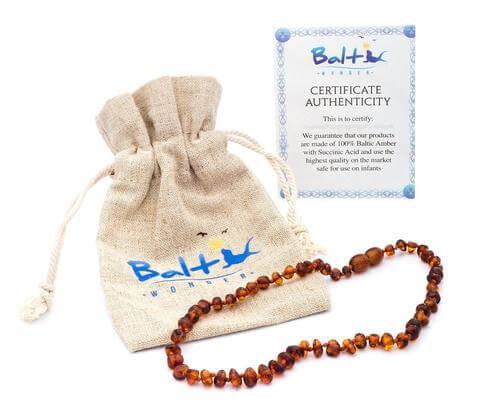 Baltic amber gets its name from the Baltic sea, the region it's made in. Amber has been around for centuries and has been used for a broad range of discomforts. Succinic acid is found in amber, the key healing component, and is known for being a natural anti-inflammatory.
For hundreds of years, countries located near the sea have used it for everything from headaches, inflamed gums, to joint and muscle inflammation, and the possibilities are endless! Recently amber necklaces have picked up steam for being a natural alternative for pregnant women who are experiencing the normal aches and pains that are accompanied by pregnancy.
How They Work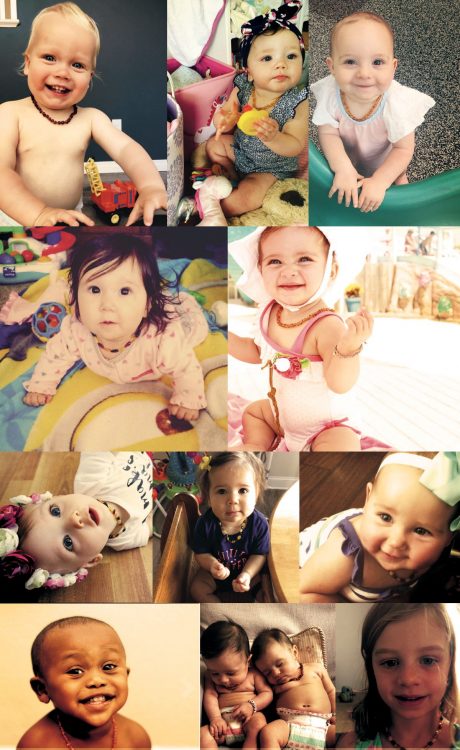 It works by being worn on the body so that your natural temperature can heat the bead, allowing for the medicine rich oils to seep through the porous surface of the bead and into the bloodstream.
I bought 5 necklaces, one for each family member, and threw away all of my pain relievers. Not only was my medicine cabinet empty, but we had found a way to naturally improve pain caused by all things.
Baltic amber necklaces did not disappoint either. My daughter and I are migraine sufferers and haven't had one since we started wearing ours. My husband, who broke his back in 1989, hasn't had problems with it since about the second week after wearing his necklace. It's almost magical how one natural product was able to replace several OTC ones. If you're wondering what nature can do for you, try Baltic amber today!
Promotional Giveaway
*We are giving away 2 Baltic Amber Teething Necklaces to 2 random users. To be a part of the giveaway you must:
1) Follow us on Instagram: @Balticwonder
2) Make a comment on the blog where we are posting
3) Make a comment on the following picture of our Instagram:https://www.instagram.com/p/BdMEStrgzNF/