If you have ever been in a vehicle accident, especially one where your kids were in the car, you understand just how scary that feeling really is. On impact, you are first startled and then your adrenaline is rushing through your body – you are ready to break out into tears. But then you look behind you, at your kids buckled up in their seatbelts, and realize that everyone is okay. It is all okay.
Hopefully, if you have ever been in a car accident, it was minor enough that everyone was okay. But not all accidents are the same – some are much worse than others. From 2011 to 2015, an estimated 343,000 children age 8-14 were injured while traveling in passenger vehicles, and an additional 1,692 children died. This simply breaks my heart. A full 50% of those who died were unrestrained at the time of the crash. Those are sobering statistics and as a parent of children that fall into that age bracket, I can only imagine asking the question, "What if they had been buckled up?"
My kids know that when they get in ANY car, the first thing that they do is buckle up! And if any child is getting into my car, I will make them buckle up, even if they are not my own kids. As parents, we can also encourage them and lead by example – we buckle up first thing, every time we get in the car.
This spring, the Ad Council and the U.S. Department of Transportation's National Highway Traffic Safety Administration (NHTSA) are unveiling new PSAs featuring characters from Fox's upcoming summer road trip adventure Diary of a Wimpy Kid: The Long Haul. The PSAs remind parents and caregivers that even if kids argue and plead, parents should stand firm and always insist that their kids buckle up and sit in the back seat (the safest place for kids under the age of 13). The movie chronicles a family's misadventures throughout their summer road trip, which makes for a perfect fit with NHTSA's road safety message.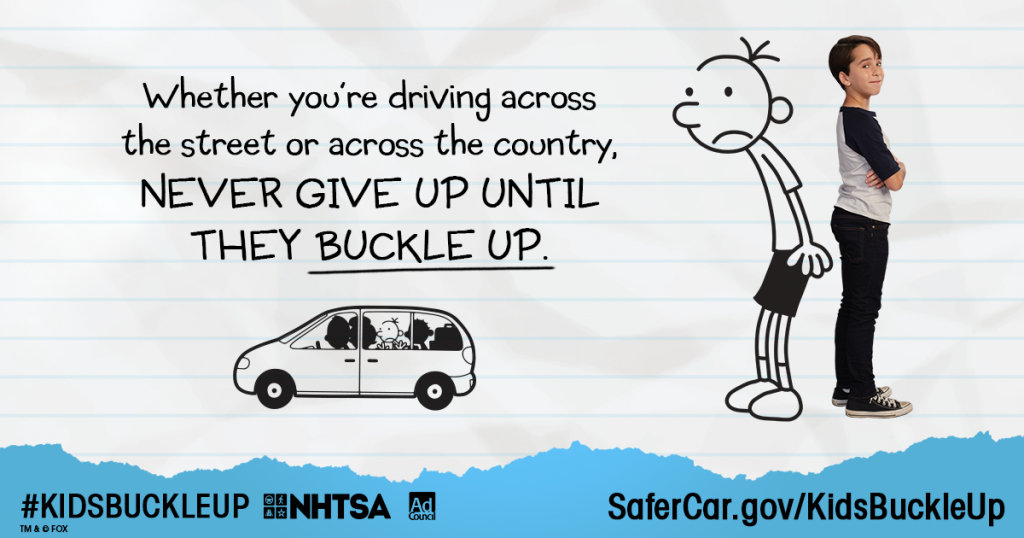 Sometimes, fighting the kids to buckle up and making them understand the importance of it can be a never-ending battle. But when it comes to their safety, I am relentless and that is just something that I do not compromise on. Buckling up is not a negotiation! That's why the new PSAs encourage us to: "Never give up until they buckle up!"
For more information or if you need more tips to convince your tween to buckle up, visit SaferCar.gov/KidsBuckleUp. If you have a great tip, join the conversion on social media using: #KidsBuckleUp.