As a mom, this is a sobering fact: Motor vehicle crashes are a leading cause of death for children age 1 to 13 in the USA. We often take for granted plopping our kids in the car, buckling them up, and heading out for our day. Our babies (no matter how old they may be!) are precious cargo. As parents, it is our responsibility to make sure they are safe, whether they are in our homes, in our cars or just walking to the park. A simple check of our car seats will go a long way in keeping our kids safe as our passengers!
My car seat days are behind me. However both my boys ride in the back seat and we don't pull out of our parking space till everyone in the car is buckled. But it wasn't very long ago I can remember standing in the car seat section trying to decide which seat we were going to buy. Which was safest? Which was going to be more comfortable? Which was easiest to install? Car seats can be over whelming, but parents need to know- they are not alone!
Child Passenger Safety Week
September 17-23, 2017 – this is basically THE perfect time to brush up on car seat safety tips and make sure your child is in the right seat, with the right fit and installation.
During Child Passenger Safety Week, more than 1000 events are expected in 45 states across the country to raise awareness for proper car seat installation and usage. The week culminates in "Seat Check Saturday," where Certified Child Passenger Safety Technicians will help parents and caregivers make sure their car seats are installed correctly. In most cases, this service is FREE. You really can't beat that – plus they make these events a ton of fun for kids!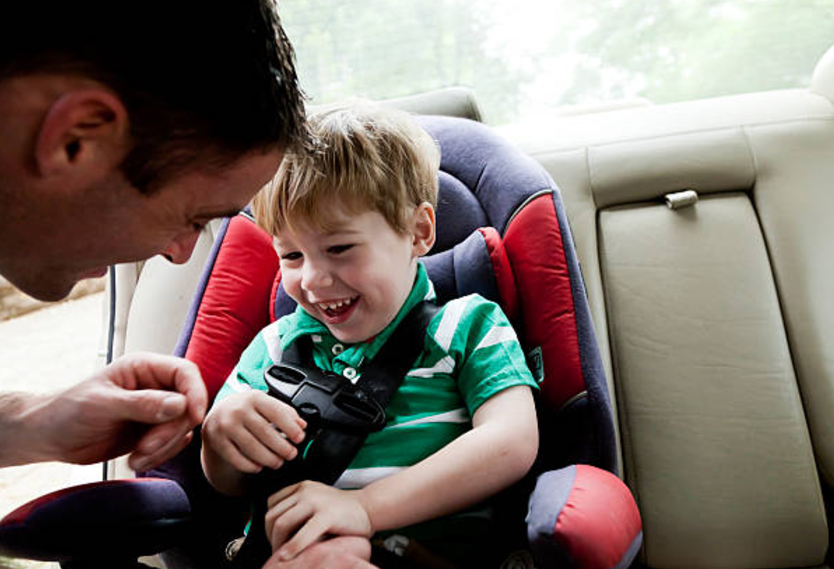 What You Need to Know:
There are many car seat choices on the market. Use the information below to help you choose the type of car seat that best meets your child's needs or print out this PDF (350 KB).
Select a car seat based on your child's age and size, choose a seat that fits in your vehicle and uses it every time.

Rear Facing Car Seat
Forward-Facing Car Seat
Booster Seat
Seat Belt

Always refer to your specific car seat manufacturer's instructions (check height and weight limits) and read the vehicle owner's manual on how to install the car seat using the seat belt or lower anchors and a tether, if available.
To maximize safety, keep your child in the car seat for as long as possible, as long as the child fits within the manufacturer's height and weight requirements.
Keep your child in the back seat at least through age 12.
Be smart! To make sure you have the right seat for your child, visit NHTSA.gov/TheRightSeat, or find a Child Passenger Safety Week event in your area. During Child Passenger Safety Week, many communities will have Certified Child Passenger Safety Technicians on-hand to provide education on how to use car seats, booster seats, and seat belts for children. To find events near you, including free car seat checks, visit bit.ly/CPSTech. If you cannot make it to an event, resources like NHTSA.gov/TheRightSeat, have videos about how to install car seats and booster seats correctly and guides to picking the right seat by age and size.
And – if you're not too busy – the NHTSA is hosting a fun twitter chat on September 20th from 3-4pm EST using #TheRightSeat to learn more about child passenger safety and hear some great tips from other moms, dads, and grandparents on child passenger safety and traveling with kids!